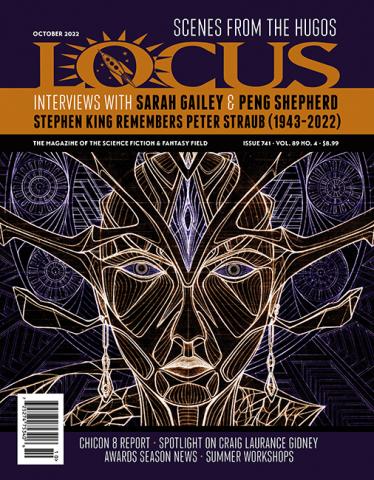 In this issue:
The October 2022 issue of Locus magazine has interviews with Sarah Gailey and Peng Shepherd and a spotlight on Craig Laurance Gidney. Peter Straub (1943 - 2022) is remembered with an obituary and appreciations from Stephen King, Gary K. Wolfe, Elizabeth Hand, and others. Chicon 8 is covered with an extensive report and photos, the complete Hugo voting breakdown, and a WSFS business meeting report. Awards season news includes the Hugo, Nommo, Lodestar, Astounding, British Fantasy, Ignyte, Seiun, Sidewise, and Dragon winners, and many others. News covers the Baker & Taylor ransomware attack, Nora Roberts's efforts on behalf of the Patmos Library, the reopening of Uncle Hugo's, the B&N ordering controversy, and more. Ahrvid Engholm reports on Swecon. Other obituaries remember Bruce Taylor, Maureen Kincaid Speller, and J.G. "Huck" Huckenpöhler. Reviews cover new titles by N.K. Jemisin, Ray Nayler, Eileen Gunn, M. Rickert, Grace Chan, Hiron Ennes, Frances Hardinge, Mur Lafferty, Alex Pheby, Massoud Hayoun, Bradford Morrow (ed.), Michael J. Seidlinger, Tim Lebbon, Nat Cassidy, Alex Jennings, Adalyn Grace, Adam Hamdy, Paul Kincaid, Bev Vincent, Aislinn Brophy, Eugen Bacon, Alastair Reynolds, and others.
Table of Contents:
October 2022 • Issue 741 • Vol. 89 • No. 4 
55th Year of Publication • 30-Time Hugo Winner 
Cover and interview design by Stephen H. Segal 
INTERVIEWS
Sarah Gailey: An Honest Narrative / 10 
Peng Shepherd: Map of Mysteries / 26
MAIN STORIES / 5 
2022 Hugo Awards Winners • Peter Straub (1943 - 2022) • British Fantasy Awards Winners • Baker & Taylor Ransomware Attack • Dragon Awards Winners • Roberts Helps Save a Library • Ignyte Awards Winners
THE DATA FILE / 7 
Seiun Awards Winners • Sidewise Awards Winners • 2022 Nommo Awards Winners • Uncle Hugo's Reopens • World Conventions News • B&N Ordering Controversy • Booker Prize Shortlist • National Book Awards Longlist • Kitschies Shortlists • Ditmar Preliminary Ballot • Prix Utopiales Finalists • Resnick Memorial Award Winners • Dwarf Star Awards • Endeavour Award Revived • Awards News • Legal News • Financial News • International Rights • Audio Rights • Publications Received
PEOPLE & PUBLISHING / 8 
Notes on milestones, awards, books sold, etc., with news this issue about MaryAnn Harris, Justina Ireland, E. Lily Yu, TJ Klune, Kate Collins, Samiya Bashir, J.M. Donellan, and many others
CHICON 8
Chicon 8 / 28 2022 WSFS Business Meeting / 38 Complete Hugo Voting / 40 
SPECIAL FEATURES
Photo Story: SerlingFest / 9 Swecon / 45 Spotlight on Author: Craig Laurance Gidney / 46 Photo Story: Writers with Drinks / 69 Summer Workshops / 71
 LISTINGS 
Magazines Received: August / 47 Books Received: August / 49 Bestsellers / 60 New & Notable / 61 
OBITUARIES / 73 
Appreciation for Peter Straub by Stephen King, Gary K. Wolfe, Elizabeth Hand, Bradford Morrow, John Clute, Caitlín R. Kiernan, and John Kessel • Bruce Taylor • Maureen Kincaid Speller • J.G. "Huck" Huckenpöhler 
EDITORIAL MATTERS / 78 
Chicon 8 • Peter Straub • Fundraiser • This Issue/Next Issue
LOCUS LOOKS AT BOOKS 
Short Fiction Reviews by Karen Burnham / 12 
Asimov's 7/8-22; Future SF Digest 6/22; Clarkesworld 8/22; khōréō 6/22; Andromeda Spaceways 6/22.
Short Fiction Reviews by Paula Guran / 13 
Uncanny 7-8/22; Apex #132; Three-Lobed Burning Eye #36; Lady Churchill's Rosebud Wristlet 7/22; Tor. com 8/10/2022; PodCastle 6/7/22, 6/14/22, 6/21/22, 6/28/22; PseudoPod 7/27/21; Nightmare 8/22, 9/22; The Dark 7/22, 8/22; The Deadlands 7/22, 8/22.
Short Fiction Reviews by Charles Payseur / 14 
Baffling 7/22; Fusion Fragment 7/22; Beneath Ceaseless Skies 7/28/22, 8/11/22, 8/25/22; Cast of Wonders 7-8/22; Samovar 7/25/22; Strange Horizons 7/18/22, 8/1/22. 8/8/22; Drabblecast 7/22, 8/22; Diabolical Plots 8/22; Flash Fiction Online 7/22; Worlds of Possibility 8/22; GigaNotoSaurus 7/22; Fantasy 8/22, 9/22; Lightspeed 8/22, 9/22; F&SF 9-10/22.
Reviews by Gary K. Wolfe / 16
The World We Make, N.K. Jemisin; The Mountain in the Sea, Ray Nayler; Night Shift, Eileen Gunn; Lucky Girl: How I Became a Horror Writer: A Krampus Story, M. Rickert.
Reviews by Caren Gussoff Sumption / 18 
Every Version of You, Grace Chan; Leech, Hiron Ennes.
Reviews by Alexandra Pierce / 19 
Unraveller, Frances Hardinge; Station Eternity, Mur Lafferty.
Reviews by Ian Mond / 20 
Malarkoi, Alex Pheby; Last Night in Brighton, Massoud Hayoun; Conjunctions 78: Fear Itself, Bradford Morrow, ed.
Reviews by Gabino Iglesias / 21
Anybody Home?, Michael J. Seidlinger; The Last Storm, Tim Lebbon; Mary, Nat Cassidy.
Reviews by Colleen Mondor / 22
The Ballad of Perilous Graves, Alex Jennings; Belladonna, Adalyn Grace; The Other Side of Night, Adam Hamdy.
Reviews by Divers Hands: Alvaro Zinos-Amaro / 23
Brian W. Aldiss, Paul Kincaid; Stephen King: A Complete Exploration of His Work, Life and Influences, Bev Vincent.
Reviews by Divers Hands: Alex Brown, Maya C. James, Russell Letson / 24
How to Succeed in Witchcraft, Aislinn Brophy; An Earnest Blackness, Eugen Bacon; Eversion, Alastair Reynolds.
Terry Bisson: This Month in History / 13, 15, 19, 25 
---
Magazines reviews in this issue (indicating reviewer)—
Asimov's 7/8-22 (Karen Burnham)
Future SF Digest 6/22 (Karen Burnham)
Clarkesworld 8/22 (Karen Burnham)
khōréō 6/22 (Karen Burnham)
Andromeda Spaceways 6/22  (Karen Burnham)
Uncanny 7-8/22 (Paula Guran )
Apex #132 (Paula Guran )
Three-Lobed Burning Eye #36 (Paula Guran )
Lady Churchill's Rosebud Wristlet 7/22 (Paula Guran )
Tor.com 8/10/2022 (Paula Guran )
PodCastle 6/7/22, 6/14/22, 6/21/22, 6/28/22 (Paula Guran )
PseudoPod 7/27/21 (Paula Guran )
Nightmare 8/22, 9/22 (Paula Guran )
The Dark 7/22, 8/22 (Paula Guran )
The Deadlands 7/22, 8/22. (Paula Guran )
Baffling 7/22 (Charles Payseur)
Fusion Fragment 7/22 (Charles Payseur)
Beneath Ceaseless Skies 7/28/22, 8/11/22, 8/25/22 (Charles Payseur)
Cast of Wonders 7-8/22 (Charles Payseur)
Samovar 7/25/22 (Charles Payseur)
Strange Horizons 7/18/22, 8/1/22. 8/8/22 (Charles Payseur)
Drabblecast 7/22, 8/22 (Charles Payseur)
Diabolical Plots 8/22 (Charles Payseur)
Flash Fiction Online 7/22 (Charles Payseur)
Worlds of Possibility 8/22 (Charles Payseur)
GigaNotoSaurus 7/22 (Charles Payseur)
Fantasy 8/22, 9/22 (Charles Payseur)
Lightspeed 8/22, 9/22 (Charles Payseur)
F&SF 9-10/22 (Charles Payseur)
---
Books reviews in this issue (indicating reviewer)—
Bacon, Eugen • An Earnest Blackness (Maya C. James)
Brophy, Aislinn • How to Succeed in Witchcraft (Alex Brown)
Cassidy, Nat • Mary (Gabino Iglesias)
Chan, Grace • Every Version of You (Caren Gussoff Sumption)
Ennes, Hiron • Leech (Caren Gussoff Sumption)
Grace, Adalyn • Belladonna (Colleen Mondor)
Gunn, Eileen • Night Shift (Gary K. Wolfe)
Hamdy, Adam • The Other Side of Night (Colleen Mondor)
Hardinge, Frances • Unraveller (Alexandra Pierce)
Hayoun, Massoud • Last Night in Brighton (Ian Mond)
Jemisin, N. K. • The World We Make (Gary K. Wolfe)
Jennings, Alex • The Ballad of Perilous Graves (Colleen Mondor)
Kincaid, Paul • Brian W. Aldiss (Alvaro Zinos-Amaro)
Lafferty, Mur • Station Eternity (Alexandra Pierce)
Lebbon, Tim • The Last Storm (Gabino Iglesias)
Morrow, Bradford, ed. • Conjunctions 78: Fear Itself (Ian Mond)
Nayler, Ray • The Mountain in the Sea (Gary K. Wolfe)
Pheby, Alex • Malarkoi (Ian Mond)
Reynolds, Alastair • Eversion (Russell Letson)
Rickert, M. • Lucky Girl, How I Became a Horror Writer (Gary K. Wolfe)
Seidlinger, Michael J. • Anybody Home? (Gabino Iglesias)
Vincent, Bev • Stephen King: A Complete Exploration of His Work, Life and Influences (Alvaro Zinos-Amaro)