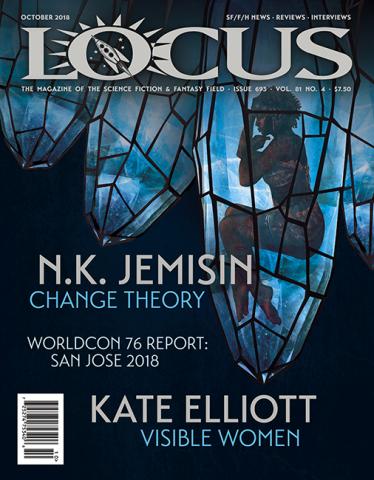 In this issue:
The October issue features interviews with N.K. Jemisin and Kate Elliott; obituaries for K.C. Ball and Roger Lee Vernon; a column by Kameron Hurley; the Dragon and Dwarf Stars awards winners; Worldcon 76 and Hugo Voting reports; DragonCon; 2018 National Book Awards Longlists; The New Academy Prize Shortlist; Space and Time Magazine news; photo stories; and reviews of short fiction and books by F. Brett Cox, Tade Thompson, L. Timmel Duchamp, Priya Sharma, and many others.
Table of Contents:
October 2018 • Issue 693 • Vol. 81 • No. 4
51st Year of Publication • 30-Time Hugo Winner
Cover and Interview Designs by Francesca Myman
INTERVIEWS
N.K. Jemisin: Change Theory / 10
Kate Elliott: Visible Women / 34
MAIN STORIES / 6
Space and Time Magazine to Close • Dragon Awards Winners • The New Academy Prize Shortlist • Hard Brexit Poses Threat to Ingram, EU-Based POD Publishers • Dwarf Stars Award Winners • Dragon Con 2018
THE DATA FILE / 7
2018 National Book Awards Longlists • Bookstore News • Awards News • World Conventions News • Announcements • Financial News • International Rights • Audio Rights • Publications Received
PEOPLE & PUBLISHING / 8
Notes on milestones, awards, books sold, etc., with news this issue about Michael Bishop, Steven Barnes, L.E. Modesitt, Jr., Rachel Caine, Philip Pullman, and many others
SPECIAL FEATURES
Photo Story: Hexagon Retreat X / 8 Photo Story: SF in SF with Finch and Levine / 9 Commentary: Kameron Hurley: Building the Story of Ourselves / 33 Photo Story: 1000 Years of Fandom / 52 Photo Story: Andersons's Ashes Scattered / 52
WORLDCON 76
Worldcon 76 Report / 36 2018 WSFS Business Meeting / 45 Complete 2018 Hugo Voting / 46 Complete 1943 Retro Hugo Voting / 50
LISTINGS
Magazines Received: August / 54 Books Received: August / 55 British Books Received: July / 67 Bestsellers / 68
OBITUARIES / 81
K.C. Ball • Appreciations from Ken Scholes and John A. Pitts • Death Reported: Roger Lee Vernon
EDITORIAL MATTERS / 82
AfterCon • This Issue/Next Issue
Short Fiction Reviews by Rich Horton / 12
Asimov's 9-10/18; Analog 9-10/18; On Spec #108; Amazing Stories Fall '18; The Martian Simulacra, Eric Brown; The End of All Our Exploring, F. Brett Cox; Godfall and Other Stories, Sandra M. Odell.
Short Fiction Reviews by Karen Burnham / 13
Lightspeed 8/18, 9/18; Beneath Ceaseless Skies 9/18; Tor.com 7/19/18, 8/1/18; Clarkesworld 8/18; Fiyah Summer '18; Future Tense 7/23/18; Abyss & Apex 7/18; Fireside Magazine 9/18; GigaNotoSaurus 8/18; Cascadia Subduction Zone, Vol 8, No. 3.
Short Fiction Reviews by Paula Guran / 15
Nightmare 8/18, 9/18; Black Static 7-8/18; Shimmer 7/18; The Dark 8/18, 9/18; Uncanny 7-8/18.
Reviews by Gary K. Wolfe / 16
Red Moon, Kim Stanley Robinson; Astounding: John W. Campbell, Isaac Asimov, Robert A. Heinlein, L. Ron Hubbard, and the Golden Age of Science Fiction, Alec Nevala-Lee; Rosewater, Tade Thompson; The Future is Female! 25 Classic Science Fiction Stories by Women, from Pulp Pioneers to Ursula K. Le Guin, Lisa Yaszek, ed.
Reviews by Liz Bourke / 18
Salvation's Fire, Justina Robson; Hidden Sun, Jaine Fenn; Static Ruin, Corey J. White; The Adventure of the Dux Bellorum, Cynthia Ward.
Reviews by Adrienne Martini / 21
The Wild Dead, Carrie Vaughn; Before Mars, Emma Newman; Apocalypse Nyx, Kameron Hurley; The Stars Now Unclaimed, Drew Williams.
Reviews by Ian Mond / 22
Chercher La Femme, L. Timmel Duchamp; Freshwater, Akwaeke Emezi; The Emissary (AKA The Last Children of Tokyo), Yoko Tawada.
Reviews by Colleen Mondor / 23
The City of Sand, Tianxia Bachang; A Blade So Black, L.L. McKinney; The Agony House, Cherie Priest.
Reviews by Carolyn Cushman / 25
Magic Triumphs, Ilona Andrews; Séances Are for Suckers, Tamara Berry; Smoke and Iron, Rachel Caine; Night and Silence, Seanan McGuire; The Way of the Shield, Marshall Ryan Maresca; Empire of Silence, Christopher Ruocchio; The Phantom Files: Twain's Treasure, William B. Wolfe.
Reviews by Divers Hands: Katharine Coldiron, Paula Guran, Russell Letson / 26
The Cloven, B. Catling; All the Fabulous Beasts, Priya Sharma; The Final Frontier, Neil Clarke, ed.
Art Book Reviews by Karen Haber / 28
Hâsib & the Queen of Serpents, David B.; Aliens: Past, Present, Future, Ron Miller, ed.; Celtic Faeries, English Deluxe Edition, Jean-Baptiste Monge; The Art of Fantasy, Sci-Fi and Steampunk, Hiroshi Unno; Line of Beauty: The Art of Wendy Pini, Wendy Pini; SHORT TAKES: Weinberg Tales: Collecting Fantasy Art, Doug Ellis, Bob Garcia, & Phyllis Weinberg, eds.; I Can Be Anything! Don't Tell Me I Can't, Diane Dillon; In the Realms of Mystery and Wonder, Clark Ashton Smith; Beren and Lúthien, J.R.R. Tolkien; The Name of the Wind: Deluxe 10th Anniversary Edition, Patrick Rothfuss.
Audiobook Reviews by Amy Goldschlager / 31
The Dragon's Path, Daniel Abraham; The King's Blood, Daniel Abraham; The Wrong Heaven, Amy Bonnaffons;
Brief Cases, Jim Butcher; Julia Unbound, Catherine Egan; The Merry Spinster, Mallory Ortberg; Witchmark, C.L. Polk.
Terry Bisson: This Month in History / 15, 19, 21, 23
---
Magazines reviewed in this issue (indicating reviewer) —
Asimov's 9-10/18 (Rich Horton)
Analog 9-10/18 (Rich Horton)
On Spec #108 (Rich Horton)
Amazing Stories Fall '18 (Rich Horton)
Lightspeed 8/18, 9/18 (Karen Burnham)
Beneath Ceaseless Skies 9/18 (Karen Burnham)
Tor.com 7/19/18, 8/1/18 (Karen Burnham)
Clarkesworld 8/18 (Karen Burnham)
Fiyah Summer '18 (Karen Burnham)
Future Tense 7/23/18 (Karen Burnham)
Abyss & Apex 7/18 (Karen Burnham)
Fireside Magazine 9/18 (Karen Burnham)
GigaNotoSaurus 8/18 (Karen Burnham)
Cascadia Subduction Zone, Vol 8, No. 3 (Karen Burnham)
Nightmare 8/18, 9/18 (Paula Guran)
Black Static 7-8/18 (Paula Guran)
Shimmer 7/18 (Paula Guran)
The Dark 8/18, 9/18 (Paula Guran)
Uncanny 7-8/18 (Paula Guran)
---
Books reviewed in this issue (indicating reviewer)—
Andrews, Ilona • Magic Triumphs (Carolyn Cushman)
B., David • Hâsib & the Queen of Serpents: A Tale of a Thousand and One Nights (Karen Haber)
Bachang, Tianxia • The City of Sand (Colleen Mondor)
Berry, Tamara • Séances Are for Suckers (Carolyn Cushman)
Brown, Eric • The Martian Simulacra (Rich Horton)
Caine, Rachel • Smoke and Iron (Carolyn Cushman)
Catling, B. • The Cloven (Katharine Coldiron)
Clarke, Neil, ed. • The Final Frontier (Russell Letson)
Cox, F. Brett • The End of All Our Exploring (Rich Horton)
Dillon, Diane • I Can Be Anything! Don't Tell Me I Can't (Karen Haber)
Duchamp, L. Timmel • Chercher La Femme (Ian Mond)
Ellis, Doug, & Bob Garcia, eds. • Weinberg Tales: Collecting Fantasy Art (Karen Haber)
Emezi, Akwaeke • Freshwater (Ian Mond)
Fenn, Jaine • Hidden Sun (Liz Bourke)
Hurley, Kameron • Apocalypse Nyx (Adrienne Martini)
Maresca, Marshall Ryan • The Way of the Shield
(Carolyn Cushman) McGuire, Seanan • Night and Silence (Carolyn Cushman)
McKinney, L. L. • A Blade So Black (Colleen Mondor)
Miller, Ron • Aliens: Past, Present, Future (Karen Haber)
Monge, Jean-Baptiste • Celtic Faeries, English Deluxe Edition (Karen Haber)
Nevala-Lee, Alec • Astounding: John W. Campbell, Isaac Asimov, Robert A. Heinlein, L. Ron Hubbard, and the Golden Age of Science Fiction (Gary K. Wolfe)
Newman, Emma • Before Mars (Adrienne Martini)
Odell, Sandra M. • Godfall and Other Stories (Rich Horton)
Pini, Wendy • Line of Beauty: The Art of Wendy Pini (Karen Haber)
Priest, Cherie • The Agony House (Colleen Mondor)
Robinson, Kim Stanley • Red Moon (Gary K. Wolfe)
Robson, Justina • Salvation's Fire (Liz Bourke)
Rothfuss, Patrick • The Name of the Wind: 10th Anniversary Deluxe Edition (Karen Haber)
Ruocchio, Christopher • Empire of Silence (Carolyn Cushman)
Sharma, Priya • All the Fabulous Beasts (Paula Guran)
Smith, Clark Ashton • In The Realms of Mystery and Wonder: Collected Prose Poems and Artwork of Clark Ashton Smith (Karen Haber)
Tawada, Yoko • The Emissary (Ian Mond)
Thompson, Tade • Rosewater (Gary K. Wolfe)
Tolkien, J. R.R. • Beren and Lúthien (Karen Haber)
Unno, Hiroshi • The Art of Fantasy, Sci-Fi and Steampunk (Karen Haber)
Vaughn, Carrie • The Wild Dead (Adrienne Martini)
Ward, Cynthia • The Adventure of the Dux Bellorum (Liz Bourke)
White, Corey J. • Static Ruin (Liz Bourke)
Williams, Drew • The Stars Now Unclaimed (Adrienne Martini)
Wolfe, William B. • The Phantom Files: Twain's Treasure (Carolyn Cushman)
Yaszek, Lisa, ed. • The Future Is Female! 25 Classic Science Fiction Stories by Women, from Pulp Pioneers to Ursula K. Le Guin (Gary K. Wolfe)