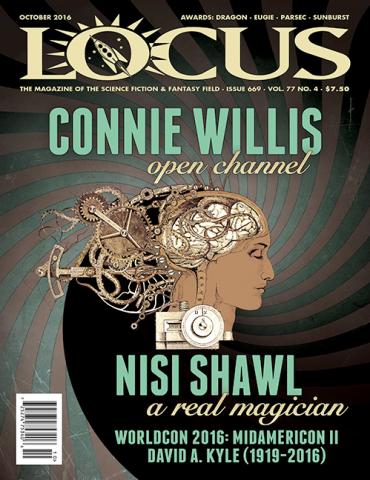 In this issue:
The October 2016 issue of Locus magazine has interviews with Connie Willis and Nisi Shawl, a spotlight on Eaton Collection Librarian JJ Jacobson, and a series author spotlight on Sharon Lee & Steve Miller. The issue includes complete coverage of MidAmeriCon II and the Hugo Awards, the 2016 Alfies, a report on the WSFS business meeting from Kevin Standlee & Cheryl Morgan, and the complete 2016 Hugo voting and 1941 Retro Hugo voting counts. Main Stories include an obituary and photos of David A. Kyle (1919-2016), Adrian Tchaikovsky's Clarke win, the Sunburst Awards winners, the Dragon Awards winners, the PW publishing survey, and more. The Data File covers the Hachette lawsuit against Seth Grahame-Smith, the launch of Disney-Hyperion's new imprint Rick Riordan Presents, the new German FISCHER Tor division to be run by Hannes Riffel, the limited-edition Roald Dahl-themed beer from 40FT Brewing (made with yeast swabbed from the author's chair!), Heinlein's induction into the Hall of Famous Missourians, and more. The column by Kameron Hurley is entitled "The Mission-Driven Writing Career". Reviews cover new titles by Connie Willis, Will McIntosh, Laurie Penny, Keith Donohue, Cherie Priest, Pedro Cabiya, Alvaro Zinos-Amaro, Alastair Reynolds, Chuck Wendig, Manuel Gonzales, Holly Black & Cassandra Clare, Sarah Beth Durst, Kate Elliott, Jennifer Mason-Black, Nick Mamatas, John Pelan, and others.
Table of Contents:
October 2016 • Issue 669 • Vol. 77 • No. 4
49th Year of Publication • 30-Time Hugo Winner
Cover and Interview Designs by Francesca Myman
INTERVIEWS
Connie Willis: Open Channel / 10
Nisi Shawl: A Real Magician / 32
MAIN STORIES / 5, 6, 7
David A. Kyle (1919-2016) • Tchaikovsky Wins Clarke • 2016 Sunburst Awards Winners • 2016 Dragon Awards Winners • 2016 National Book Award Finalists • Survey Says ''Digital Fatigue'' • PW Publishing Survey
THE DATA FILE/7
Nebula Awards Conference • Hachette Sues Seth Grahame-Smith • Rick Riordan Presents • FISCHER Tor • Dahl's Small Beer • Self-Publishing Up • Heinlein Inducted • Harry Potter News • Online News • Awards News • Bookstore News • Amazon News • Publishing News • Announcements • Book News • Financial News • International Rights • Other Rights • Audiobooks Received • Publications Received • Catalogs Received
PEOPLE & PUBLISHING / 8
Notes on milestones, awards, books sold, etc., with news this issue about Kelly Link, Catherynne M. Valente, Ellen Klages, Madeleine L'Engle, James Morrow, and many others.
SPECIAL FEATURES
Commentary by Kameron Hurley: The Mission-Driven Writing Career / 31 Photo Story: Aurora Awards Presented / 73 Spotlight on JJ Jacobson, Eaton Collection Librarian / 79 Series Author Spotlight on Sharon Lee & Steve Miller / 80
MIDAMERICON II
MidAmeriCon II / 34 WSFS Business Meeting / 44 The Alfies / 45 Complete 2016 Hugo Voting / 46 Complete 1941 Retro Hugo Voting / 49
LISTINGS
Magazines Received: August / 51 Books Received: August / 52 British Books Received: July / 64 Bestsellers / 66
OTHER OBITUARIES / 81
W.P. Kinsella • Bob Peterson
EDITORIAL MATTERS / 82
Locus Writers Workshop • This Issue/Next Issue
LOCUS LOOKS AT BOOKS
Short Fiction Reviews by Rich Horton / 13
Lightspeed 9/16; Clarkesworld 8/16; Analog 9/16; Strange Horizons 7/17, 8/16; Beneath Ceaseless Skies 8/18/16; Tor.com 7/27/16; The Dream Quest of Vellitt Boe, Kij Johnson; Crises and Conflicts, Ian Whates, ed.; Now We Are Ten, Ian Whates, ed.
Short Fiction Reviews by Rachel Swirsky / 14
Clarkesworld 4/16, 6/16, 8/16; Uncanny 3-4/16, 7-8/16; Beneath Ceaseless Skies 5/16, 7/16.
Short Fiction Reviews by Paula Guran / 17
Uncanny Magazine 7-8/16; Nightmare 7/16, 8/16; Black Static 7-8/16; Shimmer 7-8/16; The Dark 8/16; Apex Magazine 8/16.
Reviews by Gary K. Wolfe / 18
Crosstalk, Connie Willis; Faller, Will McIntosh; Everything Belongs to the Future, Laurie Penny; The Year's Best Science Fiction & Fantasy 2016, Rich Horton, ed.
Reviews by Faren Miller / 21
Crosstalk, Connie Willis; The Motion of Puppets, Keith Donohue; The Family Plot, Cherie Priest; Wicked Weeds: A Zombie Novel, Pedro Cabiya.
Reviews by Russell Letson / 23
Traveler of Worlds: Conversations with Robert Silverberg, Alvaro Zinos-Amaro; Revenger, Alastair Reynolds.
Reviews by Adrienne Martini / 24
Invasive, Chuck Wendig; The Regional Office Is Under Attack!, Manuel Gonzales; The Big Sheep, Robert Kroese; Stiletto, Daniel O'Malley.
Reviews by Carolyn Cushman / 25
Truck Stop Earth, Michael A. Armstrong; The Bronze Key, Holly Black & Cassandra Clare; The Queen of Blood, Sarah Beth Durst; Poisoned Blade, Kate Elliott; This Is Not a Werewolf Story, Sandra Evans; Elite, Mercedes Lackey; An Accident of Stars, Foz Meadows; The Scourge, Jennifer A. Nielsen; League of Dragons, Naomi Novik; Rocks Fall, Everyone Dies, Lindsay Ribar.
Reviews by Divers Hands: Colleen Mondor, Tim Pratt & Richard A. Lupoff / 27
Devil and the Bluebird, Jennifer Mason-Black; I Am Providence, Nick Mamatas; Darkness, My Old Friend, John Pelan.
Audiobook Reviews by Amy Goldschlager / 29
Tracer, Rob Bofford; Julia Vanishes, Catherine Egan; Children of Earth and Sky, Guy Gavriel Kay; False Hearts, Laura Lam; Burning Midnight, Will McIntosh; Mechanical Failure, Joe Vieja; Underground Airlines, Ben H.
Winters.
Terry Bisson: This Month in History / 13, 19, 21, 23
 
---
Magazine Issues reviewed in this issue (indicating reviewer) —
Analog September 2016 (Rich Horton)
Apex Magazine August 2016 (Paula Guran)
Beneath Ceaseless Skies May 2016 (Rachel Swirsky)
Beneath Ceaseless Skies July 2016 (Rachel Swirsky)
Beneath Ceaseless Skies August 2016 (Rich Horton)
Black Static Jul-Aug 2016 (Paula Guran)
Clarkesworld April 2016 (Rachel Swirsky)
Clarkesworld June 2016 (Rachel Swirsky)
Clarkesworld August 2016 (Rachel Swirsky)
Clarkesworld August 2016 (Rich Horton)
Lightspeed September 2016 (Rich Horton)
Nightmare Magazine July 2016 (Paula Guran)
Nightmare Magazine August 2016 (Paula Guran)
Shimmer July 2016 (Paula Guran)
Strange Horizons July 2016 (Rich Horton)
Strange Horizons August 2016 (Rich Horton)
The Dark August 2016 (Paula Guran)
Tor.com July 2016 (Rich Horton)
Uncanny March/April 2016 (Rachel Swirsky)
Uncanny July/August 2016 (Paula Guran)
Uncanny July/August 2016 (Rachel Swirsky)
 
---
Books reviewed in this issue, listed by author (indicating reviewer) —
Armstrong, Michael A. • Truck Stop Earth (Carolyn Cushman)
Black, Holly, & Cassandra Clare • The Bronze Key (Carolyn Cushman)
Cabiya, Pedro • Wicked Weeds: A Zombie Novel (Faren Miller)
Donohue, Keith • The Motion of Puppets (Faren Miller)
Durst, Sarah Beth • The Queen of Blood (Carolyn Cushman)
Elliott, Kate • Poisoned Blade (Carolyn Cushman)
Evans, Sandra • This Is Not a Werewolf Story (Carolyn Cushman)
Gonzales, Manuel • The Regional Office Is Under Attack! (Adrienne Martini)
Horton, Rich, ed. • The Year's Best Science Fiction & Fantasy: 2016 Edition (Gary K. Wolfe)
Johnson, Kij • The Dream-Quest of Vellitt Boe (Rich Horton)
Kroese, Robert • The Big Sheep (Adrienne Martini)
Lackey, Mercedes • Elite (Carolyn Cushman)
Mamatas, Nick • I Am Providence (Tim Pratt)
Mason-Black, Jennifer • Devil and the Bluebird (Colleen Mondor)
McIntosh, Will • Faller (Gary K. Wolfe)
Meadows, Foz • An Accident of Stars (Carolyn Cushman)
Nielsen, Jennifer A. • The Scourge (Carolyn Cushman)
Novik, Naomi • League of Dragons (Carolyn Cushman)
O'Malley, Daniel • Stiletto (Adrienne Martini)
Penny, Laurie • Everything Belongs to the Future (Gary K. Wolfe)
Priest, Cherie • The Family Plot (Faren Miller)
Reynolds, Alastair • Revenger (Russell Letson)
Ribar, Lindsay • Rocks Fall, Everyone Dies (Carolyn Cushman)
Wendig, Chuck • Invasive (Adrienne Martini)
Whates, Ian, ed. • Crises and Conflicts (Rich Horton)
Whates, Ian, ed. • Now We Are Ten (Rich Horton)
Willis, Connie • Crosstalk (Faren Miller)
Willis, Connie • Crosstalk (Gary K. Wolfe)
Zinos-Amaro, Alvaro • Traveler of Worlds: Conversations with Robert Silverberg (Russell Letson)