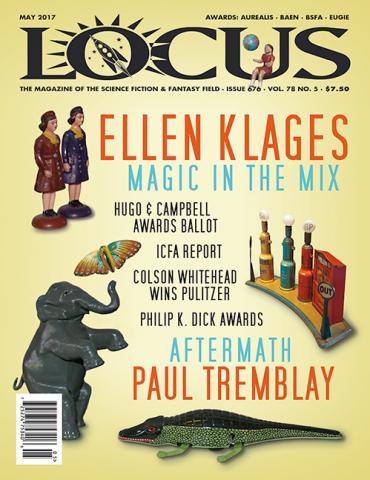 In this issue:
The May issue features interviews with Ellen Klages and Paul Tremblay, a column by Cory Doctorow, coverage of the International Conference on the Fantastic in the Arts and other conventions, and reviews of short fiction and books by Jonathan Strahan, Jeff VanderMeer, Ian McDonald, Clive Barker, Marie Brennan, and many others.
Table of Contents:
May 2017 • Issue 676 • Vol. 78 • No. 5
50th Year of Publication • 30-Time Hugo Winner
Cover and Interview Designs by Francesca Myman
INTERVIEWS
Ellen Klages: Magic in the Mix / 10
Paul Tremblay: Aftermath / 46
MAINSTORIES / 5
2017 Hugo Awards Ballot • Whitehead Wins Pulitzer • World Fantasy Trophy News • 2016 BSFA Awards Winners • Casper Wins PKD • Aurealis Awards Winners • Travel in the Time of Trump
THE DATA FILE / 7
2017 Prometheus Award Finalists • 2017 Compton Crook Award Finalists • Eugie Award Finalists • 2 017 Jim Baen Memorial Short Story Award • O dyssey Con Upheaval • Unauthorized Area X • Amazon News • Magazine News • Announcements • SFPA Changes Name • Awards News • Financial News • International Rights • Other Rights • Audiobooks Received • Publications Received
PEOPLE & PUBLISHING / 8
Notes on milestones, awards, books sold, etc., with news this issue about Mary Anne Mohanraj, Dennis Etchison and Thomas F. Monteleone, Charlaine Harris, Peter J. Heck, Dean Koontz, and many others
SPECIAL FEATURES
Photo Story: 2017 Dell Awards at ICFA / 7 Photo Story: DeLucci/Bains Wedding / 9 Commentary: Cory Doctorow: Weaponized Narrative / 23 Photo Story: Rainforest Writers Village / 53
CONVENTIONS
2017 Writers and Illustrators of the Future Awards / 24 Norwescon 40 / 25 2017 International Conference on the Fantastic in the Arts / 26 2017 Williamson Lectureship / 30
LISTINGS
Magazines Received: March / 3 1 Books Received: M arch / 3 2 British Books Received: February / 42 Bestsellers / 44
OBITUARIES / 56
Mike Levy • Appreciations from Farah Mendlesohn, Sherryl Vint, Joe Sutliff Sanders, Brian Attebery, and Kelly McCullough • Paula Fox
EDITORIAL MATTERS / 58
Writers of the Future • ICFA • This Issue/Next Issue
LOCUS LOOKS AT BOOKS
Short Fiction Reviews by Rich Horton / 13
F&SF 1-2/17, 3-4/17; Uncanny 3-4/17; Clarkesworld 3/17; Lightspeed 4/17; Tor.com 3/17; Slate 3/17; Mothership
Zeta 1/17.
Reviews by Gary K. Wolfe / 14
The Best Science Fiction and Fantasy of the Year Volume 11, Jonathan Strahan, ed.; Wicked Wonders, Ellen Klages; Borne, Jeff VanderMeer; Lincoln in the Bardo, George Saunders.
Reviews by Faren Miller / 16
City of Miracles, Robert Jackson Bennett; Borne, Jeff VanderMeer; The Ship, Antonia Honeywell; The Song Rising, Samantha Shannon.
Reviews by Russell Letson / 17
Luna: Wolf Moon, Ian McDonald; Babylon's Ashes, James S.A. Corey.
Reviews by John Langan / 18
Infernal Parade, Clive Barker; The Cult of the Headless Men, Orrin Grey; The Shadow of the Axe, Nicholas Kaufmann; The Graveyard Apartment, Mariko Koike; The Rib from which I Remake the World, Ed Kurtz; Albion Fay, Mark Morris; The Secret of Ventriloquism, Jon Padgett; Behind Her Eyes, Sarah Pinborough; And Death Shall Have No Dominion: A Tribute to Michael Shea, Michael Shea; We Eat Our Own, Kea Wilson.
Reviews by Liz Bourke / 20
Killing Gravity, Corey J. White; Lightning in the Blood, Marie Brennan; Food of the Gods, Cassandra Khaw.
Short Fiction Reviews by Paula Guran / 21
Fiyah Winter 2017; Gamut 2/17, 3/17; Apex Magazine 2/17; The Dark 4/17; Tor.com, 3/8/17, 3/9/17; Uncanny 3-4/17.
Reviews by Divers Hands: Colleen Mondor & Paula Guran / 22
American Street, Ibi Zoboi; Black Feathers: Dark Avian Tales, Ellen Datlow, ed.; Quieter Paths, Alison Littlewood.
Terry Bisson: This Month in History / 13, 15, 17, 21
---
Magazine Issues reviewed in this issue (indicating reviewer) —
Clarkesworld March 2017 (Rich Horton)
F&SF Jan/Feb 2017 (Rich Horton)
F&SF Mar/Apr 2017 (Rich Horton)
Fiyah Winter 2017 (Paula Guran)
Gamut February 2017 (Paula Guran)
Gamut March 2017 (Paula Guran)
Lightspeed April 2017 (Rich Horton)
Mothership Zeta #02 2017 (Rich Horton)
Slate March 2017 (Rich Horton)
The Dark April 2017 (Paula Guran)
Tor.com March 2017 (Paula Guran)
Tor.com March 2017 (Rich Horton)
Uncanny March/April 2017 (Paula Guran)
Uncanny March/April 2017 (Rich Horton)
Books reviewed in this issue, listed by author (indicating reviewer) —
Barker, Clive • Infernal Parade (John Langan)
Bennett, Robert Jackson • City of Miracles (Faren Miller)
Brennan, Marie • Lightning in the Blood (Liz Bourke)
Corey, James S. A. • Babylon's Ashes (Russell Letson)
Datlow, Ellen, ed. • Black Feathers: Dark Avian Tales: An Anthology (Paula Guran)
Grey, Orrin • The Cult of the Headless Man (John Langan)
Honeywell, Antonia • The Ship (Faren Miller)
Kaufmann, Nicholas • In the Shadow of the Axe (John Langan)
Khaw, Cassandra • Food of the Gods (Liz Bourke)
Klages, Ellen • Wicked Wonders (Gary K. Wolfe)
Koike, Mariko • The Graveyard Apartment (John Langan)
Kurtz, Ed • The Rib From Which I Remake the World (John Langan)
Littlewood, Alison • Quieter Paths (Paula Guran)
McDonald, Ian • Luna: Wolf Moon (Russell Letson)
Morris, Mark • Albion Fay (John Langan)
Padgett, Jon • The Secret of Ventriloquism (John Langan)
Pinborough, Sarah • Behind Her Eyes (John Langan)
Saunders, George • Lincoln in the Bardo (Gary K. Wolfe)
Shannon, Samantha • The Song Rising (Faren Miller)
Shea, Michael • And Death Shall Have No Dominion: A Tribute to Michael Shea (John Langan)
Strahan, Jonathan, ed. • The Best Science Fiction & Fantasy of the Year Volume Eleven (Gary K. Wolfe)
VanderMeer, Jeff • Borne (Faren Miller)
VanderMeer, Jeff • Borne (Gary K. Wolfe)
White, Corey J. • Killing Gravity (Liz Bourke)
Wilson, Kea • We Eat Our Own (John Langan)
Zoboi, Ibi • American Street (Colleen Mondor)