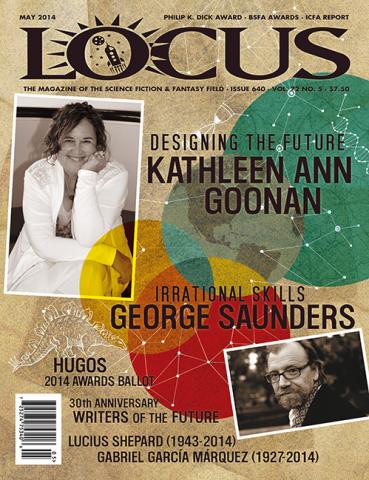 In this issue:
The May 2014 issue of Locus magazine has interviews with Kathleen Ann Goonan and George Saunders and a column by Cory Doctorow entitled "How to Talk to Your Children About Mass Surveillance". News coverage includes the 2014 Hugo Awards Ballot, the Philip K. Dick Award, the BSFA Awards, the Dell Awards, and convention reports on ICFA 2014, Norwescon 37, the 30th anniversary of Writers and Illustrators of the Future, and the 2014 Williamson Lectureship. The issue also includes obituaries of Lucius Shepard and Gabriel García Márquez. Reviews cover new titles by Jo Walton, Mary Rickert, Nnedi Okorafor, Daryl Gregory, Jeff VanderMeer, Robin Riopelle, Robert Reed, Steve Rasnic Tem, Stephen King, and many others.
Table of Contents:
May 2014 • Issue 640 • Vol. 72 • No. 5
47th Year of Publication • 30-Time Hugo Winner
Cover and Interview Designs by Francesca Myman
I N T E R V I E W
Kathleen Ann Goonan: Designing the Future / 6
George Saunders: Irrational Skills / 8
MAIN STORIES / 5&12
2014 Hugo Awards Nominations • 1939 Retro Hugo Awards Nominations • Winters Wins Dick Award • 2013 BSFA Awards Winners • 2014 Dell Awards
conventions
2014 Writers and Illustrators of the Future / 5 2014 Williamson Lectureship / 31 2014 International Conference on the Fantastic in the Arts / 32 Norwescon 37 / 60
PEOPLE & PUBLISHING / 10
Notes on milestones, awards, books sold, etc., with news this issue about William Hope Hodgson, Karen Joy Fowler, Ursula K. Le Guin, J.R.R. Tolkien, Stephen King, Brian Herbert & Kevin J. Anderson, and many others
thE datA file / 13
Hodder Buys Quercus • PW Bestsellers of 2013 • Bestselling Authors • 2013 Aurealis Award Winners • NFA Steals Maitz Artwork • Apple Lawsuit News • Barnes & Noble News • Amazon News • James Herbert Award for Horror Writing • Awards News • Publishing News • World Conventions News • Announcements • Legal News • Financial News • International Rights • Other Rights • Publications Received • Catalogs Received
SPECIAL FEATURES
Cory Doctorow: Commentary: How to Talk to Your Children About Mass Surveillance / 30 2014 Rainforest Writers Village Retreats / 55
listings
Magazines Received: March / 36 Books Received: March / 37 British Books Received: February / 46 Bestsellers / 48
ObituarieS / 56
Lucius Shepard • Appreciations by Lisa Goldstein, Jack Dann, Ellen Datlow, J.K. Potter, and James Patrick Kelly • Gabriel García Márquez • Andy Robertson
locus letters / 58
John Joseph Adams
EDITORIAL MATTERS / 62
ICFA • Hugo Awards Ballot • This Issue/Next Issue
Gardnerspace: A Short Fiction Column by Gardner Dozois / 15
Subterranean Spring '14; F&SF 3-4/14; The Time Traveler's Almanac, Ann & Jeff VanderMeer, eds.
Short Fiction Reviews by Rich Horton / 17
Asimov's 4-5/14, Beneath Ceaseless Skies 3/14; Clarkesworld 3/14; Clarkesworld 4/14; On Spec Winter 2013/2014; Child of Words 3/14.
Reviews by Gary K. Wolfe / 18
My Real Children, Jo Walton; The Memory Garden, Mary Rickert; Lagoon, Nnedi Okorafor; Afterparty, Daryl Gregory.
Reviews by Faren Miller / 21
Authority, Jeff VanderMeer; Deadroads, Robin Riopelle; The Poisoned Island, Lloyd Shepherd; Oversight, Charlie Fletcher; SHORT TAKE: Thornlost, Melanie Rawn.
Reviews by Russell Letson / 23
The Memory of Sky, Robert Reed.
Reviews by Stefan Dziemianowicz / 24
Blood Kin, Steve Rasnic Tem; Here with the Shadows, Steve Rasnic Tem; Mr. Mercedes, Stephen King; The Troop, Nick Cutter; The Mammoth Book of Best New Horror 24, Stephen Jones, ed.
Short Reviews by Carolyn Cushman / 27
A Killing Notion, Melissa Bourbon; Night Broken, Patricia Briggs; Dreamwalker, C.S. Friedman; Blood Red, Mercedes Lackey; Artemis Awakening, Jane Lindskold; Raising Steam, Terry Pratchett.
Locus Looks at Art Books by Karen Haber / 28
The Alluring Art of Margaret Brundage, Stephen D. Korshak & J. David Spurlock, eds.; Hannes Bok: A Life in Illustration, Joseph Wrzos, ed.; Rules of Summer, Shaun Tan; Maurice Sendak: A Celebration of the Artist and His Work, Leonard S. Marcus, ed.; SHORT TAKES: The Art of Brom, Brom; Mr. Wuffles!, David Wiesner.
Terry Bisson: This Month in History / 17, 19, 23, 27
---
Magazine Issues reviewed in this issue (indicating reviewer) —
Asimov's April/May 2014 (Rich Horton)
Beneath Ceaseless Skies March 2014 (Rich Horton)
Child of Words March 2014 (Rich Horton)
Clarkesworld March 2014 (Rich Horton)
Clarkesworld April 2014 (Rich Horton)
F&SF Mar/Apr 2014 (Gardner Dozois)
On Spec Winter 2013/2014 (Rich Horton)
Subterranean Spring 2014 (Gardner Dozois)
---
Books reviewed in this issue, listed by author (indicating reviewer) —
Bourbon, Melissa • A Killing Notion (Carolyn Cushman)
Briggs, Patricia • Night Broken (Carolyn Cushman)
Brom • The Art of Brom (Karen Haber)
Brundage, Margaret, edited by Stephen D. Korshak & -3- • The Alluring Art of Margaret Brundage (Karen Haber)
Cutter, Nick • The Troop (Stefan Dziemianowicz)
Fletcher, Charlie • The Oversight (Faren Miller)
Friedman, C. S. • Dreamwalker (Carolyn Cushman)
Gregory, Daryl • Afterparty (Gary K. Wolfe)
Jones, Stephen, ed. • The Mammoth Book of Best New Horror: 24 (Stefan Dziemianowicz)
King, Stephen • Mr. Mercedes (Stefan Dziemianowicz)
Lackey, Mercedes • Blood Red (Carolyn Cushman)
Lindskold, Jane • Artemis Awakening (Carolyn Cushman)
Marcus, Leonard S., ed. • Maurice Sendak: A Celebration of the Artist and His Work (Karen Haber)
Okorafor, Nnedi • Lagoon (Gary K. Wolfe)
Pratchett, Terry • Raising Steam (Carolyn Cushman)
Pratchett, Terry • Raising Steam (Carolyn Cushman)
Rawn, Melanie • Thornlost (Faren Miller)
Reed, Robert • The Memory of Sky: A Great Ship Trilogy (Russell Letson)
Rickert, Mary • The Memory Garden (Gary K. Wolfe)
Riopelle, Robin • Deadroads (Faren Miller)
Shepherd, Lloyd • The Poisoned Island (Faren Miller)
Tan, Shaun • The Rules of Summer (Karen Haber)
Tem, Steve Rasnic • Blood Kin (Stefan Dziemianowicz)
Tem, Steve Rasnic • Here With the Shadows (Stefan Dziemianowicz)
VanderMeer, Ann, & Jeff VanderMeer, eds. • The Time Traveler's Almanac (Gardner Dozois)
VanderMeer, Jeff • Authority (Faren Miller)
Walton, Jo • My Real Children (Gary K. Wolfe)
Wiesner, David • Mr. Wuffles! (Karen Haber)
Wrzos, Joseph, ed. • Hannes Bok: A Life in Illustration (Karen Haber)