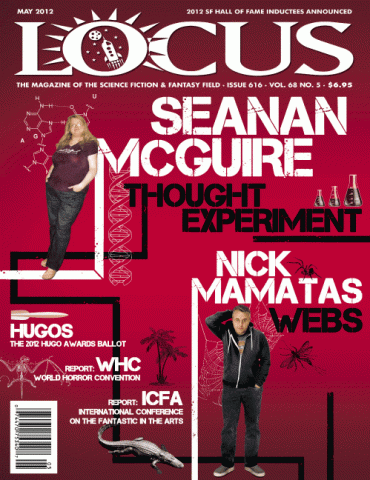 In this issue:
Locus Magazine • May 2012 • Issue 616 • Vol. 68 No. 5
The May issue has interviews with Seanan McGuire and Nick Mamatas, reports from this year's Williamson Lectureship and the International Conference on the Fantastic in the Arts, a new column by Cory Doctorow, and reviews of new books by Kim Stanley Robinson, China Miéville, Naomi Novik, C.J. Cherryh, Kristin Cashore, Charlaine Harris, and many others.
Table of Contents:
May 2012 • Issue 616 • Vol. 68 No. 5
45th Year of Publication • 29-Time Hugo Winner
Cover and Interview Designs by Francesca Myman
I N T E R V I E W S
Seanan McGuire: Thought Experiment / 6
Nick Mamatas: Webs / 72
M A I N    S T O R I E S / 5 & 10
Hugo Award Nominations • 2012 Williamson Lectureship • 2012 SF Hall of Fame Inductees • Morden Wins 2012 Philip K. Dick Award • 2012 Stoker Awards Winners • BSFA Winners • 2012 Dell Awards • DoJ Files Antitrust Lawsuit
P E O P L E   &   P U B L I S H I N G / 8
Notes on milestones, awards, books sold, etc., with news this issue about Jennifer Egan, Greg Bear,Karen Joy Fowler, Tanith Lee, Richard Kadrey, Margaret Atwood, and many others • Photo Story: Rainforest Writers
T H E    D A T A    F I L E / 11
Clark Award Shortlist • Amazon News • Pottermore Launches • Bertelsmann Considers Going Public • Clarke Center for Human Imagination • Hevelin Collection Finds a Home • The Hobbit Pub Saved • Google Ends E-book Parnerships • E-books Up • Awards News • Worldcons News • Publishing News • Legal News • Book News • Financial News • International Rights • Other Rights • Audiobooks Received • Publications Received • Catalogs Received
C O M M E N T A R Y
Cory Doctorow: A Prose by Any Other Name / 29
C O N V E N T I O N S
World Horror Convention / 31 2012 International Conference on the Fantastic in the Arts / 32
L I S T I N G S
Magazines Received: March / 36
Books Received: March / 37
British Books Received: February / 48
Bestsellers / 50
O B I T U A R I E S / 58
Gene DeWeese • Peter Phillips • Christine Brooke-Rose • Nick Webb
L O C U S   L E T T E R S / 58
Charles Vess • James Lautar
E D I T O R I A L    M A T T E R S / 59
ICFA • Locus Awards/Goodbye SF Museum • Kickstarter • This Issue/Next Issue
---
L O C U S    L O O K S    A T    B O O K S
Gardnerspace: Short Fiction Column by Gardner Dozois / 14
F&SF 3-4/12; Asimov's 3/12; Tor.com 2/29/12 – 3/21/12.
Short Fiction Reviews by Richard Horton / 15
F&SF 5-6/12; Beneath Ceaseless Skies 3/8/12; Strange Horizons 3/19/12; Lightspeed 4/12; Tor.com 3/12; Analog 5/12; Black Static 2-3/12; Arc #1; Cosmos 4/12; Andromeda Spaceways Inflight Magazine #53.
Reviews by Gary K. Wolfe / 16
2312, Kim Stanley Robinson; Railsea, China Miéville; Fountain of Age: Stories, Nancy Kress.
Reviews by Faren Miller / 18
Crucible of Gold, Naomi Novik; Glamour in Glass, Mary Robinette Kowal; The Black Opera, Mary Gentle; Sacré Bleu, Christopher Moore; The Great Game, Lavie Tidhar.
Reviews by Russell Letson / 21
Intruder, C.J. Cherryh; Sex and Violence in Zero-G: The Complete ''Near Space'' Stories: Expanded Edition, Allen Steele.
Reviews by Stefan Dziemianowicz / 22
Where the Summer Ends: The Best Horror Stories of Karl Edward Wagner, Volume 1, Karl Edward Wagner; Walk on the Wild Side: The Best Horror Stories of Karl Edward Wagner, Volume 2, Karl Edward Wagner; The Croning, Laird Barron; Indignities of the Flesh, Bentley Little.
Short Reviews by Carolyn Cushman / 25
Every Other Day, Jennifer Lynn Barnes; Undead and Unstable, MaryJanice Davidson; Undone Deeds, Mark Del Franco; Deadlocked, Charlaine Harris; Jane Carver of Waar, Nathan Long; Raven Calls, C.E. Murphy; Crucible of Gold, Naomi Novik; Twin Spica 12, Kou Yaginuma.
Reviews by Divers Hands: Gwenda Bond, Richard A. Lupoff, & Karen Burnham / 26
Bitterblue, Kristin Cashore; The Book of Blood and Shadow, Robin Wasserman; Vultures of the Void: The Legacy, Philip Harbottle; The Future is Japanese, Nick Mamatas & Masumi Washington, eds.
Terry Bisson: This Month in History / 
15, 17, 21, 23
---
Magazine Issues reviewed in this issue (indicating reviewer) —
Analog May 2012 (Rich Horton)
Andromeda Spaceways Inflight Magazine December 2011 (Rich Horton)
Arc 2012 (Rich Horton)
Asimov's March 2012 (Gardner Dozois)
Beneath Ceaseless Skies March 2012 (Rich Horton)
Black Static Feb-Mar 2012 (Rich Horton)
Cosmos April 2012 (Rich Horton)
F&SF Mar/Apr 2012 (Gardner Dozois)
F&SF May/June 2012 (Rich Horton)
Lightspeed April 2012 (Rich Horton)
Strange Horizons March 2012 (Rich Horton)
Tor.com February 2012 (Gardner Dozois)
Tor.com March 2012 (Gardner Dozois)
Tor.com March 2012 (Rich Horton)
Books reviewed in this issue, listed by author (indicating reviewer) —
Barnes, Jennifer Lynn • Every Other Day (Carolyn Cushman)
Barron, Laird • The Croning (Stefan Dziemianowicz)
Cashore, Kristin • Bitterblue (Gwenda Bond)
Cherryh, C. J. • Intruder (Russell Letson)
Davidson, Maryjanice • Undead and Unstable (Carolyn Cushman)
Del Franco, Mark • Undone Deeds (Carolyn Cushman)
Gentle, Mary • The Black Opera (Faren Miller)
Harbottle, Philip • Vultures of the Void: The Legacy (Richard A. Lupoff)
Harris, Charlaine • Deadlocked (Carolyn Cushman)
Kowal, Mary Robinette • Glamour in Glass (Faren Miller)
Kress, Nancy • Fountain of Age: Stories (Gary K. Wolfe)
Little, Bentley • Indignities of the Flesh (Stefan Dziemianowicz)
Long, Nathan • Jane Carver of Waar (Carolyn Cushman)
Mamatas, Nick, & Masumi Washington, eds. • The Future Is Japanese (Karen Burnham)
Mieville, China • Railsea (Gary K. Wolfe)
Moore, Christopher • Sacre Bleu: A Comedy d'Art (Faren Miller)
Murphy, C. E. • Raven Calls (Carolyn Cushman)
Novik, Naomi • Crucible of Gold (Carolyn Cushman)
Novik, Naomi • Crucible of Gold (Faren Miller)
Robinson, Kim Stanley • 2312 (Gary K. Wolfe)
Steele, Allen • Sex and Violence in Zero-G: The Complete ''Near Space'' Stories: Expanded Edition (Russell Letson)
Tidhar, Lavie • The Great Game (Faren Miller)
Wagner, Karl Edward, edited by Stephen Jones • The Best Horror Stories of Karl Edward Wagner, Volume 1: Where the Summer Ends (Stefan Dziemianowicz)
Wasserman, Robin • The Book of Blood and Shadow (Gwenda Bond)
Yaginuma, Kou • Twin Spica 12 (Carolyn Cushman)