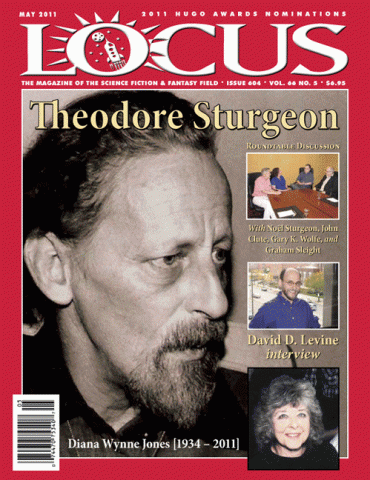 In this issue:
The May issue of Locus Magazine has a Roundtable Discussion of Theodore Sturgeon, an interview with David D. Levine, a new column by Cory Doctorow, and reviews of short fiction and books by China Miéville, Michael Swanwick, Kris Naknussemm, Patrick Rothfuss, Henry Kuttner, James Gurney, and others.
Table of Contents:
May 2011 • Issue 604 • Vol. 66 No. 5
44th Year of Publication • 29-Time Hugo Winner
Cover and Interview Designs by Arnie Fenner
I N T E R V I E W S 
Theodore Sturgeon Roundtable Discussion / 6
David D. Levine: Life on Mars / 60
M A I N    S T O R I E S / 5 & 10
2011 Hugo Awards Nominations • SF Hall of Fame Inductees • Borders's Bankruptcy • 2011 Rainforest Writers 
P E O P L E   &   P U B L I S H I N G / 8
Notes on milestones, awards, books sold, etc., with news this issue about Shaun Tan, Jeffrey Ford, Terry Bisson, Sarah Prineas, Kim Harrison, Tanya Huff, and many others
T H E    D A T A    F I L E / 11
Dorchester Boycott • Awards News • Worldcons News • Bookstore News • Publishing News • Books News • Announcements • Legal News • Media News • Paranormal Books Sold • Financial News
C O M M E N T A R Y / 29
Cory Doctorow: Techno-optimism 
C O N V E N T I O N S
International Conference on the Fantastic in the Arts 31 2011 Williamson Lectureship 34
I N T E R N A T I O N A L / 35
SF in France
L I S T I N G S
Magazines Received: March / 37    Books Received: March / 38    
British Books Received: February / 49    Bestsellers / 50
O B I T U A R I E S / 56
Diana Wynne Jones • Appreciations by Neil Gaiman, Ellen Kushner, Sharyn November, and Farah Mendlesohn • H.R.F. Keating • Larry Tritten • Appreciation by Michael Shea • Craig Thomas
E D I T O R I A L    M A T T E R S / 58
Outreach and Visitors • Receding Recession • Staff Addition • This Issue • Next Issue
---
L O C U S    L O O K S    A T    B O O K S
Gardnerspace: Short Fiction Column by Gardner Dozois / 14
Subterranean Winter '11; Welcome to the Greenhouse, Gordon van Gelder, ed.; Lightspeed 1/11; Lightspeed 2/11; Lightspeed 3/11; Brave New Worlds, John Joseph Adams, ed. 
Short Fiction Reviews by Richard Horton / 15
Realms of Fantasy 2/11; Realms of Fantasy 4/11; Beneath Ceaseless Skies 2/24/11; Fantasy 5/10; Analog 5/10; On Spec Winter '10-'11; Strange Horizons 3/11; Daily Science Fiction 2/11; Daily Science Fiction 3/11; Life on Mars, Jonathan Strahan, ed.
Reviews by Gary K. Wolfe / 16
Embassytown, China Miéville; Dancing with Bears, Michael Swanwick; Eclipse Four, Jonathan Strahan, ed.
Reviews by Faren Miller / 18
Embassytown, China Miéville; Mechanique, Genevieve Valentine; Diversifications, James Lovegrove; SHORT TAKES: Dark Jenny, Alex Bledsoe; Hounded, Kevin Hearne. 
Reviews by Paul Witcover / 20
Enigmatic Pilot, Kris Saknussemm; Deathless, Catherynne M. Valente; The Dragon's Path, Daniel Abraham. 
Reviews by Carolyn Cushman / 23
Spellcast, Barbara Ashford; Tiassa, Steven Brust; Late Eclipses, Seanan McGuire; The Floating Islands, Rachel Neumeier; Tortall and Other Lands, Tamora Pierce; The Wise Man's Fear, Patrick Rothfuss; Kitty's Big Trouble, Carrie Vaughn; The Cloud Roads, Martha Wells. 
Reviews by Divers Hands: Stefan Dziemianowicz, Rich Horton & Gwenda Bond / 24
Terror in the House: The Early Kuttner, Volume One, Henry Kuttner; Christmas with the Dead, Joe R. Lansdale; Subterranean: Tales of Dark Fantasy 2, William K. Schafer, ed.; Miss Peregrin's Home for Peculiar Children, Ransom Riggs.
Yesterday's Tomorrows: Graham Sleight / 27
Fritz Leiber: Selected Stories, Fritz Leiber; Swords and Deviltry, Fritz Leiber; The Wanderer, Fritz Leiber, Conjure Wife, Fritz Leiber; Our Lady of Darkness, Fritz Leiber.
Locus Looks at Art Books: Reviews by Karen Haber / 27
Color and Light: A Guide for the Realist Painter, James Gurney; SHORT TAKES: A Fine Line: Scratchboard Illustrations, Scott McKowen; The Night Bookmobile, Audrey Niffenegger; The Secret River, Marjorie Kinnan Rawling, illustrated by Leo & Diane Dillon.
Terry Bisson: This Month in History / 15, 17, 19, 21
---
Magazine Issues reviewed in this issue (indicating reviewer) — 
Analog May 2011 (Rich Horton) 
Beneath Ceaseless Skies February 2011 (Rich Horton) 
Daily Science Fiction February 2011 (Rich Horton) 
Daily Science Fiction March 2011 (Rich Horton) 
Fantasy Magazine May 2011 (Rich Horton) 
Lightspeed January 2011 (Gardner Dozois) 
Lightspeed February 2011 (Gardner Dozois) 
Lightspeed March 2011 (Gardner Dozois) 
On Spec Winter 2011 (Rich Horton) 
Realms of Fantasy February 2011 (Rich Horton) 
Realms of Fantasy April 2011 (Rich Horton) 
Strange Horizons March 2011 (Rich Horton) 
Subterranean Winter 2011 (Gardner Dozois) 
Books reviewed in this issue, listed by author (indicating reviewer) — 
Abraham, Daniel • The Dragon's Path (Paul Witcover) 
Adams, John Joseph, ed. • Brave New Worlds (Gardner Dozois) 
Ashford, Barbara • Spellcast (Carolyn Cushman) 
Bledsoe, Alex • Burn Me Deadly (Faren Miller) 
Brust, Steven • Tiassa (Carolyn Cushman) 
Gurney, James • Color and Light: A Guide for the Realist Painter (Karen Haber) 
Hearn, Kevin • Hounded (Faren Miller) 
Kuttner, Henry, edited by Stephen Haffner • The Early Kuttner, Volume One: Terror in the House (Stefan Dziemianowicz) 
Lansdale, Joe R. • Christmas with the Dead (Stefan Dziemianowicz) 
Lovegrove, James • Diversifications (Faren Miller) 
McGuire, Seanan • Late Eclipses (Carolyn Cushman) 
McKowan, Scott • A Fine Line: Scratchboard Illustrations (Karen Haber) 
Mieville, China • Embassytown (Faren Miller) 
Mieville, China • Embassytown (Gary K. Wolfe) 
Neumeier, Rachel • The Floating Islands (Carolyn Cushman) 
Niffenegger, Audrey • The Night Bookmobile (Karen Haber) 
Pierce, Tamora • Tortall and Other Lands (Carolyn Cushman) 
Rawlings, Marjorie Kinnan, illustrated by Leo & Diane Dillon • The Secret River (Karen Haber) 
Riggs, Ransom • Miss Peregrine's Home for Peculiar Children (Gregory Benford) 
Rothfuss, Patrick • The Wise Man's Fear (Carolyn Cushman) 
Saknussemm, Kris • Enigmatic Pilot: A Tall Tale Too True (Paul Witcover) 
Schafer, William, ed. • Subterranean: Tales of Dark Fantasy 2 (Rich Horton) 
Strahan, Jonathan, ed. • Eclipse Four (Gary K. Wolfe) 
Strahan, Jonathan, ed. • Eclipse Four (Rich Horton) 
Strahan, Jonathan, ed. • Life on Mars: Tales of the New Frontier (Rich Horton) 
Swanwick, Michael • Dancing With Bears (Gary K. Wolfe) 
Valente, Catherynne M. • Deathless (Paul Witcover) 
Valentine, Genevieve • Mechanique: A Tale of the Circus Tresaulti (Faren Miller) 
Van Gelder, Gordon, ed. • Welcome to the Greenhouse (Gardner Dozois) 
Vaughn, Carrie • Kitty's Big Trouble (Carolyn Cushman) 
Wells, Martha • The Cloud Roads (Carolyn Cushman)