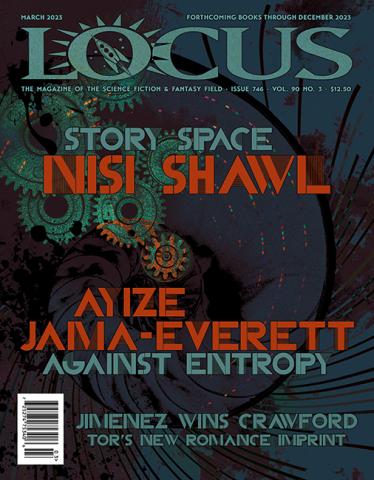 In this issue:
The March 2023 issue of Locus has interviews with Nisi Shawl and Ayize Jama-Everett. The issue lists US and UK forthcoming books titles through December 2023. News covers Jimenez's Crawford win, Madeline McIntosh stepping down as PRH CEO, a new HarperCollins contract and layoffs, Tor's new romance imprint, the Stoker Awards preliminary ballot, Monteleone's expulsion from the HWA, WFA judges change, plus Dell, ALA, and Butler awards winners and much more. Cory Doctorow's column is entitled "End to End". Obituaries remember Ray Nelson, Paul La Farge, and Cai Emmons. Reviews cover new titles by Peter S. Beagle, Catherynne M. Valente, Sarah Pinsker, Lee Mandelo, Brandon Ying Kit Boey, Stina Leicht, Andy Mientus, Megan Paasch, Seanan McGuire, Ian McDonald, Sean Adams, Gunnhild Øyehaug, Lucy A. Snyder, Alison Rumfitt, Josh Malerman, Greg Egan, Emily Tesh, Nisi Shawl (ed.), Trang Thanh Tran, Priya Sharma, and others. Vote now in the Locus Poll and Survey at poll.voting.locusmag.com.

Table of Contents:
March 2023 • Issue 746 • Vol. 90 • No. 3 
55th Year of Publication • 30-Time Hugo Winner
Cover and interview art and design by Francesca Myman
INTERVIEWS 
Nisi Shawl: Story Space / 8
Ayize Jama-Everett: Against Entropy / 24 
MAIN STORIES / 4 
PRH CEO McIntosh Steps Down • Stoker Awards Preliminary Ballot • Jimenez Wins Crawford • HarperCollins Contract and Layoffs
THE DATA FILE / 5 
Tor's New Romance Imprint • 2023 Dell Award Winners • ALA Awards • Butler Awards and NBWC Symposium • WFA Judges Change • Monteleone Expelled from HWA • Publishers Increase Pay • Android Jones Fire • PEN America Longlists • PEN/Faulkner Longlist • Compton Crook Award Finalists • Splatterpunk Awards Nominees • Pérez Literary Launched • HWA Summer Scares • Announcements • Bookstore News • Awards News • Financial News
PEOPLE & PUBLISHING / 6 
Notes on milestones, awards, books sold, etc., with news this issue about Gregory Benford, Walter Mosley, Silvia Moreno-Garcia, Michael Moorcock, N.K. Jemisin, and many others
SPECIAL FEATURES 
Commentary: Cory Doctorow: End to End / 23 Photo Story: Galactic Philadelphia Relaunch / 59 
FORTHCOMING BOOKS / 26 LISTINGS 
Magazines Received: January / 41 Books Received: January / 42 Bestsellers / 54 New & Notable / 55 
OBITUARIES / 62 
Ray Nelson • Paul La Farge • Cai Emmons 
EDITORIAL MATTERS / 63 
East Coast Travels • Chickens • This Issue/Next Issue
LOCUS LOOKS AT BOOKS 
Short Fiction Reviews by KAREN BURNHAM / 11 
Analog 1-2/23; Clarkesworld 1/23; Metaphorosis 2/23; Solarpunk 1-2/23.
Short Fiction Reviews by CHARLES PAYSEUR / 12 
Zooscape 12/22; Anathema 12/22; Escape Pod 12/15/22, 12/22/22, 12/29/22; Worlds of Possibility 12/22; Baffling 1/23; Strange Horizons 12/12/22, 12/19/22, 1/2/23, 1/9/23; Diabolical Plots 1/23; Fiyah Winter '23; Kaleidotrope 1/23; GigaNotoSaurus 11/22; Fantasy 1/23; Lightspeed 1/23; Beneath Ceaseless Skies 1/1/23, 1/12/23, 1/26/23.
Reviews by GARY K. WOLFE / 14 
The Essential Peter S. Beagle, Volume I: Lila the Werewolf and Other Stories, Peter S. Beagle; The Essential Peter S. Beagle, Volume II: Oakland Dragon Blues and Other Stories, Peter S. Beagle; The Best of Catherynne M. Valente: Volume One, Catherynne M. Valente; Lost Places, Sarah Pinsker; Feed Them Silence, Lee Mandelo.
Reviews by CAREN GUSSOFF SUMPTION / 16 
Karma of the Sun, Brandon Ying Kit Boey; Loki's Ring, Stina Leicht.
Reviews by COLLEEN MONDOR / 17 
Fraternity, Andy Mientus; Dream to Me, Megan Paasch; Lost in the Moment and Found, Seanan McGuire.
Reviews by IAN MOND / 18 
Hopeland, Ian McDonald; The Thing in the Snow, Sean Adams; Evil Flowers: Stories, Gunnhild Øyehaug.
Reviews by GABINO IGLESIAS / 19 
Sister, Maiden, Monster, Lucy A. Snyder; Tell Me I'm Worthless, Alison Rumfitt; Daphne, Josh Malerman.
Reviews by ALEXANDRA PIERCE / 20 
Scale, Greg Egan; Some Desperate Glory, Emily Tesh.
Reviews by Divers Hands:
EUGEN BACON, ALEX BROWN, RUSSELL LETSON, ARCHITA MITTRA / 21 
New Suns 2: Original Speculative Fiction by People of Color, Nisi Shawl ed.; She Is a Haunting, Trang Thanh Tran; Sleep and the Soul, Greg Egan; Pomegranates, Priya Sharma.
TERRY BISSON: This Month in History / 11, 13, 17, 19 
---
Magazines reviews in this issue (indicating reviewer)—
Analog 1-2/23 (Karen Burnham)
Clarkesworld 1/23 (Karen Burnham)
Metaphorosis 2/23 (Karen Burnham)
Solarpunk 1-2/23 (Karen Burnham)
Zooscape 12/22 (Charles Payseur)
Anathema 12/22 (Charles Payseur)
Escape Pod 12/15/22, 12/22/22, 12/29/22 (Charles Payseur)
Worlds of Possibility 12/22 (Charles Payseur)
Baffling 1/23 (Charles Payseur)
Strange Horizons 12/12/22, 12/19/22, 1/2/23, 1/9/23 (Charles Payseur)
Diabolical Plots 1/23 (Charles Payseur)
Fiyah Winter '23 (Charles Payseur)
Kaleidotrope 1/23 (Charles Payseur)
GigaNotoSaurus 11/22 (Charles Payseur)
Fantasy 1/23 (Charles Payseur)
Lightspeed 1/23 (Charles Payseur)
Beneath Ceaseless Skies 1/1/23, 1/12/23, 1/26/23 (Charles Payseur)
---
Books reviews in this issue (indicating reviewer)—
Adams, Sean • The Thing in the Snow (Ian Mond)
Beagle, Peter S. • The Essential Peter S. Beagle, Volume 1: Lila the Werewolf and Other Stories (Gary K. Wolfe)
Beagle, Peter S. • The Essential Peter S. Beagle, Volume 2: Oakland Dragon Blues and Other Stories (Gary K. Wolfe)
Boey, Brandon Ying Kit • Karma of the Sun (Caren Gussoff Sumption)
Egan, Greg • Scale (Alexandra Pierce)
Egan, Greg • Sleep and the Soul (Russell Letson)
Leicht, Stina • Loki's Ring (Caren Gussoff Sumption)
Malerman, Josh • Daphne (Gabino Iglesias)
Mandelo, Lee • Feed Them Silence (Gary K. Wolfe)
McDonald, Ian • Hopeland (Ian Mond)
Mcguire, Seanan • Lost in the Moment and Found (Colleen Mondor)
Mientus, Andy • Fraternity (Colleen Mondor)
Øyehaug, Gunnhild • Evil Flowers: Stories (Ian Mond)
Paasch, Megan • Dream to Me (Colleen Mondor)
Pinsker, Sarah • Lost Places (Gary K. Wolfe)
Rumfitt, Alison • Tell Me I'm Worthless (Gabino Iglesias)
Sharma, Priya • Pomegranates (Archita Mittra)
Shawl, Nisi, ed. • New Suns 2: Original Speculative Fiction by People of Color (Eugen Bacon)
Snyder, Lucy A. • Sister, Maiden, Monster (Gabino Iglesias)
Tesh, Emily • Some Desperate Glory (Alexandra Pierce)
Tran, Trang Thanh • She Is a Haunting (Alex Brown)
Valente, Catherynne M. • The Best of Catherynne M. Valente, Volume One (Gary K. Wolfe)