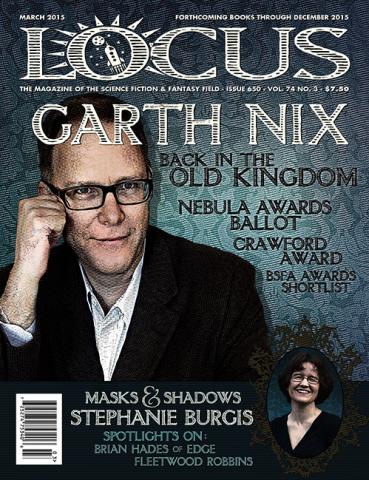 In this issue:
The March 2015 issue of Locus magazine has interviews with Garth Nix and Stephanie Burgis, and spotlights on Brian Hades of Edge and Fleetwood Robbins. The issue lists US and UK forthcoming books titles through December 2015. News includes the 2014 Nebula Awards ballot, the Crawford Award tie, the Winter Dragon slander lawsuit, the Stoker Awards preliminary ballot, the BSFA Awards shortlist, the Kitschies finalists, SFWA's vote to qualify self-published authors for membership, and obituaries of Melanie Tem and Suzette Haden Elgin. The column by Cory Doctorow is entitled "Stability and Surveillance". Reviews cover new titles by Neil Gaiman, Genevieve Valentine, Joe Abercrombie, Daryl Gregory, Sam Sykes, Brenda Cooper, Kate Elliott, Paul McAuley, Jack McDevitt, Benjamin Percy, Mike Allen, Jonathan Lethem, and many others.
Table of Contents:
March 2015 • Issue 650 • Vol. 74 • No. 3
48th Year of Publication • 30-Time Hugo Winner
Cover and Interview Designs by Francesca Myman
INTERVIEWS
Garth Nix: Back in the Old Kingdom / 6
Stephanie Burgis: Masks & Shadows / 66
MAIN STORIES / 5&10
2014 Nebula Awards Ballot • Cho and Feldman Win Crawford Award • Winter Dragon Slander Suit • 2014 Stoker Preliminary Ballot
SPECIAL FEATURES
Photo Story: SF in SF / 5 Photo Story: Borderlands Community Meeting / 11 Commentary by Cory Doctorow: Stability and Surveillance / 25 Spotlight on: Brian Hades, EDGE / 35 Spotlight on: Fleetwood Robbins, Literary Agent / 37
PEOPLE & PUBLISHING / 8
Notes on milestones, awards, books sold, etc., with news this issue about Mary Anne Mohanraj, William F. Nolan, Toni Morrison, Salman Rushdie, Hannu Rajaniemi, and many others
THE DATA FILE / 11
SFWA Allows Self-Published Authors • Space Lawsuit • Announcements • Forever Magazine • BSFA Nominees • Kitschies Finalists • James Herbert Award Shortlist • Awards News • WNDB Short Story Contest • YA SF Sales Climb • B&N News • Bookstore News • Financial News • International Rights • Other Rights • Audiobooks Received • Publications Received • Catalogs Received
FORTHCOMING BOOKS
US Forthcoming Books / 26 British Forthcoming Books / 40
LISTINGS
Magazines Received: January / 46 Books Received: January / 47 British Books Received: December / 58 Bestsellers / 60
EDITORIAL MATTERS / 70
Nebula Awards Ballot • Borderlands Books • This Issue/Next Issue
OBITUARIES / 70
Melanie Tem • Suzette Haden Elgin
LOCUS LOOKS AT BOOKS
Gardnerspace: A Short Fiction Column by Gardner Dozois / 12
F&SF 1-2/15; Asimov's 1/15; Grand Crusades: The Early Jack Vance, Volume Five, Jack Vance.
Short Fiction Reviews by Rich Horton / 13
Asimov's 2/15; Analog 3/15; Beneath Ceaseless Skies 12/25/14; Clarkesworld 1/15; Uncanny Stories #2; Ricepaper Fall '14.
Reviews by Gary K. Wolfe / 14
Trigger Warnings: Short Fictions and Disturbances, Neil Gaiman; Persona, Genevieve Valentine; Dream Houses, Genevieve Valentine; Half the World, Joe Abercrombie; Harrison Squared, Daryl Gregory.
Reviews by Faren Miller / 17
The City Stained Red, Sam Sykes; Edge of Dark, Brenda Cooper; The Very Best of Kate Elliott, Kate Elliott.
Reviews by Russell Letson / 19
Something Coming Through, Paul McAuley; Coming Home, Jack McDevitt.
Reviews by Stefan Dziemianowicz / 20
The Dead Lands, Benjamin Percy; Unseaming, Mike Allen; Nightmare Carnival, Ellen Datlow, ed.; The Doll Collection, Ellen Datlow, ed..
Reviews by Divers Hands: Karen Burnham, Colleen Mondor, Liz Bourke, and Richard A. Lupoff / 23
Lucky Alan and Other Stories, Jonathan Lethem; The Mammoth Book of SF Stories by Women, Alex Dally McFarlane, ed.; City of Savages, Lee Kelly; The Diabolical Miss Hyde, Viola Carr; When the Heavens Fall, Marc Turner; Mahlon Blaine's Blooming Bally Bloody Book, Roland Trenary, ed.
Terry Bisson: This Month in History / 13, 17, 19, 21
---
Magazine Issues reviewed in this issue (indicating reviewer) —
Analog March 2015 (Rich Horton)
Asimov's January 2015 (Gardner Dozois)
Asimov's February 2015 (Rich Horton)
Beneath Ceaseless Skies December 2014 (Rich Horton)
Clarkesworld January 2015 (Rich Horton)
F&SF January/February 2015 (Gardner Dozois)
Ricepaper Fall 2014 (Rich Horton)
Uncanny January/February 2015 (Rich Horton)
---
Books reviewed in this issue, listed by author (indicating reviewer) —
Abercrombie, Joe • Half the World (Gary K. Wolfe)
Allen, Mike • Unseaming (Stefan Dziemianowicz)
Carr, Viola • The Diabolical Miss Hyde (Liz Bourke)
Cooper, Brenda • Edge of Dark (Faren Miller)
Datlow, Ellen, ed. • Nightmare Carnival (Stefan Dziemianowicz)
Datlow, Ellen, ed. • The Doll Collection (Stefan Dziemianowicz)
Elliott, Kate • The Very Best of Kate Elliott (Faren Miller)
Gaiman, Neil • Trigger Warning: Short Fictions and Disturbances (Gary K. Wolfe)
Gregory, Daryl • Harrison Squared (Gary K. Wolfe)
Kelly, Lee • City of Savages (Colleen Mondor)
Lethem, Jonathan • Lucky Alan and Other Stories (Karen Burnham)
MacFarlane, Alex Daily, ed. • The Mammoth Book of SF Stories by Women (Karen Burnham)
MacFarlane, Alex Dally, ed. • The Mammoth Book of SF Stories by Women (Karen Burnham)
McAuley, Paul • Something Coming Through (Russell Letson)
McDevitt, Jack • Coming Home (Russell Letson)
Percy, Benjamin • The Dead Lands (Stefan Dziemianowicz)
Sykes, Sam • The City Stained Red (Faren Miller)
Sykes, Sam • The City Stained Red (Faren Miller)
Trenary, Roland, ed. • Mahlon Blaine's Blooming Bally Bloody Book (Richard A. Lupoff)
Valentine, Genevieve • Dream Houses (Gary K. Wolfe)
Valentine, Genevieve • Persona (Gary K. Wolfe)
Vance, Jack • Grand Crusades: The Early Jack Vance, Volume Five (Gardner Dozois)