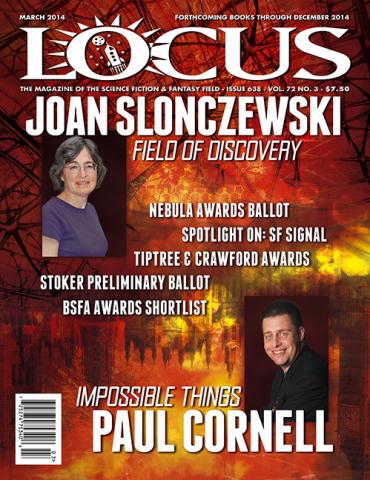 In this issue:
The March 2014 issue of Locus magazine has interviews with Joan Slonczewski and Paul Cornell, and a spotlight on SF Signal. News coverage includes the 2013 Nebula Awards ballot; the Tiptree Award; the Crawford Award; the Little, Brown UK purchase of Constable & Robinson; the World Fantasy 2014 judges; and much more. The issue lists US and UK forthcoming books titles through December 2014, and features a column by Cory Doctorow entitled "Cold Equations and Moral Hazard". Reviews cover new titles by Christopher Priest, Eileen Gunn, Shimon Adaf, Jeff VanderMeer, Tony Ballantyne, Will Elliott, Karl Schroeder, Allen Steele, Reggie Oliver, Jeff Greenfield, Joe R. Lansdale, and others.
Table of Contents:
March 2014 • Issue 638 • Vol. 72 • No. 3
47th Year of Publication • 30-Time Hugo Winner
Cover and Interview Designs by Francesca Myman
INTERVIEW
Joan Slonczewski: Field of Discovery / 6
Paul Cornell: Impossible Things / 8
MAIN STORIES / 5&12
2013 Nebula Awards Ballot • Sulway Wins Tiptree • Samatar Wins Crawford Award • Buchanan Retires • Little, Brown UK Buys Constable & Robinson • Open Road Buys E-Reads • World Fantasy 2014 Judges Announced • Stoker Preliminary Ballot
PEOPLE & PUBLISHING / 10
Notes on milestones, awards, books sold, etc., with news this issue about Walter Jon Williams, George Saunders, Stephen King, Kit Reed, Jack McDevitt, Stephen Baxter, Charlaine Harris, and many others
thE datA file / 13
SFWA Responds to Anti-Censorship Petition • Introducing Saga Press • MacAdam/Cage Bankruptcy • World Conventions News • Announcements • Legal News • ALA Awards • 2013 BSFA Shortlist • Awards News • Books Sold – YA and Children's • Noble Librarians Prize • Nook Layoffs • Publishing News • Magazine News • Financial News • International Rights • Other Rights • Publications Received • Catalogs Received
SPECIAL FEATURES
Cory Doctorow: Commentary: Cold Equations and Moral Hazard / 27
Spotlight on SF Signal / 29
FORTHCOMING BOOKS
US Forthcoming Books / 30 British Forthcoming Books / 42
listings
Magazines Received: January / 48 Books Received: January / 49 British Books Received: December / 59 Bestsellers / 62
locus letters / 68
Ellen Datlow
ObituarieS / 69
Stepan Chapman • Mark E. Rogers • DEATH REPORTED: Martin Greenberg
EDITORIAL MATTERS / 70
Locus Poll & Survey • Lighthouse Ahoy • Books • This Issue/Next Issue
locus looks aT books
Gardnerspace: A Short Fiction Column by Gardner Dozois / 14
Subterranean Online Winter '14; Asimov's 1/14; F&SF 1-2/14.
Short Fiction Reviews by Rich Horton / 15
Asimov's 2/14; F&SF 1-2/14; Nightmare 2/14; Lightspeed 2/14; Strange Horizons 1/14; Subterranean Online Winter '14.
Reviews by Gary K. Wolfe / 16
The Adjacent, Christopher Priest; Questionable Practices, Eileen Gunn; Sunburnt Faces, Shimon Adaf; SHORT TAKE: Stories About Stories: Fantasy and the Remaking of Myth, Brian Attebery.
Reviews by Faren Miller / 19
Annihilation, Jeff VanderMeer; Dream London, Tony Ballantyne; The Pilgrims, Will Elliott; SHORT TAKE: Apparitions: Ghosts of Old Edo, Miyuki Miyabo (Daniel Huddleston, trans.).
Reviews by Russell Letson / 21
Lockstep, Karl Schroeder; V-S Day, Allen Steele.
Reviews by Stefan Dziemianowicz / 22
Flowers of the Sea, Reggie Oliver; Bleeding Shadows, Joe R. Lansdale; The Waking That Kills, Stephen Gregory; The Last Revelation of Gla'aki, Ramsey Campbell; It Sustains, Mark Morris.
Reviews by Richard A. Lupoff / 24
If Kennedy Lived, Jeff Greenfield; Then Everything Changed, Jeff Greenfield.
Terry Bisson: This Month in History / 15, 19, 21, 23
---
Magazine Issues reviewed in this issue (indicating reviewer) —
Asimov's January 2014 (Gardner Dozois)
Asimov's February 2014 (Rich Horton)
F&SF Jan/Feb 2014 (Gardner Dozois)
F&SF Jan/Feb 2014 (Rich Horton)
F&SF Mar/Apr 2014 (Rich Horton)
Lightspeed February 2014 (Rich Horton)
Nightmare Magazine February 2014 (Rich Horton)
Strange Horizons January 2014 (Rich Horton)
Subterranean Winter 2014 (Gardner Dozois)
Subterranean Winter 2014 (Rich Horton)
---
Books reviewed in this issue, listed by author (indicating reviewer) —
Adaf, Shimon • Sunburnt Faces (Gary K. Wolfe)
Attebery, Brian • Stories About Stories: Fantasy and the Remaking of Myth (Gary K. Wolfe)
Ballantyne, Tony • Dream London (Faren Miller)
Campbell, Ramsey • The Last Revelation of Gla'aki (Stefan Dziemianowicz)
Elliott, Will • The Pilgrims (Faren Miller)
Greenfield, Jeff • If Kennedy Lived (Richard A. Lupoff)
Greenfield, Jeff • Then Everything Changed (Richard A. Lupoff)
Gregory, Stephen • The Waking That Kills (Stefan Dziemianowicz)
Gunn, Eileen • Questionable Practices (Gary K. Wolfe)
Lansdale, Joe R. • Bleeding Shadows (Stefan Dziemianowicz)
Miyabe, Miyuki • Apparitions: Ghosts of Old Edo (Faren Miller)
Morris, Mark • It Sustains (Stefan Dziemianowicz)
Oliver, Reggie • Flowers of the Sea (Stefan Dziemianowicz)
Priest, Christopher • The Adjacent (Gary K. Wolfe)
Priest, Christopher • The Adjacent (Gary K. Wolfe)
Schroeder, Karl • Lockstep (Russell Letson)
Steele, Allen • V-S Day (Russell Letson)
VanderMeer, Jeff • Annihilation (Faren Miller)