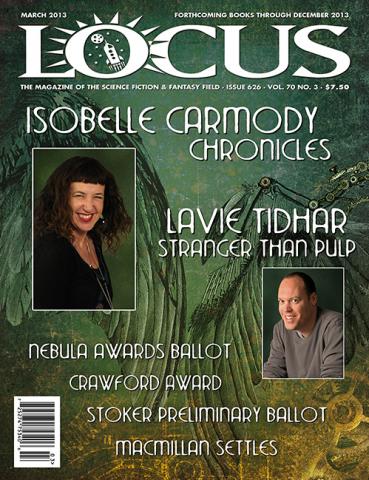 In this issue:
Locus Magazine • March 2013 • Issue 626 • Vol. 70 • No. 3
The March issue includes interviews with authors Isobelle Carmodyand Lavie Tidhar, a new column by Cory Doctorow, lists of forthcoming books through December 2013, news, listings, and obituaries, and reviews of short fiction and new books by Nalo Hopkinson, Evie Manieri, M. John Harrison, Benjamin Percy, and many others.
Table of Contents:
March 2013 • Issue 626 • Vol. 70 • No. 3
46th Year of Publication • 30-Time Hugo Winner
Cover and Interview Designs by Francesca Myman
INTERVIEWS
Isobelle Carmody: Chronicles / 6
Lavie Tidhar: Stranger Than Pulp / 72
PEOPLE & PUBLISHING / 8
Notes on milestones, awards, books sold, etc., with news this issue about Jay Lake, Peter David, Clive Barker, Robert R. McCammon, Janis Ian, Cherie Priest, and many others.
MAIN STORIES / 10
2012 Nebula Awards Ballot • 2013 Crawford Award • Macmillian Settles with DoJ • Penguin and Random House Merger Approved • Stoker Preliminary Ballot
THE DATA FILE / 11
Dragon*Con Responds to Call for Boycott • ALA Awards • SF Collection Donated to SDSU • Bookish Launch • Superman Fans Threaten Boycott • Amazon News • Amazing Stories Launch • Barnes & Noble News • World Conventions News • Awards News • Publishing News • Book News • Financial News • International Rights • Other Rights • Audiobooks Received • Publications Received • Catalogs Received
COMMENTARY / 27
Cory Doctorow: Ten Years On
FORTHCOMING BOOKS
US Forthcoming Books / 28 British Forthcoming Books / 40
LISTINGS
Magazines Received: January / 46 Books Received: January / 47 British Books Received: December / 59 Bestsellers / 62
OBITUARIES / 69
Anne Jordan • Appreciation by Sheila Williams • Antonio Caronia • DEATH NOTED: H.R. Van Dongen
EDITORIAL MATTERS / 70
Home Improvement • Locus Poll & Survey • Fare Thee Well • Visit With TB
LOCUS looks at books
Gardnerspace: A Short Fiction Column by Gardner Dozois / 14
F&SF 1-2/13; Asimov's 1/13; Eclipse Online 1/13; Clarkesworld 1/13.
Short Fiction Reviews by Rich Horton / 15
F&SF 3-4/13; Asimov's 3/13; Lightspeed 2/13; Lady Churchill's Rosebud Wristlet 1/13; Tin House #54; Subterranean Winter '13; The Mad Scientist's Guide to World Domination, John Joseph Adams, ed.
Reviews by Gary K. Wolfe / 16
Sister Mine, Nalo Hopkinson; Prophet of Bones, Ted Kosmatka; Love Is Strange: A Paranormal Romance, Bruce Sterling; Bushman Lives!, Daniel Pinkwater.
Reviews by Faren Miller / 18
Blood's Pride, Evie Manieri; Dreams and Shadows, C. Robert Cargill; The Devil's Looking Glass, Mark Chadbourn; Short TakeS: The Willful Princess and the Piebald Prince, Robin Hobb; Etiquette & Espionage, Gail Carriger.
Reviews by Russell Letson / 21
Empty Space: A Haunting, M. John Harrison; Edge of Infinity, Jonathan Strahan, ed.
Reviews by Stefan Dziemianowicz / 22
Red Moon, Benjamin Percy; NOS4A2, Joe Hill; Motherless Child, Glen Hirshberg; Revenge, Yoko Ogawa.
Divers Hand: Reviews by Karen Burnham, Gwenda Bond, Richard A. Lupoff, and Tim Pratt / 24
Ancient, Ancient, Kiini Ibura Salaam; Radiant Days, Elizabeth Hand; Hysteria, Megan Miranda; The Complete John Thunstone, Manly Wade Wellman; Magic: An Anthology of the Esoteric and Arcane, Jonathan Oliver, ed.
Terry Bisson: This Month in History / 15, 17, 19, 23
---
Magazine Issues reviewed in this issue (indicating reviewer) —
Asimov's January 2012 (Gardner Dozois)
Asimov's March 2013 (Rich Horton)
Clarkesworld January 2012 (Gardner Dozois)
Eclipse Online January 2013 (Gardner Dozois)
F&SF Jan/Feb 2013 (Gardner Dozois)
F&SF Mar/Apr 2013 (Rich Horton)
Lady Churchill's Rosebud Wristlet January 2013 (Rich Horton)
Lightspeed February 2013 (Rich Horton)
Subterranean Winter 2013 (Rich Horton)
Tin House #54 2013 (Rich Horton)
Books reviewed in this issue, listed by author (indicating reviewer) —
Adams, John Joseph, ed. • The Mad Scientist's Guide to World Domination (Rich Horton)
Cargill, C. Robert • Dreams and Shadows (Faren Miller)
Carriger, Gail • Etiquette and Espionage (Faren Miller)
Chadbourn, Mark • The Devil's Looking-Glass (Faren Miller)
Hand, Elizabeth • Radiant Days (Gwenda Bond)
Harrison, M. John • Empty Space (Russell Letson)
Hill, Joe • NOS4A2 (Stefan Dziemianowicz)
Hirshberg, Glen • Motherless Child (Stefan Dziemianowicz)
Hobb, Robin • The Willful Princess and the Piebald Prince (Faren Miller)
Hopkinson, Nalo • Sister Mine (Gary K. Wolfe)
Kosmatka, Ted • Prophet of Bones (Gary K. Wolfe)
Manieri, Evie • Blood's Pride (Faren Miller)
Miranda, Megan • Hysteria (Gwenda Bond)
Ogawa, Yoko, translated by Steve Snyder • Revenge: Eleven Dark Tales (Stefan Dziemianowicz)
Oliver, Jonathan, ed. • Magic (Tim Pratt)
Percy, Benjamin • Red Moon (Stefan Dziemianowicz)
Pinkwater, Daniel • Bushman Lives (Gary K. Wolfe)
Salaam, Kiini Ibura • Ancient, Ancient (Karen Burnham)
Sterling, Bruce • Love Is Strange (Gary K. Wolfe)
Strahan, Jonathan, ed. • Edge of Infinity (Russell Letson)
Wellman, Manly Wade • The Complete John Thunstone (Richard A. Lupoff)