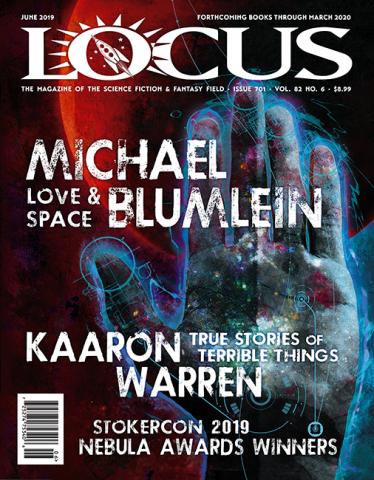 In this issue:
The June 2019 issue of Locus has interviews with Michael Blumlein and Kaaron Warren. The issue lists US and UK forthcoming books titles through March 2020. Awards news covers the 2018 Nebula Awards, Stoker Awards, Asimov's Readers' Awards, Analog Anlab Awards, Aurealis Awards, and more. There are finalists and shortlists from the Clarke, Shirley Jackson, and Scribe Awards. Convention and event coverage includes StokerCon 2019, the Bay Area Book Festival, Norwescon 42, and HalCon 2019. News covers SFWA election results, the discovery of an unfinished Anthony Burgess manuscript, Nora Roberts's fight against plagiarism, Macmillan's move to a new office, and much more. The column by Kameron Hurley is entitled "The Singular Cure for Burnout". Obituaries remember Herman Wouk, Hugh Lamb, George Locke, and Wade Wellman. Reviews cover new titles by Neal Asher, S.J. Morden, Neal Stephenson, Michael Swanwick, Karen Lord, Brian Evenson, Tarun H. Saint (ed.), Jaime Lee Moyer, Joan He, Jaine Fenn, T.J. Berry, Mohammed Hanif, Masande Ntshanga, Lindsey Drager, Grégoire Courtois, Sarah Gailey, Jasper Fforde, Temi Oh, Cadwell Turnbull, Lara Elena Donnelly, Cory Doctorow, and others.
Table of Contents:
June 2019 • Issue 701 • Vol. 82 • No. 6
52nd Year of Publication • 30-Time Hugo Winner
Cover and Interview Design by Francesca Myman
INTERVIEWS
Michael Blumlein: Love & Space / 10
Kaaron Warren: True Stories of Terrible Things / 28
MAIN STORIES / 5
2018 Nebula Awards Winners • Clarke Award Shortlist • Stoker Awards Winners • Philip K. Dick Award Judges • Asimov's Readers Awards and Analog Anlab Awards • 2019 SFWA Election Results • Baker & Taylor Drops Trade Distribution • Aurealis Awards Winners • Duke Acquires Locus Collection
THE DATA FILE / 7
Burgess Manuscript Found • Roberts vs. Plagiarism • Macmillan's Move • Shirley Jackson Awards Nominees • Scribe Award Nominees • Edgar Awards Winners • Bookstore News • Workshop News • World Conventions News • Publishing News • Awards News • Financial News • International Rights • Other Rights • Audiobooks Received • Publications Received
PEOPLE & PUBLISHING / 8
Notes on milestones, awards, books sold, etc., with news this issue about Fran Wilde, Marlon James, Ellen Klages, Kim Harrison, Isabel Allende, Tim Pratt, Ben Aaronovitch, and many others
SPECIAL FEATURES
Photo Story: Madle Still Going Strong / 9 Commentary: Kameron Hurley: The Singular Cure for Burnout / 27 Photo Story: SF in SF / 33
CONVENTIONS
StokerCon 2019 / 31 Bay Area Book Festival / 32 Norwescon 42 / 33 HalCon 2019 / 33
FORTHCOMING BOOKS
US Forthcoming Books / 34 British Forthcoming Books / 44
LISTINGS
Magazines Received: April / 50 Books Received: April / 51 British Books Received: March / 60 Bestsellers / 62
OBITUARIES / 73
Herman Wouk • Hugh Lamb • George Locke • DEATH REPORTED: Wade Wellman
EDITORIAL MATTERS / 74
Nebula Conference • New Subscription System • Locus Collection • This Issue/Next Issue
LOCUS LOOKS AT BOOKS
Short Fiction Reviews by Rich Horton / 12
Analog 5-6/19; Asimov's 5-6/19; Everything is Made of Letters, Sofía Rhei; Perihelion Summer, Greg Egan; Space and Time Spring/Summer '19; Hidden Histories, Juliana Rew, ed.
Short Fiction Reviews by Karen Burnham / 13
Tor.com 4/3/19; Lightspeed 5/19; Beneath Ceaseless Skies 4/11/19; Strange Horizons 4/19; Clarkesworld 4/19; Apex 3/19; Capricious SF #11; Apparition #5, Aurealis #119.
Short Fiction Reviews by Paula Guran / 14
Uncanny 3-4/19; Black Static 3-4/19; The Dark 3/19, 4/19; Nightmare 4/19, 5/19; Tor.com 4/17/19.
Reviews by Russell Letson / 15
The Warship, Neal Asher; No Way, S.J. Morden.
Reviews by Gary K. Wolfe / 16
Fall; or, Dodge in Hell, Neal Stephenson; The Iron Dragon's Mother, Michael Swanwick; Unraveling, Karen Lord; Song for the Unraveling of the World, Brian Evenson; The Gollancz Book of South Asian Science Fiction, Tarun H. Saint, ed.
Reviews by Liz Bourke / 18
Brightfall, Jaime Lee Moyer; Descendant of the Crane, Joan He; Broken Shadow, Jaine Fenn; Five Unicorn Flush, T.J. Berry.
Reviews by Ian Mond / 20
Red Birds, Mohammed Hanif; Triangulum, Masande Ntshanga; The Archive of Alternate Endings, Lindsey Drager; The Laws of the Skies, Grégoire Courtois.
Reviews by Adrienne Martini / 22
Magic for Liars, Sarah Gailey; Early Riser, Jasper Fforde; Ragged Alice, Gareth L. Powell; Fall; or, Dodge in Hell, Neal Stephenson; Longer, Michael Blumlein.
Reviews by Colleen Mondor / 23
Do You Dream of Terra-Two?, Temi Oh; Station Zero, Philip Reeve; Spectacle, Jodie Lynn Zdrok.
Reviews by Divers Hands: Katharine Coldiron, Paul Di Filippo / 24
The Lesson, Cadwell Turnbull; Amnesty, Lara Elena Donnelly; Radicalized, Cory Doctorow.
Terry Bisson: This Month in History / 13, 17, 19, 25
---
Magazines reviewed in this issue (indicating reviewer)—
Analog 5-6/19 (Rich Horton)
Apex 3/19 (Karen Burnham)
Apparition #5 (Karen Burnham)
Asimov's 5-6/19 (Rich Horton)
Aurealis #119 (Karen Burnham)
Beneath Ceaseless Skies 4/11/19 (Karen Burnham)
Black Static 3-4/19 (Paul Guran)
Capricious SF #11 (Karen Burnham)
Clarkesworld 4/19 (Karen Burnham)
The Dark 3/19 (Paul Guran)
The Dark 4/19 (Paul Guran)
Lightspeed 5/19 (Karen Burnham)
Nightmare 4/19 (Paul Guran)
Nightmare 5/19 (Paul Guran)
Space and Time Spring/Summer '19 (Rich Horton)
Strange Horizons 4/19 (Karen Burnham)
Tor.com 4/3/19 (Karen Burnham)
Tor.com 4/17/19 (Paul Guran)
Uncanny 3-4/19 (Paul Guran)
 
---
Books reviewed in this issue (indicating reviewer)—
Asher, Neal • The Warship (Russell Letson)
Berry, T. J. • Five Unicorn Flush (Liz Bourke)
Blumlein, Michael • Longer (Adrienne Martini)
Courtois, Grégoire • The Law of the Skies (Ian Mond)
Doctorow, Cory • Radicalized (Paul Di Filippo)
Donnelly, Lara Elena • Amnesty (Katharine Coldiron)
Drager, Lindsey • The Archive of Alternate Endings (Ian Mond)
Egan, Greg • Perihelion Summer (Rich Horton)
Evenson, Brian • Song for the Unraveling of the World (Gary K. Wolfe) 
Fenn, Jaine • Broken Shadow (Liz Bourke)
Fforde, Jasper • Early Riser (Adrienne Martini)
Gailey, Sarah • Magic for Liars (Adrienne Martini)
Hanif, Mohammed • Red Birds (Ian Mond)
He, Joan • Descendant of the Crane (Liz Bourke)
Lord, Karen • Unravelling (Gary K. Wolfe)
Morden, S. J. • No Way (Russell Letson)
Moyer, Jaime Lee • Brightfall (Liz Bourke)
Ntshanga, Masande • Triangulum (Ian Mond)
Oh, Temi • Do You Dream of Terra-Two? (Colleen Mondor)
Powell, Gareth L. • Ragged Alice (Adrienne Martini)
Reeve, Philip • Station Zero (Colleen Mondor)
Rew, Juliana, ed. • Hidden Histories (Rich Horton)
Rhei, Sofia • Everything Is Made of Letters (Rich Horton)
Saint, Tarun H., ed. • The Gollancz Book of South Asian Science Fiction (Gary K. Wolfe)
Stephenson, Neal • Fall, Or Dodge in Hell (Adrienne Martini)
Stephenson, Neal • Fall, Or Dodge in Hell (Gary K. Wolfe)
Swanwick, Michael • The Iron Dragon's Mother (Gary K. Wolfe)
Turnbull, Cadwell • The Lesson (Katharine Coldiron)
Zdrok, Jodie Lynn • Spectacle (Colleen Mondor)