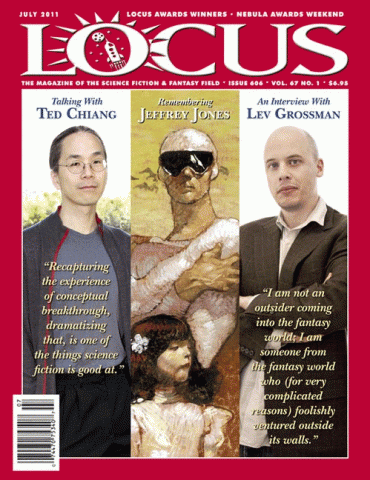 In this issue:
The July issue has interviews with Ted Chiang and Lev Grossman, a column by Cory Doctorow, reports from Nebula Awards Weekend and Baycon, a new audiobook review column by Amy Goldschlager, and reviews of new books by Robert Charles Wilson, Daryl Gregory, James S.A. Corey, Rudy Rucker, and many others.
Table of Contents:
July 2011 • Issue 606 • Vol. 67 No. 1
44th Year of Publication • 29-Time Hugo Winner
Cover and Interview Designs by Arnie Fenner
I N T E R V I E W S 
Ted Chiang: Scientific Method / 6
Lev Grossman: Outsider / Insider / 7
M A I N    S T O R I E S / 5 & 10
2011 Locus Awards Winners • 2011 Locus Poll • 2010 Stoker Award Winners • 2011 Campbell and Sturgeon Award Finalists • Rio Hondo 2011 • BookExpo America 2011
C O N V E N T I O N S
2011 Nebula Awards Weekend 5 Baycon 2011: Carnivale 37
P E O P L E   &   P U B L I S H I N G / 8
Notes on milestones, awards, books sold, etc., with news this issue about Suzanne Collins, Gary Shteyngart, Eoin Colfer, Elizabeth Hand, Robert Silverberg,Tamora Pierce, and many others
T H E    D A T A    F I L E / 11
Pratchett on Assisted Suicide • ibooks vs. iBooks • Borders News • Possible Buyer of B&N • Twain's Forever Stamp • Waterstone's Finds a Buyer • 3M's E-book Lending • Awards News • Worldcons News • Publishing News • E-book News • Legal News • Announcements • Bookstore News • Paranormal Books Sold • Media News • Financial News • International Rights • Other Rights • Audiobooks Received 
C O M M E N T A R Y
Cory Doctorow: No Endorsement / 31
F E A T U R E S / 42
Spotlight on: Bruce Coville, Writer and Audiobook Publisher / 38 Spotlight on: Kelley Armstrong, Writer / 39 JayCon 2011 / 59
L I S T I N G S
Magazines Received: May / 40    Books Received: May / 41    
British Books Received: April / 52    Bestsellers / 53
E D I T O R I A L    M A T T E R S / 61
Locus, the Locus Awards, and Charles • Audiobooks Column • This Issue/Next Issue
L O C U S    L E T T E R S / 60
Paula Guran
O B I T U A R I E S / 64
Appreciations for Jeffrey Catherine Jones by Arnie Fenner and Robert K. Wiener • Joel Rosenberg • John Glasby • Terry Jeeves • Alan Ryan • Mark Shepherd• Death Discovered: C. Bruce Hunter • Appreciation by Stephen Jones
---
L O C U S    L O O K S    A T    B O O K S
Gardnerspace: Short Fiction Column by Gardner Dozois / 14
Subterranean Spring '11; Tor.com 1/11; Tor.com 2/11; Tor.com 3/11; Tor.com 4/11; Tor.com 5/11; F&SF 5-6/10; Clarkesworld 5/11. 
Short Fiction Reviews by Richard Horton / 15
Subterranean Spring '11; Lightspeed 7/11; Fantasy 6/11; Abyss and Apex 2nd Quarter 2011; Asimov's 7/11; Analog 7-8/11; Shimmer #13; After the Rain, Tehani Wessely, ed.; End of an Aeon, Bridget McKenna & Marti McKenna, eds.
Reviews by Gary K. Wolfe / 16
Vortex, Robert Charles Wilson; In the Time of War and Other Stories of Conflict/Master of the Road to Nowhere and Other Tales of the Fantastic, Carol Emshwiller; Stories for Nighttime and Some for the Day, Ben Loory.
Reviews by Faren Miller / 18
Raising Stony Mayhall, Daryl Gregory; Naked City: Tales of Urban Fantasy, Ellen Datlow, ed.; Happily Ever After, John Klima, ed.; Heartless, Gail Carriger. 
Reviews by Russell Letson / 21
Leviathan Wakes, James S.A. Corey; Hex, Allen Steele. 
Reviews by Paul Witcover / 22
Deep State, Walter Jon Williams; Jim and the Flims, Rudy Rucker; Sensation, Nick Mamatas. 
Reviews by Carolyn Cushman / 25
Spell Bound, Kelley Armstrong; Undead and Undermined, MaryJanice Davidson; Home Improvement: Undead Edition, Charlaine Harris & Toni L.P. Kellner, eds.; Unnatural Issue, Merecedes Lackey; Troubletwisters, Garth Nix & Sean Williams; Will Supervillains Be on the Final, Naomi Novik & Yishan Li; Kitty's Greatest Hits, Carrie Vaughn; A Beautiful Friendship, David Weber; Across the Great Barrier, Patricia C. Wrede. 
Reviews by Divers Hands: Stefan Dziemianowicz, Gwenda Bond & Tim Pratt / 26
The Century's Best Horror Fiction, Volume One: 1901-1950, John Pelan, ed.; The Century's Best Horror Fiction, Volume Two: 1951-2000, John Pelan, ed.; In Laymon's Terms, Kelly Laymon, Steve Gerlach & Richard Chizmar, eds.; Huntress, Malinda Lo; Imaginary Girls, Nova Ren Suma; Sensation, Nick Mamatas; The Shadow of the Soul, Sarah Pinborough
Locus Listens to Audiobooks: Amy Goldschlager / 29
Hull Zero Three, Greg Bear; Blameless, Gail Carriger; The Fallen Blade: Book 1 of the Assassini, John Courtenay Grimwood; A Discovery of Witches, Deborah Harkness; First Grave on the Right, Darynda Jones; Shades of Milk and Honey, Mary Robinette Kowal; The Witches of Lublin, Ellen Kushner, Elizabeth Schwartz, & Yael Strom; Bloodshot, Cherie Priest; The Fuller Memorandum, Charles Stross.
Terry Bisson: This Month in History / 15, 17, 19, 21
---
Magazine Issues reviewed in this issue (indicating reviewer) — 
Abyss & Apex 2nd Quarter 2011 (Rich Horton)  
Analog July/August 2011 (Rich Horton)  
Asimov's July 2011 (Rich Horton)  
Clarkesworld May 2011 (Gardner Dozois)  
F&SF May/June 2011 (Gardner Dozois)  
Fantasy Magazine June 2011 (Rich Horton)  
Lightspeed July 2011 (Rich Horton)  
Shimmer #04 2011 (Rich Horton)  
Subterranean Spring 2011 (Gardner Dozois)  
Subterranean Spring 2011 (Rich Horton)  
Tor.com January 2011 (Gardner Dozois)  
Tor.com February 2011 (Gardner Dozois)  
Tor.com March 2011 (Gardner Dozois)  
Tor.com April 2011 (Gardner Dozois)  
Tor.com May 2011 (Gardner Dozois) 
Books reviewed in this issue, listed by author (indicating reviewer) — 
Armstrong, Kelley • Spell Bound (Carolyn Cushman)  
Carriger, Gail • Heartless (Faren Miller)  
Corey, James S. A. • Leviathan Wakes (Russell Letson)  
Datlow, Ellen, ed. • Naked City: Tales of Urban Fantasy (Faren Miller)  
Davidson, MaryJanice • Undead and Undermined (Carolyn Cushman)  
Emshwiller, Carol • In the Time of War and Master of the Road to Nowhere (Gary K. Wolfe)  
Gregory, Daryl • Raising Stony Mayhall (Faren Miller)  
Harris, Charlaine, & Toni L. P. Kelner, eds. • Home Improvement: Undead Edition (Carolyn Cushman)  
Klima, John, ed. • Happily Ever After (Faren Miller)  
Lackey, Mercedes • Unnatural Issue (Carolyn Cushman)  
Laymon, Kelly, & Steve Gerlach, eds. • In Laymon's Terms (Stefan Dziemianowicz)  
Lo, Malinda • Huntress (Gregory Benford)  
Loory, Ben • Stories for Nighttime and Some for the Day (Gary K. Wolfe)  
Mamatas, Nick • Sensation (Paul Witcover)  
Mamatas, Nick • Sensation (Tim Pratt)  
McKenna, Bridget, & Marti McKenna, eds. • End of an Aeon (Rich Horton)  
Nix, Garth, & Sean Williams • Troubletwisters (Carolyn Cushman)  
Novik, Naomi, & Yishan Li • Will Supervillains Be on the Final? (Carolyn Cushman)  
Pelan, John, ed. • The Century's Best Horror Fiction, Vol. 2: 1951–2000 (Stefan Dziemianowicz)  
Pinborough, Sarah • A Shadow of the Soul (Tim Pratt)  
Rucker, Rudy • Jim and the Flims (Paul Witcover)  
Steele, Allen • Hex (Russell Letson)  
Suma, Nova Ren • Imaginary Girls (Gregory Benford)  
Vaughn, Carrie • Kitty's Greatest Hits (Carolyn Cushman)  
Weber, David • A Beautiful Friendship (Carolyn Cushman)  
Wessely, Tehani, ed. • After the Rain (Rich Horton)  
Williams, Walter Jon • Deep State (Paul Witcover)  
Wilson, Robert Charles • Vortex (Gary K. Wolfe)  
Wrede, Patricia C. • Across the Great Barrier (Carolyn Cushman)