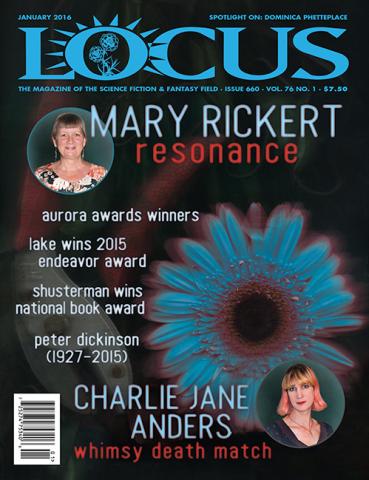 In this issue:
The January 2016 issue of Locus magazine has interviews with Mary Rickert and Charlie Jane Anders, and a spotlight on Dominica Phetteplace. News includes Neal Shusterman's National Book Award win, the 2015 Aurora Awards winners, Jay Lake's Endeavor win, Beagle vs. Cochran, the Random House Australia restructure, the 2015 Goodreads Choice Awards, an International Report on Brazil by Roberto de Sousa Causo, and more. Obituaries include Peter Dickinson, David Rain, Perry Chapdelaine, and Jon Arfstrom. The column by Cory Doctorow is entitled "Wicked Problems: Resilience Through Sensing". Reviews cover new titles by China Miéville, John Wray, Caitlín Kiernan, Robert Jackson Bennett, Ian Tregillis, David Dalglish, Daniel Polansky, V.H. Leslie, Orrin Grey, Stephen King, Shirley Jackson, Jim Butcher, and others.
Table of Contents:
January 2016 • Issue 660 • Vol. 76 • No. 1
49th Year of Publication • 30-Time Hugo Winner
Cover and Interview Designs by Francesca Myman
INTERVIEWS
Mary Rickert: Resonance / 6
Charlie Jane Anders: Whimsy Death Match / 54
PEOPLE & PUBLISHING / 8
Notes on milestones, awards, books sold, etc., with news this issue about Guy Gavriel Kay, Joe R. Lansdale, Stephen Baxter, Michael Swanwick, Margaret Atwood, and many others
MAIN STORIES / 10
Shusterman Wins National Book Award • 2015 Aurora Awards Winners • Lake Wins Endeavor • Beagle vs. Cochran • World Fantasy Awards Trophy Submissions
THE DATA FILE / 11
Fellowships and Grants • 2015 Goodreads Choice Awards • Patterson's Holiday Bonuses • Random House Australia Restructures • Awards News • Bookstore News • Publishing News • Legal News • Announcements • Financial News • International Rights • Other Rights • Audiobooks Received • Publications Received • Catalogs Received
SPECIAL FEATURES
Photo Story: Carriger Tea 2015 / 9 Commentary: Cory Doctorow: Wicked Problems: Resilience Through Sensing / 27 Spotlight on: Dominica Phetteplace, Writer / 31
INTERNATIONAL / 28
International Report from Brazil
LISTINGS
Magazines Received: November / 32 Books Received: November / 33 British Books Received: October / 44 Bestsellers / 46
OBITUARIES / 52
Peter Dickinson • Appreciation by Tom Whitmore • David Rain • Appreciations by Farah Mendlesohn and Liz Williams • Perry Chapdelaine • Jon Arfstrom
LOCUS LETTERS / 53
EDITORIAL MATTERS / 58
Locus Parties • February Recommended Reading List • This Issue/Next Issue
LOCUS LOOKS AT BOOKS
Gardnerspace: A Short Fiction Column by Gardner Dozois / 12
Meeting Infinity, Jonathan Strahan, ed.; Future Visions, Jennifer Henshaw & Allison Linn, eds.; The Atlantic Council Art of Future Warfare Project: War Stories from the Future, August Cole, ed.; Stories For Chip: A Tribute to Samuel R. Delany, Nisi Shawl & Bill Campbell, eds.; The End Has Come, John Joseph Adams & Hugh Howey, eds.; Ecotones: Ecological Stories from the Border Between Fantasy and Science Fiction, Andrew Leon Hudson, ed.
Short Fiction Reviews by Rich Horton / 13
Asimov's 12/15; Gypsy Plus..., Carter Scholz; F&SF 11-12/15; Analog 12/15; Clarkesworld 11/15; Tor.com 11/15; Future Visions, Jennifer Henshaw & Allison Linn, eds.; The Mammoth Book of Dieselpunk, Sean Wallace, ed; Ghost Signs, Sonya Taaffe.
Reviews by Gary K. Wolfe / 14
This Census-Taker, China Miéville; The Lost Time Accidents, John Wray; Beneath an Oil-Dark Sea: The Best of Caitlín Kiernan, Volume Two, Caitlín Kiernan.
Reviews by Faren Miller / 16
City of Blades, Robert Jackson Bennett; The Rising, Ian Tregillis; Skyborn, David Dalglish; The Builders, Daniel Polansky.
Review by Laird Barron / 17
Skein and Bone, V.H. Leslie; Painted Monsters and Other Strange Beasts, Orrin Grey.
Reviews by Stefan Dziemianowicz / 18
The Bazaar of Bad Dreams, Stephen King; Let Me Tell You, Shirley Jackson; The Face of the Earth and Other Imaginings, Algernon Blackwood; Lovecraft Country, Matt Ruff.
Reviews by Carolyn Cushman / 21
The Aeronaut's Windlass, Jim Butcher; Gatefather, Orson Scott Card; Walk on Earth a Stranger, Rae Carson; Mystic, James Denzel; Alliance, S.K. Dunstall; Court of Fives, Kate Elliott; The Rest of Us Just Live Here, Patrick Ness; Newt's Emerald, Garth Nix.
Reviews by Divers Hands: Russell Letson, Liz Bourke, Colleen Mondor & Karen Burnham / 22
The Best of Nancy Kress, Nancy Kress; Wake of Vultures, Lila Bowen; Starflight, Melissa Landers; AfroSF v2, Ivor W. Hartmann, ed.
Locus Listens to Audiobooks: Amy Goldschlager / 25
The Heart Goes Last, Margaret Atwood; Walk on Earth a Stranger, Rae Carson, The Traitor Baru Cormorant, Seth Dickinson; Bookburners, Max Gladstone, Margaret Dunlap, Mur Lafferty & Brian Francis Slattery; Tremontaine, Ellen Kushner, Alaya Dawn Johnson, Malinda Lo, Joel Derfner, Racheline Maltiese & Patty Bryant, The Shepherd's Crown, Terry Pratchett; Magnus Chase and The Gods of Asgard: The Sword of Summer, Rick Riordan; Two Years Eight Months and Twenty-Eight Nights, Salman Rushdie.
Terry Bisson: This Month in History / 13, 16, 19, 23
 
---
Magazine Issues reviewed in this issue (indicating reviewer) —
Analog December 2015 (Rich Horton)
Asimov's December 2015 (Rich Horton)
Clarkesworld November 2015 (Rich Horton)
F&SF November/December 2015 (Rich Horton)
Tor.com November 2015 (Rich Horton)
 
---
Books reviewed in this issue, listed by author (indicating reviewer) —
Adams, John Joseph, & Hugh Howey, eds. • The End Has Come (Gardner Dozois)
Bennett, Robert Jackson • City of Blades (Faren Miller)
Blackwood, Algernon, edited by Mike Ashley • The Face of the Earth and Other Imaginings (Stefan Dziemianowicz)
Bowen, Lila • Wake of Vultures (Liz Bourke)
Butcher, Jim • The Aeronaut's Windlass (Carolyn Cushman)
Card, Orson Scott • Gatefather (Carolyn Cushman)
Carson, Rae • Walk on Earth a Stranger (Carolyn Cushman)
Cole, August, ed. • The Atlantic Council Art of Future Warfare Project: War Stories from the Future (Gardner Dozois)
Dalglish, David • Skyborn (Faren Miller)
Denzel, Jason • Mystic (Carolyn Cushman)
Dunstall, S. K. • Alliance (Carolyn Cushman)
Elliott, Kate • Court of Fives (Carolyn Cushman)
Grey, Orrin • Painted Monsters and Other Strange Beasts (Laird Barron)
Hartmann, Ivor W., ed. • AfroSF v2 (Karen Burnham)
Henshaw, Jennifer, & Allison Linn, eds. • Future Visions (Gardner Dozois)
Henshaw, Jennifer, & Allison Linn, eds. • Future Visions (Rich Horton)
Hudson, Andrew Leon, ed. • Ecotones: Ecological Stories from the Border Between Fantasy and Science Fiction (Gardner Dozois)
Jackson, Shirley • Let Me Tell You: New Stories, Essays, and Other Writings (Stefan Dziemianowicz)
Kiernan, Caitlín R. • Beneath an Oil-Dark Sea: The Best of Caitlín R. Kiernan (Gary K. Wolfe)
King, Stephen • The Bazaar of Bad Dreams (Stefan Dziemianowicz)
Kress, Nancy • The Best of Nancy Kress (Russell Letson)
Landers, Melissa • Starflight (Colleen Mondor)
Leslie, V. H. • Skein and Bone (Laird Barron)
Miéville, China • This Census-Taker (Gary K. Wolfe)
Ness, Patrick • The Rest of Us Just Live Here (Carolyn Cushman)
Nix, Garth • Newt's Emerald (Carolyn Cushman)
Polansky, Daniel • The Builders (Faren Miller)
Ruff, Matt • Lovecraft Country (Stefan Dziemianowicz)
Scholz, Carter • Gypsy Plus… (Rich Horton)
Shawl, Nisi, & Bill Campbell, eds. • Stories for Chip: A Tribute to Samuel R. Delany (Gardner Dozois)
Strahan, Jonathan, ed. • Meeting Infinity (Gardner Dozois)
Taaffe, Sonya • Ghost Signs (Rich Horton)
Tregillis, Ian • The Rising (Faren Miller)
Wallace, Sean, ed. • The Mammoth Book of Dieselpunk (Rich Horton)
Wray, John • The Lost Time Accidents (Gary K. Wolfe)