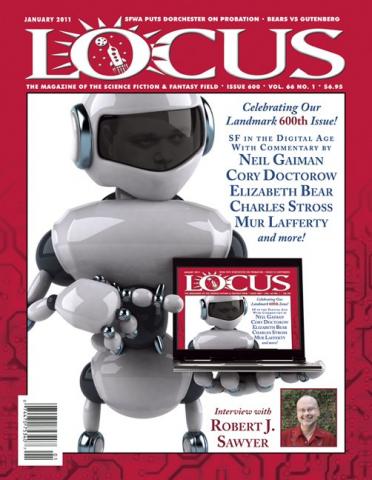 In this issue:
The January 2011 issue of Locus Magazine features --
The launch of Locus' new digital editions, with essays and commentary by Neil Gaiman, John Scalzi, and many others 
 
An interview with author Robert J. Sawyer 
 
A column by Cory Doctorow, "Net Neutrality for Writers: It's All About the Leverage" 
Bibliographic listings of the month's New Books and Magazines published in the US and UK 
Short fiction reviews by Gardner Dozois and Rich Horton, plus reviews by Gary K. Wolfe, Faren Miller, Russell Letson, Paul Witcover, Carolyn Cushman, and others of books by Jo Walton, Patricia A. McKillip, Iain M. Banks, Orson Scott Card, and others 
Table of Contents:
January 2011 • Issue 600 • Vol. 66 No. 1
44th Year of Publication • 29-Time Hugo Winner
Cover and Interview Design by Arnie Fenner 
Digital Feature Design by Francesca Myman
I N T E R V I E W 
Robert J. Sawyer: Mapping the Future / 72
S F    I N    T H E    D I G I T A L    A G E 5
Interviews, essays, and commentary by Neil Gaiman, John Scalzi, Elizabeth Bear, Greg Bear, Charles Stross, Patrick Nielsen Hayden, Toni Weisskopf, John Picacio, Cheryl Morgan, Lou Anders, Tim Pratt, Catherynne M. Valente, Scott Sigler, Jon Armstrong, Mur Lafferty, Neil Clarke, James Patrick Kelly, William K. Schafer, John Joseph Adams, Niall Harrison, John DeNardo, and Mark R. Kelly 
P E O P L E   &   P U B L I S H I N G / 8
Notes on milestones, awards, books sold, etc., with news this issue about Harlan Ellison, Diana Wynne Jones, Charles Stross, Michael Swanwick, Jack McDevitt, and many others
M A I N    S T O R I E S / 10
Bears vs. Gutenberg • New Directions for Dorchester • Photo Story: Bacigalupi at the National Book Awards
T H E    D A T A    F I L E / 11
Arthur C. Clarke Award Looks to the Future • Google Launches eBookstore • Jo Fletcher Books • Amazon Offers Bookscan Data • Writing Workship Applications Open • Joel Rosenberg Arrest • Lost Dahl Work Sold on eBay • Frazetta Feud Renewed • E-reader News • Awards News • Books Sold, Continued • Publishing News • Announcements • Financial News • International Rights
C O M M E N T A R Y / 31
Cory Doctorow: Net Neutrality for Writers: It's All About the Leverage 
I N T E R N A T I O N A L / 48
SF in Germany • SF in Israel 
L I S T I N G S
Magazines Received: November / 50    Books Received: November / 51    
British Books Received: October / 63    Bestsellers / 66
O B I T U A R I E S / 70
John Steakley •  Paul Gamble • Appreciation by Neil Gaiman • Death Reported: Rebecca V. Neason
L O C U S    L E T T E R S / 70
Michael Dirda • Jonathan Strahan 
E D I T O R I A L    M A T T E R S / 71
Issue 600 • Party! • Digital Locus • This Issue/Next Issue
---
L O C U S    L O O K S    A T    B O O K S
Gardnerspace: Short Fiction Column by Gardner Dozois / 13
F&SF 11-12/10; Asimov's 10-11/10; Asimov's 12/10; Stories, Neil Gaiman & Al Sarrantonio, eds.; Interzone 231.
Short Fiction Reviews by Richard Horton / 15
Asimov's 1/11; Analog 1-2/11; Apex 11/10; Beneath Ceaseless Skies 10/10; Abyss and Apex 4th Quarter 2010; GUD Summer '10; Pink Noise, Leonid Korogodski; Blind Swimmer, Amonymous, ed.; Dark Spires, Colin Harvey, ed.; Jabberwocky 5, Sean Wallace & Erzebet Yellowboy, eds.
Reviews by Gary K. Wolfe / 16
Among Others, Jo Walton; The Silent Land, Graham Joyce; The Universe of Things, Gwyneth Jones.
Reviews by Faren Miller / 18
The Bards of Bone Plain, Patricia A. McKillip; Midnight Riot, Ben Aaronovitch; The Cardinal's Blades, Pierre Pevel; The Hammer, K.J. Parker.
Reviews by Russell Letson / 21
Surface Detail, Iain M. Banks; The Technician, Neal Asher.
Reviews by Paul Witcover / 22
Steampunk Prime, Mike Ashley, ed.; Steampunk II: Steampunk Reloaded, Ann & Jeff VanderMeer, eds.; Yarn, Jon Armstrong; Surface Detail, Iain M. Banks; The Secret History of Fantasy, Peter Beagle, ed. 
Reviews by Carolyn Cushman / 25
Star Crossed, Elizabeth C. Bunce; The Lost Gate, Orson Scott Card; Pathfinder, Orson Scott Card; The Search for WondLa, Tony DiTerlizzi; The Hole in the Wall, Lisa Rowe Fraustino; Reckless, Cornelia Funke; Blue Fire, Janice Hardy; Monsters of Men, Patrick Ness;  The Grimm Legacy, Polly Shulman; Alien Invasion & Other Inconveniences, Brian Yansky.
Reviews by Divers Hands: Stefan Dziemianowicz, Adrienne Martini, and Tim Pratt / 27
The Fall, Guillermo Del Toro & Chuck Hogan; How to Live Safely in a Science Fictional Universe, Charles Yu; Noise, Darin Bradley; Dead Sea Fruit, Kaaron Warren; The Devil, Ken Bruen. 
Terry Bisson: This Month in History / 15, 19, 21, 23
---
Magazine Issues reviewed in this issue (indicating reviewer) — 
Abyss & Apex 4th Quarter 2010 (Rich Horton)  
Analog January/February 2011 (Rich Horton)  
Apex Magazine November 2010 (Rich Horton)  
Asimov's October/November 2010 (Gardner Dozois)  
Asimov's December 2010 (Gardner Dozois)  
Asimov's January 2011 (Rich Horton)  
Beneath Ceaseless Skies October 21 2010 (Rich Horton)  
F&SF Nov/Dec 2010 (Gardner Dozois)  
Greatest Uncommon Denominator Summer 2010 (Rich Horton)  
Interzone November-December 2010 (Gardner Dozois)  
Books reviewed in this issue, listed by author (indicating reviewer) — 
Aaronovitch, Ben • Midnight Riot (Faren Miller)  
Anonymous, ed. • Blind Swimmer  (Rich Horton)  
Armstrong, Jon • Yarn (Paul Witcover)  
Asher, Neal • The Technician (Russell Letson)  
Ashley, Mike, ed. • Steampunk Prime (Paul Witcover)  
Banks, Iain M. • Surface Detail (Paul Witcover)  
Banks, Iain M. • Surface Detail (Russell Letson)  
Beagle, Peter S., ed. • The Secret History of Fantasy (Paul Witcover)  
Bradley, Darin • Noise (Tim Pratt)  
Bruen, Ken • The Devil (Tim Pratt)  
Bunce, Elizabeth C. • Star Crossed (Carolyn Cushman)  
Card, Orson Scott • The Lost Gate (Carolyn Cushman)  
Card, Orson Scott • Pathfinder (Carolyn Cushman)  
del Toro, Guillermo, & Chuck Hogan • The Fall (Stefan Dziemianowicz)  
DiTerlizzi, Tony • The Search for WondLa (Carolyn Cushman)  
Fraustino, Lisa Rowe • The Hole in the Wall (Carolyn Cushman)  
Funke, Cornelia • Reckless (Carolyn Cushman)  
Gaiman, Neil, & Al Sarrantonio, eds. • Stories: All-New Tales (Gardner Dozois)  
Hardy, Janice • Blue Fire (Carolyn Cushman)  
Harvey, Colin, ed. • Dark Spires  (Rich Horton)  
Jones, Gwyneth • The Universe of Things (Gary K. Wolfe)  
Joyce, Graham • The Silent Land (Gary K. Wolfe)  
Korogodsky, Leonid • Pink Noise  (Rich Horton)  
McKillip, Patricia A. • The Bards of Bone Plain (Faren Miller)  
Ness, Patrick • Monsters of Men (Carolyn Cushman)  
Parker, K. J. • The Hammer (Faren Miller)  
Pevel, Pierre • The Cardinal's Blades (Faren Miller)  
Shulman, Polly • The Grimm Legacy (Carolyn Cushman)  
VanderMeer, Ann, & Jeff VanderMeer, eds. • Steampunk II: Steampunk Reloaded (Paul Witcover)  
Wallace, Sean, & Erzebet Yellowboy, eds. • Jabberwocky 5  (Rich Horton)  
Walton, Jo • Among Others (Gary K. Wolfe)  
Warren, Kaaron • Dead Sea Fruit  (Tim Pratt)  
Yansky, Brian • Alien Invasion & Other Inconveniences (Carolyn Cushman)  
Yu, Charles • How to Live Safely in a Science Fictional Universe (Adrienne Martini)