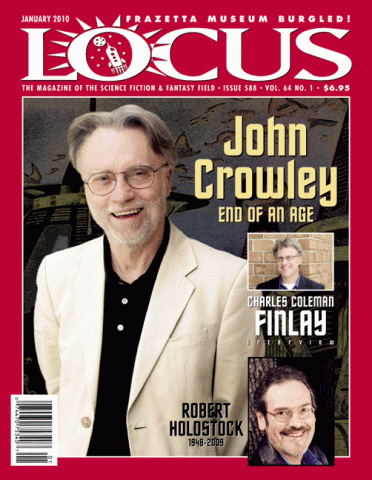 In This Issue:
The January 2010 issue of Locus Magazine features:
Interviews with John Crowley and Charles Coleman Finlay 
 
A new column by Cory Doctorow, "Close Enough for Rock 'n' Roll" 
 
Reports on international SF in Mexico and Germany 
 
Bibliographic listings of the month's New Books and Magazines published in the US and UK 
 
Obituary of Robert Holdstock, with appreciations by John Clute, C.W. Sullivan III, Graham Joyce, and F. Brett Cox 
 
Short fiction reviews by Gardner Dozois and Rich Horton, plus reviews by Gary K. Wolfe, Faren Miller, Russell Letson, Paul Witcover, Adrienne Martini, and others, of books by Greg Bear, Daryl Gregory, Joe Haldeman, Michael Shea, Alan DeNiro, Steven Brust, and many others
T a b l e   o f   C o n t e n t s
January 2010 • Issue 588 • Vol. 64 No. 1
43rd Year of Publication • 29-Time Hugo Winner
Cover and Interview Design by Arnie Fenner
I N T E R V I E W S
John Crowley: End of An Age / 6
Charles Coleman Finlay: The Crucible / 64
P E O P L E   &   P U B L I S H I N G / 8
Notes on milestones, awards, books sold, etc., with news this issue about Joe Haldeman, Stephen & Tabitha King, Terry Pratchett, Harlan Ellison, Kim Stanley Robinson, Robert Silverberg, and many others
M A I N    S T O R I E S / 10
Frazetta Museum Robbery • Levine Wins Endeavour • Borders UK Going Out of Business • SFWA New York Reception
T H E    D A T A    F I L E / 11
Peter Watts Arrest •  Kirkus Closing • Google Books News • Dynamite Buys Dabel Brothers Titles • Harlequin Horizons Controversy • Gaiman's Twitter Audiobook • E-Book News • Legal News • SF on Bests Lists • Awards News • Worldcons News • Publishing News • Book News • Announcements • Financial News • International Rights • Other Rights
C O M M E N T A R Y / 29
Cory Doctorow: Close Enough for Rock 'n' Roll
I N T E R N A T I O N A L
SF in Mexico: A Chat With BEF by Eileen Gunn /  32 Guadalajara International Book Fair /  32 SF in Germany /  33 International Books and Magazines Received /  34
L I S T I N G S
Magazines Received: November / 36    Books Received: November / 37    
British Books Received: October / 48    Bestsellers / 50
O B I T U A R I E S / 60
Robert Holdstock • Appreciation by John Clute, C.W. Sullivan III, Graham Joyce, F. Brett Cox •  Harry C. Crosby, Jr. aka Christopher Anvil • Appreciation by Eric Flint •  Janet Fox •  Milorad Pavic •  Don Congdon •  Shel Dorf •  I.F. Clarke
L O C U S    L E T T E R S / 62
Robert McCammon • A.L. Morlan 
E D I T O R I A L    M A T T E R S / 63
Holiday Party • E-Books • Renewal Notice Fiasco • This Issue/Next Issue
---
L O C U S    L O O K S    A T    B O O K S
Gardnerspace: Short Fiction Column by Gardner Dozois / 12
Eclipse Three, Jonathan Strahan, ed.; When It Changed, Science into Fiction: An Anthology, Geoff Ryman, ed.; Postscripts 19: Enemy of the Good, Peter Crowther & Nick Gevers, eds.; Postscripts 20/21: Edison's Frankenstein, Peter Crowther & Nick Gevers, eds.; Lovecraft Unbound, Ellen Datlow, ed.; Poe, Ellen Datlow, ed.; Troll's Eye View: A Book of Villainous Tales, Ellen Datlow & Terri Windling, eds.; The Vampire Archives, The Most Complete Volume of Vampire Tales Ever Published, Otto Penzler, ed.; By Blood We Live, John Joseph Adams, ed.
Short Fiction Reviews by Richard Horton / 13
Jim Baen's Universe 12/09; Intergalactic Medicine Show 11/09; Tor.com 11/09; Beneath Ceaseless Skies 10/22/09; Clarkesworld 10/09; Clarkesworld 11/09;Clarkesworld 12/09; Clarkesworld 1/10; Fantasy 12/09; Strange Horizons 10/09; Postscripts 20/21: Edison's Frankenstein, Peter Crowther & Nick Gevers, eds.; F&SF 1-2/10; Asimov's 1/10; Analog 1-2/10; Realms of Fantasy 12/09.
Reviews by Gary K. Wolfe / 15
Mariposa, Greg Bear; Generosity: An Enhancement, Richard Powers; Usurper of the Sun, Housuke Nojiri, John Wunderly, trans.; SHORT TAKES: Imagination/Space: Essays and Talks on Fiction, Feminism, Technology, and Politics, Gwyneth Jones; The Wizard Knight Companion: A Lexicon for Gene Wolfe's The Knight and The Wizard, Michael Andre-Driussi.
Reviews by Faren Miller / 19
The Devil's Alphabet, Daryl Gregory; Ancestors and Others: New and Selected Stories, Fred Chappell; Wormwood, Nevada, David Oppegaard; My Dead Body, Charlie Huston; Black Blood, John Meaney; The Choir Boats, Daniel A. Rabuzzi. 
Reviews by Russell Letson / 21
Starbound, Joe Haldeman; Brain Thief, Alexander Jablokov. 
Reviews by Paul Witcover / 23
The Extra, Michael Shea; Transition, Iain M. Banks; Madness of Flowers, Jay Lake; Going Bovine, Libba Bray. 
Reviews by Adrienne Martini / 25
Total Oblivion, More or Less, Alan DeNiro; Interfictions 2: An Anthology Of Interstitial Fiction, Delia Sherman & Christopher Barzak, eds.; The Inter-Galactic Playground: A Critical Study of Children's and Teens' Science Fiction, Farah Mendlesohn. 
Short Reviews by Carolyn Cushman / 27
Iorich, Steven Brust; The Walls Have Eyes, Clare B. Dunkle; Shadows Past, Lorna Freeman; Claim to Fame, Margaret Peterson; Grave Secret, Charlaine Harris; The Magician of Hoad, Margaret Mahy (as Heriot in the UK and US); Tempest Rising, Nicole Peeler; The Hunchback Assignments, Arthur Slade. 
Terry Bisson: This Month in History / 13, 15, 21, 23
---
Books reviewed in this issue, listed by author (indicating reviewer) — 
Adams, John Joseph, ed. • By Blood We Live (Gardner Dozois)  
Andre-Driussi, Michael • The Wizard Knight Companion (Gary K. Wolfe)  
Banks, Iain M. • Transition (Paul Witcover)  
Bear, Greg • Mariposa (Gary K. Wolfe)  
Bray, Libba • Going Bovine (Paul Witcover)  
Brust, Steven • Iorich (Carolyn Cushman)  
Chappell, Fred • Ancestors and Others: New and Selected Stories (Faren Miller)  
Crowther, Peter, & Nick Gevers, ed. • Postscripts #19: Enemy of the Good (Gardner Dozois)  
Crowther, Peter, & Nick Gevers, ed. • Postscripts #20/21: Edison's Frankenstein (Gardner Dozois)  
Crowther, Peter, & Nick Gevers, ed. • Postscripts #20/21: Edison's Frankenstein (Rich Horton)  
Datlow, Ellen, & Terri Windling, eds. • Troll's Eye View (Gardner Dozois)  
Datlow, Ellen, ed. • Lovecraft Unbound (Gardner Dozois)  
Datlow, Ellen, ed. • Poe (Gardner Dozois)  
DeNiro, Alan • Total Oblivion, More or Less (Adrienne Martini)  
Dunkle, Clare B. • The Walls Have Eyes (Carolyn Cushman)  
Freeman, Lorna • Shadows Past (Carolyn Cushman)  
Gregory, Daryl • The Devil's Alphabet (Faren Miller)  
Haddix, Margaret Peterson • Claim to Fame (Carolyn Cushman)  
Haldeman, Joe • Starbound (Russell Letson)  
Harris, Charlaine • Grave Secret (Carolyn Cushman)  
Huston, Charlie • My Dead Body (Faren Miller)  
Jablokov, Alexander • Brain Thief (Russell Letson)  
Jones, Gwyneth • Imagination/Space: Essays and Talks on Fiction, Feminism, Technology and Politics (Gary K. Wolfe)  
Lake, Jay • Madness of Flowers (Paul Witcover)  
Mahy, Margaret • Heriot (Carolyn Cushman)  
Mahy, Margaret • The Magician of Hoad  (Carolyn Cushman)  
Mahy, Margaret • The Magician of Hoad (Carolyn Cushman)  
Meaney, John • Black Blood (Faren Miller)  
Meaney, John • Dark Blood (Faren Miller)  
Mendlesohn, Farah • The Inter-Galactic Playground: A Critical Study of Children's and Teens' Science Fiction (Adrienne Martini)  
Nojiri, Housuke • Usurper of the Sun (Gary K. Wolfe)  
Oppegaard, David • Wormwood, Nevada (Faren Miller)  
Peeler, Nicole • Tempest Rising (Carolyn Cushman)  
Penzler, Otto, ed. • The Vampire Archives (Gardner Dozois)  
Powers, Richard • Generosity: An Enhancement (Gary K. Wolfe)  
Rabuzzi, Daniel A. • The Choir Boats (Faren Miller)  
Ryman, Geoff, ed. • When It Changed, Science Into Fiction: An Anthology (Gardner Dozois)  
Ryman, Geoff, ed. • When It Changed, Science Into Fiction: An Anthology (Gardner Dozois)  
Shea, Michael • The Extra (Paul Witcover)  
Sherman, Delia, & Christopher Barzak, eds. • Interfictions 2: An Anthology of Interstitial Writing (Adrienne Martini)  
Slade, Arthur • The Hunchback Assignments (Carolyn Cushman)  
Strahan, Jonathan, ed. • Eclipse Three (Gardner Dozois)