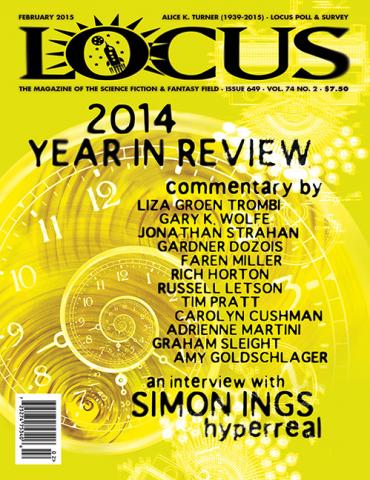 In this issue:
The February 2015 issue of Locus magazine is the annual Year in Review issue with essays, the Locus 2014 Recommended Reading List, and book and magazine summaries tracking the progress of the industry over the year. The issue also features an interview with Simon Ings, and news including the Philip K. Dick award finalists, the naming of Charles Coleman Finlay as the new editor of F&SF, the closing of Borderlands Books, an obituary and appreciations for Alice K. Turner, and more. The column by Kameron Hurley is entitled "The Privilege to Publish; The Power to Persevere". Reviews cover new titles by James Bradley, Paul McAuley, Kelly Link, Isiah Lavender III, Brian Staveley, Will Elliott, Alison Littlewood, Elizabeth Bear, Holly Black, Frances Hardinge, and many others.
Table of Contents:
February 2015 • Issue 649 • Vol. 74 • No. 2
48th Year of Publication • 30-Time Hugo Winner
Cover and Interview Designs by Francesca Myman
INTERVIEW
Simon Ings: Hyperreal / 6
PEOPLE & PUBLISHING/8
Notes on milestones, books sold, etc., with news this issue about Pat Cadigan, Melanie Tem, Neal Stephenson, Nalo Hopkinson, Brandon Sanderson, and many others
MAIN STORIES/10
2014 Philip K. Dick Award Finalists • Finlay Named Editor of F&SF • Borderlands Books to Close • Hugo Awards Nominations Open • Writing Workshop Applications Open
THE DATA FILE/11
World Conventions News • World Fantasy Judges (Corrected) • Egmont USA Closes • Reorganization at Penguin • Authors Guild Lawsuits • Print Rebounds a Bit • Awards News • Publishing News • Digital Library Trends Report • Bestsellers of 2014 • Magazine News • Announcements • Financial News • International Rights • Other Rights • Publications Received • Catalogs Received
SPECIAL FEATURES
Commentary by Kameron Hurley: The Privilege to Publish; The Power to Persevere / 23
2014: THE YEAR IN REVIEW
2014: Recommended Reading: Liza Groen Trombi (with Tim Pratt and Francesca Myman), Gary K. Wolfe, Jonathan Strahan, Adrienne Martini, Russell Letson, Faren Miller, Tim Pratt, Carolyn Cushman, Graham Sleight, Gardner Dozois, Rich Horton, Amy Goldschlager / 24 2014 Recommended Reading List / 38 2014 Book Summary / 42 2014 Magazine Summary / 46
LISTINGS
Magazines Received: December / 52 Books Received: December / 5 3 British Books Received: November / 64 Bestsellers / 66
LOCUS LETTERS/72
Michael J. Walsh • Ellen Datlow
OBITUARIES/73
Alice K. Turner • Appreciations b y Robert Silverberg, Ellen Datlow, Terry Bisson, & Joe Haldeman • Kris Jensen • Michel Jeury • Valentin Nicolau
EDITORIAL MATTERS/74
January • Locus Poll and Survey • This Issue/Next Issue
LOCUS LOOKS AT BOOKS
Gardnerspace: A Short Fiction Column by Gardner Dozois / 12
War Stories: New Military Science Fiction, Jaym Gates & Andrew Liptak, eds.; The End Is Nigh, John Joseph Adams & Hugh Howey, eds.; Carbide Tipped Pens, Ben Bova & Eric Choi, eds.; Field of Fantasies: Baseball Stories of the Strange and Supernatural, Rick Wilber, ed.; Last Plane to Heaven, Jay Lake; Black Gods Kiss, Lavie Tidhar; Prophecies, Libels, and Dreams: Stories, Ysabeau S. Wilce; Questionable Practices, Eileen Gunn.
Short Fiction Reviews by Rich Horton / 13
F&SF 11-12/14; Asimov's 1/15; Analog 1-2/15; Beneath Ceaseless Skies 12/11/14; Lightspeed 1/15; Not One of Us 10/14; Monstrous Affections, Kelly Link & Gavin J. Grant, eds.; McSweeney's Quarterly Concern #48; Tin House #62 (Winter '14).
Reviews by Gary K. Wolfe / 14
Clade, James Bradley; Something Coming Through, Paul McAuley; Get In Trouble: Stories, Kelly Link; Black and Brown Planets: The Politics of Race in Science Fiction, Isiah Lavender III, ed.
Reviews by Faren Miller / 17
The Providence of Fire, Brian Staveley; Shadow, Will Elliott; Path of Needles, Alison Littlewood.
Reviews by Russell Letson / 18
Old Venus, George R.R. Martin & Gardner Dozois, eds.; Grand Crusades: The Early Jack Vance, Volume Five, Jack Vance.
Reviews by Adrienne Martini / 19
Horizon, Keith Stevenson; Pacific Fire, Greg Van Eekhout; Karen Memory, Elizabeth Bear; The Darkest Part of the Forest, Holly Black.
Reviews by Divers Hands: Liz Bourke & Colleen Mondor / 21
Karen Memory, Elizabeth Bear; Cuckoo Song, Frances Hardinge.
Terry Bisson: This Month in History / 13, 17, 18, 19
---
Magazine Issues reviewed in this issue (indicating reviewer) —
Analog January/February 2015 (Rich Horton)
Asimov's January 2015 (Rich Horton)
Beneath Ceaseless Skies December 2014 (Rich Horton)
F&SF November/December 2014 (Rich Horton)
Lightspeed January 2015 (Rich Horton)
McSweeney's Quarterly Concern #48 (Rich Horton)
Not One of Us October 2014 (Rich Horton)
Tin House Winter 2014 (Rich Horton)
---
Books reviewed in this issue, listed by author (indicating reviewer) —
Adams, John Joseph, & Hugh Howey, eds. • The End Is Nigh (Gardner Dozois)
Bear, Elizabeth • Karen Memory (Adrienne Martini)
Bear, Elizabeth • Karen Memory (Liz Bourke)
Black, Holly • The Darkest Part of the Forest (Adrienne Martini)
Bova, Ben, & Eric Choi, eds. • Carbide Tipped Pens (Gardner Dozois)
Bradley, James • Clade (Gary K. Wolfe)
Elliott, Will • Shadow (Faren Miller)
Gates, Jaym, & Andrew Liptak, eds. • War Stories: New Military Science Fiction (Gardner Dozois)
Gunn, Eileen • Questionable Practices (Gardner Dozois)
Hardinge, Frances • Cuckoo Song (Colleen Mondor)
Hardinge, Frances • Cuckoo Song (Colleen Mondor)
Lake, Jay • Last Plane to Heaven (Gardner Dozois)
Lavender, Isiah, III • Black and Brown Planets: The Politics of Race in Science Fiction (Gary K. Wolfe)
Link, Kelly • Get in Trouble (Gary K. Wolfe)
Link, Kelly, & Gavin J. Grant, eds. • Monstrous Affections (Rich Horton)
Littlewood, Alison • Path of Needles (Faren Miller)
Martin, George R. R., & Gardner Dozois, eds. • Old Venus (Russell Letson)
McAuley, Paul • Something Coming Through (Gary K. Wolfe)
Staveley, Brian • The Providence of Fire (Faren Miller)
Stevenson, Keith • Horizon (Adrienne Martini)
Tidhar, Lavie • Black Gods Kiss (Gardner Dozois)
Van Eekhout, Greg • Pacific Fire (Adrienne Martini)
Vance, Jack • Grand Crusades: The Early Jack Vance, Volume Five (Russell Letson)
Wilber, Rick • Field of Fantasies: Baseball Stories of the Strange and Supernatural (Gardner Dozois)
Wilce, Ysabeau S. • Prophecies, Libels, and Dreams (Gardner Dozois)