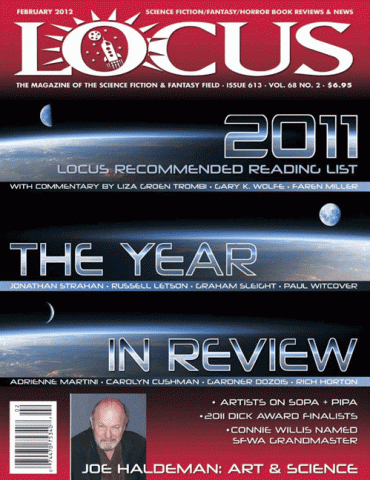 In this issue:
Locus Magazine • February 2012 • Issue 613 • Vol. 68 No. 2
The February issue is the annual year-in-review, with the 2011 Recommended Reading List, the 2012 Locus Poll & Survey ballot, essays by Locus editors and reviewers on the year's best books and stories, and summaries of the year's book and magazine publications. Plus: an interview with Joe Haldeman, reviews of new books by Tim Powers, Kim Westwood, Clive Barker, and many others, plus Graham Sleight's "Yesterday's Tomorrows" column on Samuel R. Delany.
Table of Contents:
February 2012 • Issue 613 • Vol. 68 No. 2
45th Year of Publication • 29-Time Hugo Winner
Cover and Interview Design by Francesca Myman
I N T E R V I E W
Joe Haldeman: Art & Science / 6
P E O P L E   &   P U B L I S H I N G / 8
Notes on milestones, awards, books sold, etc., with news this issue about Connie Willis, George R.R. Martin, Joe R. Lansdale, Rick Hautala, Gene Wolfe, Jack McDevitt, Patrick Rothfuss & Nate Taylor, S.M. Stirling, Betsy Mitchell, China Miéville, and many others
M A I N    S T O R I E S / 10
Supreme Court Rules on Copyright Case • 2011 Dick Award Finalists • Artists on SOPA/PIPA • World Fantasy Judges Announced
T H E    D A T A    F I L E / 11
Borders Bankruptcy Winding Down • B&N to Sell Sterling • Agency Model Antitrust News • Open Road Lawsuit • UK Bestsellers of 2011 • Announcements • Worldcons News • Online News • Magazine News • Book News • Legal News • Awards News • 2011 Stoker Preliminary Ballot • Financial News • International Rights • Audio Rights • Other Rights • Audiobooks Received • Publications Received • Catalogs Received
2 0 1 1 :   T H E    Y E A R    I N    R E V I E W
2011: Recommended Reading: Liza Groen Trombi, Francesca Myman, Heather Shaw, Chloe Smith, Gary K. Wolfe, Faren Miller, Jonathan Strahan, Russell Letson, Graham Sleight, Paul Witcover, Adrienne Martini, Carolyn Cushman, Gardner Dozois, Rich Horton / 34 2011 Recommended Reading List / 42 2011 Book Summary / 52 2011 Magazine Summary / 56
L I S T I N G S
Magazines Received: December / 60
Books Received: December / 61
British Books Received: November / 71
Bestsellers / 72
O B I T U A R I E S / 80
James L. ''Rusty'' Hevelin • Appreciations by Joe Haldeman and Gary K. Wolfe • Howard Hopkins • Robert E. Briney • Glenn Lord • Richard Bessière • Louis Thirion
L O C U S    L E T T E R S / 81
Jonathan Strahan • Ellen Datlow
E D I T O R I A L    M A T T E R S / 82
A Look Back • This Issue • Locus Awards • Rusty Hevelin • Next Issue
---
L O C U S    L O O K S    A T    B O O K S
Gardnerspace: Short Fiction Column by Gardner Dozois / 14
The Book of Cthulhu, Ross E. Lockhart, ed.; New Cthulhu: The Recent Weird, Paula Guran, ed.; Sense of Wonder: A Century of Science Fiction, Leigh Ronald Grossman, ed.; Clarkesworld 11/11; Tor. com 12/13/11; Tor. com 12/14/11.
Short Fiction Reviews by Richard Horton / 15
Redstone 10/11; Redstone 12/11; Beneath Ceaseless Skies 12/15/11; Apex 11/11; Abyss & Apex 4th Quarter 2011; Strange Horizons 10/11; Clarkesworld 11/11; Clarkesworld 1/12; Lightspeed 12/11; Asimov's 2/12; Analog 3/12; Conjunctions 57; A Book of Horrors, Stephen Jones; Eastercon Souvenir Book 2011.
Reviews by Gary K. Wolfe / 16
Hide Me Among the Graves, Tim Powers; The Games, Ted Kosmatka; Distrust That Particular Flavor, William Gibson.
Reviews by Faren Miller / 18
The Courier's New Bicycle, Kim Westwood; Everything Is Broken, John Shirley; The Folded World, Catherynne M. Valente; The Emperor's Knife, Mazarkis Williams; Somewhere Beneath Those Waves, Sarah Monette.
Reviews by Russell Letson / 21
The Other, Matthew Hughes; The Great Big Beautiful Tomorrow, Cory Doctorow.
Reviews by Adrienne Martini / 23
The Highest Frontier, Joan Slonzewski; Seed, Rob Ziegler; The Twilight of Lake Woebegotten, Harrison Geillor; Cinder, Marissa Meyer; The Best of Kage Baker, Kage Baker.
Reviews by Stefan Dziemianowicz / 25
The Doll: The Lost Short Stories, Daphne du Maurier; The Hunter from the Woods, Robert R. McCammon; Shadows West, Joe R. Lansdale & John R. Lansdale.
Reviews by Carolyn Cushman / 27
The Mostly True Story of Jack, Kelly Barnhill; The Daemon Prism, Carol Berg; Liar's Moon, Elizabeth C. Bunce; Blood of Eden, Tami Dane; Tricks of the Trade, Laura Anne Gilman; Alien Proliferation, Gini Koch; Beauty and the Werewolf, Mercedes Lackey; Switchblade Goddess, Lucy A. Snyder; Touch of Power, Maria V. Snyder; The Space Between, Brenna Yovanoff.
Reviews by Divers Hands: Richard A. Lupoff, Tim Pratt, and Gwenda Bond / 28
Chariots of San Fernando and Other Stories: The Best of Malcolm Jameson: Volume 1, Malcolm Jameson; The Mirage, Matt Ruff; A Monster Calls, Patrick Ness; Abarat: Absolulte Midnight, Clive Barker.
Tomorrows by Graham Sleight / 31
Nova, Samuel R. Delany; Aye, and Gomorrah, Samuel R. Delany; Dhalgren, Samuel R. Delany.
Locus Looks at Art Books by Karen Haber and Francesca Myman / 33
A Tolkien Tapestry: Pictures to Accompany The Lord of the Rings, Cor Blok; Hardware: The Definitive SF Works of Chris Foss, Chris Foss; Out of this World: Science Fiction But Not As You Know It, Mike Ashley, ed.; SHORT TAKES: Fantasy+ 3: Best Hand-Painted Illustrations, Vincent Zhao, ed.; Exposé 9, Daniel Wade, ed.; Masters of Science Fiction and Fantasy Art, Karen Haber; SHORT TAKE: The Digital Matte Painting Handbook, David Mattingly.
Terry Bisson: This Month in History / 
15, 17, 19, 23
---
Magazine Issues reviewed in this issue (indicating reviewer) —
Abyss & Apex 4th quarter 2011 (Rich Horton)
Analog March 2012 (Rich Horton)
Apex Magazine November 2011 (Rich Horton)
Asimov's February 2012 (Rich Horton)
Beneath Ceaseless Skies December 2011 (Rich Horton)
Clarkesworld November 2011 (Gardner Dozois)
Clarkesworld November 2011 (Rich Horton)
Clarkesworld January 2012 (Rich Horton)
Conjunctions Fall 2011 (Rich Horton)
Lightspeed December 2011 (Rich Horton)
Redstone Science Fiction October 2011 (Rich Horton)
Redstone Science Fiction December 2011 (Rich Horton)
Strange Horizons October 2011 (Rich Horton)
Tor.com December 2011 (Gardner Dozois)
Books reviewed in this issue, listed by author (indicating reviewer) —
Anonymous, ed. • Eastercon Souvenir Book (Rich Horton)
Ashley, Mike, ed. • Out of This World: Science Fiction But Not As You Know It (Karen Haber)
Baker, Kage • The Best of Kage Baker (Adrienne Martini)
Barker, Clive • Abarat Absolute (Gwenda Bond)
Barnhill, Kelly • The Mostly True Story of Jack (Carolyn Cushman)
Berg, Carol • The Daemon Prism (Carolyn Cushman)
Blok, Cor • A Tolkien Tapestry: Pictures to accompany The Lord of the Rings (Karen Haber)
Bunce, Elizabeth C. • Liar's Moon (Carolyn Cushman)
Dane, Tarni • Blood of Eden (Carolyn Cushman)
Delany, Samuel R. • Aye, and Gomorrah: Stories (Graham Sleight)
Delany, Samuel R. • Dhalgren (Graham Sleight)
Delany, Samuel R. • Nova (Graham Sleight)
Doctorow, Cory • The Great Big Beautiful Tomorrow (Russell Letson)
du Maurier, Daphne • The Doll: The Lost Short Stories (Stefan Dziemianowicz)
Foss, Chris • Hardware: The Definitive SF Works of Chris Foss (Karen Haber)
Geillor, Harrison • The Twilight of Lake Woebegotten (Adrienne Martini)
Gibson, William • Distrust That Particular Flavor (Gary K. Wolfe)
Gilman, Laura Anne • Tricks of the Trade (Carolyn Cushman)
Grossman, Leigh Ronald • Sense of Wonder: A Century of Science Fiction (Gardner Dozois)
Guran, Paula, ed. • New Cthulhu: The Recent Weird (Gardner Dozois)
Hughes, Matthew • The Other (Russell Letson)
Jameson, Malcolm • Chariots of San Fernando and Other Stories: The Best of Malcolm Jameson: Volume 1 (Richard A. Lupoff)
Jones, Stephen, ed. • A Book of Horrors (Rich Horton)
Koch, Gini • Alien Proliferation (Carolyn Cushman)
Kosmatka, Ted • The Games (Gary K. Wolfe)
Lackey, Mercedes • Beauty and the Werewolf (Carolyn Cushman)
Lansdale, Joe R., & John L. Lansdale • Shadows West (Stefan Dziemianowicz)
Lockhart, Ross E., ed. • The Book of Cthulhu (Gardner Dozois)
McCammon, Robert • The Hunter from the Woods (Stefan Dziemianowicz)
Meyer, Melissa • Cinder (Adrienne Martini)
Monette, Sarah • Somewhere Beneath Those Waves (Faren Miller)
Ness, Patrick • A Monster Calls (Gwenda Bond)
Powers, Tim • Hide Me Among the Graves (Gary K. Wolfe)
Ruff, Matt • The Mirage (Tim Pratt)
Shirley, John • Everything Is Broken (Faren Miller)
Slonczewski, Joan • The Highest Frontier (Adrienne Martini)
Snyder, Lucy A. • Switchblade Goddess (Carolyn Cushman)
Snyder, Maria V. • Touch of Power (Carolyn Cushman)
Valente, Catherynne M. • The Folded World (Faren Miller)
Wade, Daniel • Exposé 9: Finest Digital Art in the Known Universe (Karen Haber)
Westwood, Kim • The Courier's New Bicycle (Faren Miller)
Williams, Mazarkis • The Emperor's Knife (Faren Miller)
Yovanoff, Brenna • The Space Between (Carolyn Cushman)
Zhao, Vincent • Fantasy+ 3: Best Hand-painted Illustrations (Karen Haber)
Ziegler, Rob • Seed (Adrienne Martini)