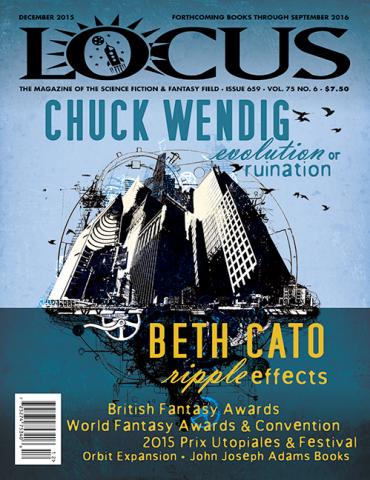 In this issue:
The December 2015 issue of Locus magazine has interviews with Chuck Wendig and Beth Cato. The issue lists US and UK forthcoming books titles through September 2016. News includes the World Fantasy Awards and World Fantasy Convention report, the Prix Utopiales and Festival report, the British Fantasy Awards, Orbit's expansion, the launch of John Joseph Adams Books, the World Fantasy trophy change, the Crossed Genres closure, Amazon's new brick-and-mortar bookstore, and much more. Obituaries include T.M. Wright, Rena Wolner, and Ayerdahl. The column by Kameron Hurley is entitled "When the Writing Sprint Goes Wrong". Reviews cover new titles by Charlie Jane Anders, Leena Krohn, Catherynne M. Valente, Will Elliott, Lila Bowen, Linda Nagata, Cherie Priest, Matt Wallace, Emma Newman, David Walton, Scott Hawkins, Kameron Hurley, Gemma Files, and others.
Table of Contents:
December 2015 • Issue 659 • Vol. 75 • No. 6
48th Year of Publication • 30-Time Hugo Winner
Cover and Interview Designs by Francesca Myman
INTERVIEWS
Chuck Wendig: Evolution or Ruination / 6
Beth Cato: Ripple Effects / 68
MAIN STORIES / 5&10
2015 World Fantasy Awards Winners • 2015 British Fantasy Awards Winners • John Joseph Adams Books • World Fantasy Trophy Change • Díaz Stripped of Award • Amazon Opens Bookstore
CONVENTIONS
World Fantasy Convention / 5 Utopiales / 65
PEOPLE & PUBLISHING / 8
Notes on milestones, awards, books sold, etc., with news this issue about George R.R. Martin, Toni Weisskopf, Ian McDonald, William Gibson, William C. Dietz, George Mann, Neil Gaiman, and many others
THE DATA FILE / 11
Orbit Expands • Nebula Awards Nominations Open • Crossed Genres to Close • Harry Potter News • Orwell News • PW's Best Books 2015 • Amazon's Best of 2015 • Goodreads Choice Awards 2015 Nominees • Awards News • Publishing News • World Conventions News • Conventions News • Financial News • International Rights • Other Rights • Audiobooks Received • Publications Received • Catalogs Received
SPECIAL FEATURES
Commentary: Kameron Hurley: When the Writing Sprint Goes Wrong / 23 Photo Story: Halloween Signing at Forbidden Planet / 63 Photo Story: Viable Paradise 2015 / 67 Photo Story: Tachyon Turns 20! / 67
FORTHCOMING BOOKS
US Forthcoming Books / 24 British Forthcoming Books / 40
LISTINGS
Magazines Received: October / 46 Books Received: October / 47 British Books Received: September / 56 Bestsellers / 58
OBITUARIES/66
T.M. Wright • Rena Wolner • Ayerdahl
LOCUS LETTERS / 66
EDITORIAL MATTERS / 67
Conventions • 2015 Donations
LOCUS LOOKS AT BOOKS
Gardnerspace: A Short Fiction Column by Gardner Dozois / 12
Twelve Tomorrows, Bruce Sterling, ed.; Asimov's 10-11/15; F&SF 10-11/15.
Short Fiction Reviews by Rich Horton / 13
Tor.com 9/15; Tor.com 10/15; Lightspeed 11/15; Clarkesworld 10/15; Strange Horizons 10/15; Beneath Ceaseless Skies 10/1/15; Beneath Ceasless Skies 10/15/15; The Dark 8/15; Kaleidotrope Autumn '15; Mission: Tomorrow, Bryan Thomas Schmidt, ed.; Onward, Drake!, Mark L. Name, ed.
Reviews by Gary K. Wolfe / 14
All the Birds in the Sky, Charlie Jane Anders; Meeting Infinity, Jonathan Strahan, ed.; Nebula Awards Showcase 2015, Greg Bear, ed.
Reviews by Faren Miller / 16
Collected Fiction, Leena Krohn; Radiance, Catherynne M. Valente; The Pilo Traveling Show, Will Elliott; Wake of Vultures, Lila Bowen.
Review by Russell Letson / 18
The Red: First Light, Linda Nagata; The Trials, Linda Nagata; Going Dark, Linda Nagata.
Reviews by Adrienne Martini / 19
Chapelwood, Cherie Priest; Envy of Angels, Matt Wallace; Planetfall, Emma Newman; Supersymmetry, David Walton.
Reviews by Divers Hands: Ysabeau Wilce and Laird Barron / 20
The Library at Mount Char, Scott Hawkins; Empire Ascendant, Kameron Hurley; Kissing Carrion, Gemma Files; The Worm in Every Heart, Gemma Files.
Terry Bisson: This Month in History / 13, 15, 19, 21
 
---
Magazine Issues reviewed in this issue (indicating reviewer) —
Asimov's October/November 2015 (Gardner Dozois)
Beneath Ceaseless Skies October 2015 (Rich Horton)
Clarkesworld October 2015 (Rich Horton)
F&SF November/December 2015 (Gardner Dozois)
Kaleidotrope Autumn 2015 (Rich Horton)
Strange Horizons October 2015 (Rich Horton)
The Dark August 2015 (Rich Horton)
Tor.com September 2015 (Rich Horton)
Tor.com October 2015 (Rich Horton)
 
---
Books reviewed in this issue, listed by author (indicating reviewer) —
Anders, Charlie Jane • All the Birds in the Sky (Gary K. Wolfe)
Bear, Greg, ed. • Nebula Awards Showcase 2015 (Gary K. Wolfe)
Bowen, Lila • Wake of Vultures (Faren Miller)
Elliott, Will • The Pilo Traveling Show (Faren Miller)
Files, Gemma • Kissing Carrion (Laird Barron)
Files, Gemma • The Worm in Every Heart (Laird Barron)
Hawkins, Scott • The Library at Mount Char (Ysabeau Wilce)
Hurley, Kameron • Empire Ascendant (Ysabeau Wilce)
Krohn, Leena • Leena Krohn: The Collected Fiction (Faren Miller)
Nagata, Linda • Going Dark (Russell Letson)
Nagata, Linda • The Red: First Light (Russell Letson)
Nagata, Linda • The Trials (Russell Letson)
Newman, Emma • Planetfall (Adrienne Martini)
Priest, Cherie • Chapelwood (Adrienne Martini)
Schmidt, Bryan Thomas, ed. • Mission: Tomorrow (Rich Horton)
Sterling, Bruce, ed. • Twelve Tomorrows: MIT Technology Review SF Annual 2016 (Gardner Dozois)
Strahan, Jonathan, ed. • Meeting Infinity (Gary K. Wolfe)
Valente, Catherynne M. • Radiance (Faren Miller)
Van Name, Mark • Onward Drake! (Rich Horton)
Wallace, Matt • Envy of Angels (Adrienne Martini)
Walton, David • Supersymmetry (Adrienne Martini)