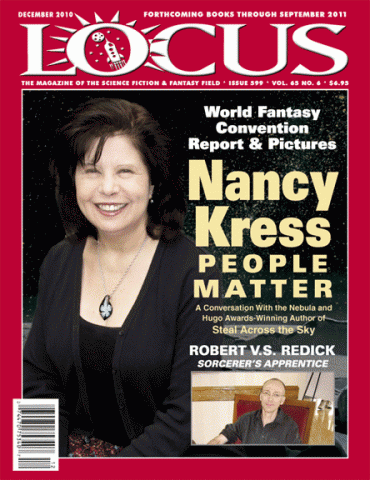 In This Issue:
The December 2010 issue of Locus Magazine features --
Inteviews with authors Nancy Kress and Robert V.S. Redick 
 
Reports from this year's World Fantasy Convention in Columbus, Ohio 
 
Listings of Forthcoming Books in the US and UK through September 2011 
 
Bibliographic listings of the month's New Books and Magazines published in the US and UK 
 
Short fiction reviews by Gardner Dozois and Rich Horton, plus reviews by Gary K. Wolfe, Faren Miller, Russell Letson, Adrienne Martini, Carolyn Cushman, and others of books by Gene Wolfe, Catherynne M. Valente, Larry Niven, Anne Rice, and others 
 
Graham Sleight's "Yesterday's Tomorrows" column, on John Wyndham 
T a b l e   o f   C o n t e n t s
December 2010 • Issue 599 • Vol. 65 No. 6
43rd Year of Publication • 29-Time Hugo Winner
Cover and Interview Design by Arnie Fenner
I N T E R V I E W S
Nancy Kress: People Matter / 6
Robert V.S. Redick: Sorcerer's Apprentice / 80
2 0 1 0    W O R L D    F A N T A S Y    A W A R D S    W I N N E R S 5
2 0 1 0    W O R L D    F A N T A S Y    C O N V E N T I O N 5
Report by Amelia Beamer
P E O P L E   &   P U B L I S H I N G / 8
Notes on milestones, awards, books sold, etc., with news this issue about Diana Wynne Jones, Toni Morrison, Terry Pratchett and Martin Amis, J.K. Rowling, Jim Butcher, Paolo Bacigalupi, Vicki Pettersson, and many others
M A I N    S T O R I E S / 11
Marusek Wins Endeavour • PW's Best of 2010 • Gaiman's 50th Birthday • Amazon's Best of 2010 
T H E    D A T A    F I L E / 13
Realms Resurrected • WisCon Withdraws Moon's GoH Invitation • The Witches of Lublin • Hull Zero Starbucks • Barnes & Noble News • Borders News • Amazon News • Book Exports Decline • E-Book News • Dorchester Woes • Random Reduces Office Space • BEA and ALA Won't Merge • Awards News • Announcements • Publishing News • Books Sold, Continued • Media News • Online News • Financial News • International Rights • Other Rights • Catalogs Received
F O R T H C O M I N G    B O O K S
US Forthcoming Books / 34    British Forthcoming Books / 44
L I S T I N G S
Magazines Received: October / 50    Books Received: October / 52    
British Books Received: September / 65    Bestsellers / 66
O B I T U A R I E S / 73
Glen GoodKnight • Alain Le Bussy • Bob Guccione
L O C U S    L E T T E R S / 73
David Brin • Phil Stephensen-Payne • Jeffery Fisher
E D I T O R I A L    M A T T E R S / 79
Squirrelzilla • WFC • This Issue • Staff • Next Issue — #600!
---
L O C U S    L O O K S    A T    B O O K S
Gardnerspace: Short Fiction Column by Gardner Dozois / 15
The Mammoth Book of Apocalyptic SF (in the US as The Mammoth Book of the End of the World), Mike Ashley, ed.; The Immersion Book of SF, Carmelo Rafala, ed.; Legends of Australian Fantasy, Jack Dann & Jonathan Strahan, eds.; The Company He Keeps: Postscripts 22/23, Peter Crowther & Nick Gevers, eds.; Lightspeed 7/10; Lightspeed 8/10; Lightspeed 9/10; Lightspeed 11/10; Lightspeed 12/10.
Short Fiction Reviews by Richard Horton / 17
Asimov's 12/10; Fantasy 12/10; Giganotosaurus 10/10; Giganotosaurus 12/10; The Immersion Book of SF, Carmelo Rafala, ed.; Panverse Two, Dario Ciriello, ed.; The Way of the Wizard, John Joseph Adams, ed.; The Big Bah-Ha, C.S.E. Cooney; Blue and Gold, K.J. Parker; The Man With the Knives, Ellen Kushner.
Reviews by Gary K. Wolfe / 18
Home Fires, Gene Wolfe; Behemoth, Scott Westerfeld; Robert A. Heinlein: In Dialogue with His Century: Volume 1, 1907-1948: Learning Curve, William H. Patterson, Jr.; The Executioness, Tobias S. Buckell; The Alchemist, Paolo Bacigalupi.
Reviews by Faren Miller / 20
The Habitation of the Blessed, Catherynne M. Valente; Factotum, D.M. Cornish; Clockwork Angel, Cassandra Clare; The Sky That Wraps, Jay Lake; SHORT TAKE: On the Banks of the River of Heaven, Richard Parks.
Reviews by Russell Letson / 23
The Best of Larry Niven, Larry Niven; Betrayer of Worlds, Larry Niven & Edward M. Lerner.
Reviews by Adrienne Martini / 25
Yarn, Jon Armstrong; Seed Seeker, Pamela Sargent; The White City, Elizabeth Bear; Zombies vs. Unicorns, Holly Black & Justine Larbalestier, eds.; All Clear, Connie Willis. 
Review by Stefan Dziemianowicz / 26
Of Love and Evil, Anne Rice; Full Dark, No Stars, Stephen King; Frankenstein's Monster, Susan Heyboer O'Keefe.
Reviews by Carolyn Cushman / 29
Harvest Moon, Anonymous, ed.; Plain Kate, Erin Bow; Brayan's Gold, Peter V. Brett; Masques/Wolfsbane, Patricia Briggs; Afterlife, Merrie Destefano; Mob Rules, Cameron Haley; Troubled Waters, Sharon Shinn; Shotgun Sorceress, Lucy A. Snyder; The Ring of Solomon, Jonathan Stroud. 
Yesterday's Tomorrows: Graham Sleight / 31
The Day of the Triffids, John Wyndham; The Kraken Wakes, John Wyndham; The Chrysalids, John Wyndham; Chocky, John Wyndham.
Terry Bisson: This Month in History / 17, 19, 21, 25
---
Magazine Issues reviewed in this issue (indicating reviewer) — 
Asimov's December 2010 (Rich Horton)  
Fantasy Magazine December 2010 (Rich Horton)  
Giganotosaurus November 2010 (Rich Horton)  
Giganotosaurus December 2010 (Rich Horton)  
Lightspeed July 2010 (Gardner Dozois)  
Lightspeed August 2010 (Gardner Dozois)  
Lightspeed September 2010 (Gardner Dozois)  
Lightspeed November 2010 (Gardner Dozois)  
Lightspeed December 2010 (Gardner Dozois) 
Books reviewed in this issue, listed by author (indicating reviewer) — 
Adams, John Joseph, ed. • The Way of the Wizard (Rich Horton) 
Anonymous, ed. • Harvest Moon (Carolyn Cushman) 
Armstrong, Jon • Yarn (Adrienne Martini) 
Ashley, Mike, ed. • The Mammoth Book of Apocalyptic SF (Gardner Dozois) 
Ashley, Mike, ed. • The Mammoth Book of the End of the World (Gardner Dozois) 
Bacigalupi, Paolo • The Alchemist (Gary K. Wolfe) 
Bear, Elizabeth • The White City (Adrienne Martini) 
Black, Holly, & Justine Larbalestier, eds. • Zombies vs. Unicorns (Adrienne Martini) 
Bow, Erin • Plain Kate (Carolyn Cushman) 
Brett, Peter V. • Brayan's Gold (Carolyn Cushman) 
Briggs, Patricia • Masques (Carolyn Cushman) 
Briggs, Patricia • Wolfsbane (Carolyn Cushman) 
Buckell, Tobias S. • The Executioness (Gary K. Wolfe) 
Ciriello, Dario, ed. • Panverse Two (Rich Horton) 
Clare, Cassandra • The Clockwork Angel (Faren Miller) 
Cooney, C. S. E. • The Big Bah-Ha (Rich Horton) 
Cornish, D. M. • Factotum (Faren Miller) 
Crowther, Peter, & Nick Gevers, eds. • Postscripts 22/23: The Company He Keeps (Gardner Dozois) 
Dann, Jack, & Jonathan Strahan, eds. • Legends of Australian Fantasy  (Gardner Dozois) 
Destefano, Merrie • Afterlife (Carolyn Cushman) 
Haley, Cameron • Mob Rules (Carolyn Cushman) 
King, Stephen • Full Dark, No Stars (Stefan Dziemianowicz) 
Kushner, Ellen • The Man with the Knives (Rich Horton) 
Lake, Jay • The Sky that Wraps (Faren Miller) 
Newman, Kim • Mysteries of the Diogenes Club (Rich Horton) 
Niven, Larry, & Edward M. Lerner • Betrayer of Worlds (Russell Letson) 
Niven, Larry, edited by Jonathan Strahan • The Best of Larry Niven (Russell Letson) 
O'Keefe, Susan Heyboer • Frankenstein's Monster (Stefan Dziemianowicz) 
Parker, K. J. • Blue and Gold (Rich Horton) 
Parks, Richard • On the Banks of the River of Heaven (Faren Miller) 
Patterson, William H., Jr. • Robert A. Heinlein: In Dialogue with His Century (Gary K. Wolfe) 
Rafala, Carmelo • The Immersion Book of SF (Gardner Dozois) 
Rafala, Carmelo • The Immersion Book of SF (Rich Horton) 
Rice, Anne • Of Love and Evil: The Songs of the Seraphim (Stefan Dziemianowicz) 
Sargent, Pamela • Seed Seeker (Adrienne Martini) 
Shinn, Sharon • Troubled Waters (Carolyn Cushman) 
Snyder, Lucy A. • Shotgun Sorceress (Carolyn Cushman) 
Stroud, Jonathan • The Ring of Solomon (Carolyn Cushman) 
Stroud, Jonathan • The Ring of Solomon (Carolyn Cushman) 
Valente, Catherynne M. • The Habitation of the Blessed (Faren Miller) 
Westerfeld, Scott • Behemoth (Gary K. Wolfe) 
Willis, Connie • All Clear (Adrienne Martini) 
Wolfe, Gene • Home Fires (Gary K. Wolfe) 
Wyndham, John • Chocky (Graham Sleight) 
Wyndham, John • The Chrysalids (Graham Sleight) 
Wyndham, John • The Day of the Triffids (Graham Sleight) 
Wyndham, John • The Kraken Wakes (Graham Sleight)