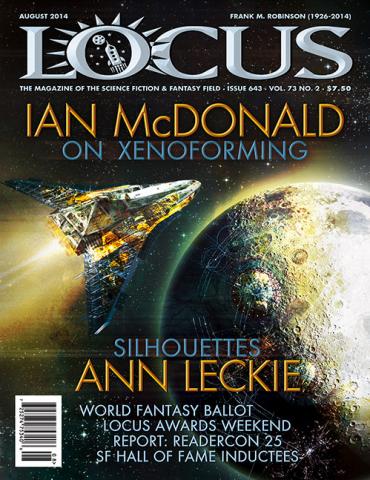 In this issue:
The August 2014 issue of Locus magazine has interviews with Ian McDonald and Ann Leckie, and a column by Kameron Hurley entitled "People Don't Buy Books They Don't Know About (Even Great Ones)". News coverage includes the World Fantasy ballot, the Locus Awards Weekend report, the Readercon 25 report, the SF Hall of Fame inductees, the Shirley Jackson Awards winners, the Prometheus Awards winners, and obituaries and appreciations of Frank M. Robinson, Walter Dean Myers, and others. Reviews cover new titles by Octavia E. Butler, Lucius Shepard, K.J. Parker, Paul Cornell, Daryl Gregory, Jeff VanderMeer, Robin Hobb, James S.A. Corey, Nick Mamatas, and many others.
Table of Contents:
August 2014 • Issue 643 • Vol. 73 • No. 2
47th Year of Publication • 30-Time Hugo Winner
Cover and Interview Designs by Francesca Myman
INTERVIEWS
Ian McDonald: On Xenoforming / 6
Ann Leckie: Silhouettes / 60
MAIN STORIES / 5&10
2014 World Fantasy Awards Nominations • Frank M. Robinson (1926-2014) • 2014 Science Fiction Hall of Fame Inductees • 2013 Shirley Jackson Awards Winners • 2014 Prometheus Awards Winners • Amazon/Hachette Battle Continues • New Allegations About MZB
PEOPLE & PUBLISHING / 8
Notes on milestones, awards, books sold, etc., with news this issue about Terry Pratchett, Guy Gavriel Kay, Jeffrey Ford, Michael Swanwick, Cecelia Holland, Sheri S. Tepper, Neil Gaiman, and many others
thE datA file / 11
2014 Chesley Awards Finalists • Hachette Acquires Perseus • Strange Chemistry and Exhibit A Shut Down • B&N Spins Off Nook • New SFWA Board Members • Publishing News • World Conventions News • Patterson Donation • World Book Night US Closes • Awards News • Financial News • International Rights • Other Rights • Audiobooks Received • Publications Received • Catalogs Received
SPECIAL FEATURES
Commentary: Kameron Hurley: People Don't Buy Books They Don't Know About (Even Great Ones) / 27 • 2014 Locus Survey Results / 28
Conventions
Locus Awards Weekend / 32 Readercon 2014 / 58
listings
Magazines Received: June / 36 Books Received: June / 37 British Books Received: May / 44 Bestsellers / 46
EDITORIAL MATTERS / 53
Locus Awards and Readercon • Staff • This Issue/Next Issue
ObituarieS
Frank M. Robinson (1926 - 2014) / 5 Appreciations by Harlan Ellison, Robert Silverberg, Robin Wayne Bailey, Richard A. Lupoff, Mike Resnick, Allen M. Steele, Tom Whitmore, Derryl Murphy / 54 Other Obituaries: Walter Dean Myers / 57 Nadine Gordimer / 57 Mary Rodgers / 57 Nancy Garden / 57 C.J. Henderson / 57 Matthew Richell / 57
locus looks aT books
Gardnerspace: A Short Fiction Column by Gardner Dozois / 13
Reach for Infinity, Jonathan Strahan, ed.; Asimov's 7/14; Asimov's 8/14.
Short Fiction Reviews by Rich Horton / 15
Granta Spring '14; Harper's 6/14; F&SF 7-8/14; Asimov's 8/14; Interzone 5-6/14; Lightspeed 7/14; Reach for Infinity, Jonathan Strahan, ed.
Reviews by Gary K. Wolfe / 16
Beautiful Blood, Lucius Shepard; Academic Exercises, K.J. Parker; The Severed Streets, Paul Cornell; We Are All Completely Fine, Daryl Gregory; Unexpected Stories, Octavia E. Butler.
Reviews by Faren Miller / 18
Acceptance, Jeff VanderMeer; Fool's Assassin, Robin Hobb; The Bees, Laline Paull; Invisible Beasts, Sharona Muir.
Review by Russell Letson / 21
Cibola Burn, James S.A. Corey; Reach for Infinity, Jonathan Strahan, ed.
Reviews by Adrienne Martini / 22
The Silk Map, Chris Willrich; Full Fathom Five, Max Gladstone; Peacemaker, Marianne De Pierres; Fortune's Pawn, Rachel Bach; Honor's Knight, Rachel Bach; Heaven's Queen, Rachel Bach.
Reviews by Tim Pratt / 23
The Last Weekend, Nick Mamatas; Chimpanzee, Darin Bradley.
Short Reviews by Carolyn Cushman / 25
Dust and Light, Carol Berg; Shifting Shadows, Patricia Briggs; Girl Genius #13: Agatha Heterodyne and the Sleeping City, Phil & Kaja Foglio; Shattered, Kevin Hearne; Free Agent, J.C. Nelson.
Terry Bisson: This Month in History / 15, 17, 21, 23
---
Magazine Issues reviewed in this issue (indicating reviewer) —
Asimov's July 2014 (Gardner Dozois)
Asimov's August 2014 (Gardner Dozois)
Asimov's August 2014 (Rich Horton)
F&SF July/August 2014 (Rich Horton)
Granta Spring 2014 (Rich Horton)
Harper's June 2014 (Rich Horton)
Interzone May/June 2014 (Rich Horton)
Lightspeed July 2014 (Rich Horton)
---
Books reviewed in this issue, listed by author (indicating reviewer) —
Bach, Rachel • Fortune's Pawn (Adrienne Martini)
Bach, Rachel • Heaven's Queen (Adrienne Martini)
Bach, Rachel • Honor's Knight (Adrienne Martini)
Berg, Carol • Dust and Light (Carolyn Cushman)
Bradley, Darin • Chimpanzee (Tim Pratt)
Briggs, Patricia • Shifting Shadows (Carolyn Cushman)
Butler, Octavia E. • Unexpected Stories (Gary K. Wolfe)
Corey, James S. A. • Cibola Burn (Russell Letson)
Cornell, Paul • The Severed Streets (Gary K. Wolfe)
de Pierres, Marianne • Peacemaker (Adrienne Martini)
Foglio, Phil, & Kaja Foglio • Girl Genius #13: Agatha Heterodyne and the Sleeping City (Carolyn Cushman)
Gladstone, Max • Full Fathom Five (Adrienne Martini)
Gregory, Daryl • We Are All Completely Fine (Gary K. Wolfe)
Hearne, Kevin • Shattered (Carolyn Cushman)
Hobb, Robin • Fool's Assassin (Faren Miller)
Mamatas, Nick • The Last Weekend (Tim Pratt)
Muir, Sharona • Invisible Beasts (Faren Miller)
Nelson, J. C. • Free Agent (Carolyn Cushman)
Parker, K. J. • Academic Exercises (Gary K. Wolfe)
Paull, Laline • The Bees (Faren Miller)
Shepard, Lucius • Beautiful Blood (Gary K. Wolfe)
Strahan, Jonathan, ed. • Reach for Infinity (Gardner Dozois)
Strahan, Jonathan, ed. • Reach for Infinity (Rich Horton)
Strahan, Jonathan, ed. • Reach for Infinity (Russell Letson)
VanderMeer, Jeff • Acceptance (Faren Miller)
Willrich, Chris • The Silk Map (Adrienne Martini)