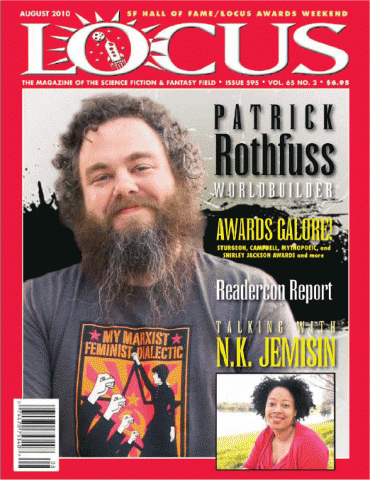 In This Issue:
The August 2010 issue of Locus Magazine features:
Interviews with authors Patrick Rothfuss and N.K. Jemisin 
 
Complete results of this year's Locus Survey 
 
Reports from the 2010 Science Fiction Awards Weekend and Readercon 21 
 
An international report on SF in Cuba 
 
Obituaries of James P. Hogan, F. Gwynplaine MacIntyre, and others 
 
Bibliographic listings of the month's New Books and Magazines published in the US and UK 
 
Short fiction reviews by Gardner Dozois and Rich Horton, plus reviews by Gary K. Wolfe, Faren Miller, Russell Letson, Adrienne Martini, Carolyn Cushman, and others, of books by Gardner Dozois, Terry Dowling, Greg Egan, A. Lee Martinez, Laird Barron, and many others 
 
Graham Sleight's "Yesterday's Tomorrows" column, on Theodore Sturgeon
T a b l e   o f   C o n t e n t s
August 2010 • Issue 595 • Vol. 65 No. 2
43rd Year of Publication • 29-Time Hugo Winner
Cover and Interview Design by Arnie Fenner
I N T E R V I E W S
Patrick Rothfuss: Worldbuilder / 6
N.K. Jemisin: Rites of Passage / 64
C O N V E N T I O N S
2010 Science Fiction Awards Weekend / 5 Readercon 21 / 5
P E O P L E   &   P U B L I S H I N G / 8
Notes on milestones, awards, books sold, etc., with news this issue about Peter David, Kathleen Ann Goonan, James Van Pelt, Dean Koontz, Mary Robinette Kowal, and many others
M A I N    S T O R I E S / 10
Bacigalupi and Morrow Win Campbell and Sturgeon Awards • Gaiman Wins Carnegie Medal • 2010 SFRA Conference • Shirley Jackson Awards Winners • The Future of Science Fiction: 2010 Classes and Workshops 
T H E    D A T A    F I L E / 13
Pratchett First Novel Prize • Night Shade Probation • Sci-Fi Wire Becomes Blastr • Los Angeles Review of Books • No VAT on Books • Big Read Gets Smaller • Puffin Most Fowl • Wizarding World Opens • Smart Chicks On Tour • No Takers for Wells Contest • B&N's Poison Pill • World's Biggest Publishers • E-book News • Awards News • Worldcons News • Announcements • Book News • Publishing News • Financial News • International Rights • Other Media Received • Publications Received • Catalogs Received
L O C U S    S U R V E Y / 36
I N T E R N A T I O N A L
International Report from Cuba / 39
F E A T U R E 
Spotlight on Charlie Jane Anders, Author, Editor, Blogger, Emcee / 40
L I S T I N G S
Magazines Received: June / 40    Books Received: June / 41    
British Books Received: May / 50    Bestsellers / 52
O B I T U A R I E S / 62
James P. Hogan • Appreciations by James Frenkel, Elton Elliott, and Vivian Perry• F. Gwynplaine MacIntyre •  Stephen Gilbert •  Frank K. Kelly 
E D I T O R I A L    M A T T E R S / 63
Locus Awards/Hall of Fame • Readercon • Survey • This Issue/Next Issue
---
L O C U S    L O O K S    A T    B O O K S
Gardnerspace: Short Fiction Column by Gardner Dozois / 15
Gateways, Elizabeth Ann Hull, ed.; Subterranean Spring '10; Wings of Fire, Jonathan Strahan & Marianne S. Jablon, eds.; Clockwork Phoenix 3: New Tales of Beauty and Strangeness, Mike Allen, ed.; Tor.com.
Short Fiction Reviews by Richard Horton / 17
Subterranean Spring '10; Black Gate Spring '10; Lady Churchill's Rosebud Wristlet 5/10; Analog 9/10; Asimov's 9/10; Interzone 5-6/10; Black Static 6-7/10; Masked, Lou Anders, ed.; Tomb of the Fathers, Eleanor Arnason.
Reviews by Gary K. Wolfe / 18
The Year's Best Science Fiction: Twenty-Seventh Annual Collection, Gardner Dozois, ed.; The Year's Best Science Fiction and Fantasy: 2010 Edition, Rich Horton, ed.; The Best of Kim Stanley Robinson, Kim Stanley Robinson; Second Childhood, Donna McMahon.
Reviews by Faren Miller / 20
Clowns at Midnight, Terry Dowling; The Girls With Games of Blood, Alex Bledsoe; Racing the Dark, Alaya Dawn Johnson; The Burning City, Alaya Dawn Johnson; Stealing Fire, Jo Graham. 
Reviews by Russell Letson / 23
Zendegi, Greg Egan; Fritz Leiber: Selected Stories, Fritz Leiber. 
Reviews by Adrienne Martini / 25
Divine Misfortune, A. Lee Martinez; The Osiris Ritual, George Mann; The Bird of the River, Kage Baker; Shades of Milk and Honey, Mary Robinette Kowal.
Short Reviews by Carolyn Cushman / 27
The Wide-Awake Princess, E.D. Baker; Game of Cages, Harry Connolly; Undead and Unfinished, MaryJanice Davidson; Girl Genius Volume Nine: Agatha Heterodyne and the Heirs of the Storm, Phil Foglio & Kaja Foglio; Stuff of Legends, Ian Gibson; Hunted by the Others, Jess Haines; Demon Hunts, C.E. Murphy; Labyrinth, Kat Richardson; Discord's Apple, Carrie Vaughn; Voices of Dragons, Carrie Vaughn.
Reviews by Divers Hands: Stefan Dziemianowicz & Tim Pratt / 28
Occultation, Laird Barron; Lesser Demons, Norman Partridge; The Passage, Justin Cronin; The Ammonite Violin & Others, Caitlín R. Kiernan.
Yesterday's Tomorrows: Graham Sleight / 30
The Dreaming Jewels, Theodore Sturgeon; More Than Human, Theodore Sturgeon; Venus Plus X, Theodore Sturgeon; Selected Stories, Theodore Sturgeon. 
Terry Bisson: This Month in History / 17, 19, 25, 27
---
Magazine Issues reviewed in this issue (indicating reviewer) — 
Analog September 2010 (Rich Horton) 
Asimov's September 2010 (Rich Horton) 
Black Gate Winter 2010 (Rich Horton) 
Black Static June-July 2010 (Rich Horton) 
Interzone May-June 2010 (Rich Horton) 
Lady Churchill's Rosebud Wristlet May 2010 (Rich Horton) 
Subterranean Spring 2010 (Gardner Dozois) 
Subterranean Spring 2010 (Rich Horton) 
Tor.com 2010 (Gardner Dozois) 
Books reviewed in this issue, listed by author (indicating reviewer) — 
Allen, Mike, ed. • Clockwork Phoenix 3 (Gardner Dozois) 
Anders, Lou, ed. • Masked (Rich Horton) 
Arnason, Eleanor • Tomb of the Fathers (Rich Horton) 
Baker, E. D. • The Wide-Awake Princess (Carolyn Cushman) 
Baker, Kage • The Bird of the River (Adrienne Martini) 
Barron, Laird • Occultation (Stefan Dziemianowicz) 
Bledsoe, Alex • The Girl with Games of Blood (Faren Miller) 
Connolly, Harry • Game of Cages (Carolyn Cushman) 
Cronin, Justin • The Passage (Tim Pratt) 
Davidson, MaryJanice • Undead and Unfinished (Carolyn Cushman) 
Dowling, Terry • Clowns at Midnight (Faren Miller) 
Dozois, Gardner, ed. • The Year's Best Science Fiction: Twenty-Seventh Annual Collection (Gary K. Wolfe) 
Egan, Greg • Zendegi (Russell Letson) 
Egan, Greg • Zendegi (Russell Letson) 
Foglio, Phil, & Kaja Foglio • Girl Genius Volume Nine: Agatha Heterodyne and the Heirs of the Storm (Carolyn Cushman) 
Gibson, Ian • Stuff of Legends (Carolyn Cushman) 
Graham, Jo • Stealing Fire (Faren Miller) 
Haines, Jess • Hunted by the Others (Carolyn Cushman) 
Horton, Rich, ed. • The Year's Best Science Fiction & Fantasy: 2010 Edition (Gary K. Wolfe) 
Hull, Elizabeth Anne, ed. • Gateways (Gardner Dozois) 
Johnson, Alaya Dawn • Racing the Dark (Faren Miller) 
Kiernan, Caitlín R. • The Ammonite Violin & Others (Tim Pratt) 
Kowal, Mary Robinette • Shades of Milk and Honey (Adrienne Martini) 
Leiber, Fritz, edited by Jonathan Strahan & Charles N. Brown • Selected Stories (Russell Letson) 
Mann, George • The Osiris Ritual (Adrienne Martini) 
Mann, George • The Osiris Ritual (Adrienne Martini) 
Martinez, A. Lee • Divine Misfortune (Adrienne Martini) 
McMahon, Donna • Second Childhood (Gary K. Wolfe) 
Murphy, C. E. • Demon Hunts (Carolyn Cushman) 
Partridge, Norman • Lesser Demons (Stefan Dziemianowicz) 
Richardson, Kat • Labyrinth (Carolyn Cushman) 
Robinson, Kim Stanley, edited by Jonathan Strahan • The Best of Kim Stanley Robinson (Gary K. Wolfe) 
Strahan, Jonathan, & Marianne S. Jablon, ed. • Wings of Fire (Gardner Dozois) 
Sturgeon, Theodore • The Dreaming Jewels (Graham Sleight) 
Sturgeon, Theodore • More Than Human (Graham Sleight) 
Sturgeon, Theodore • Selected Stories (Graham Sleight) 
Sturgeon, Theodore • Venus Plus X (Graham Sleight) 
Vaughn, Carrie • Discord's Apple (Carolyn Cushman) 
Vaughn, Carrie • Voices of Dragons (Carolyn Cushman)