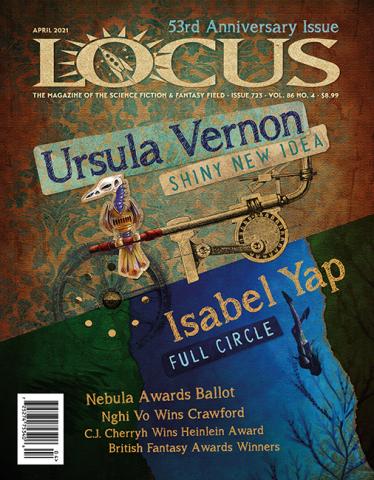 In this issue:
The April 2021 issue of Locus magazine has interviews with Ursula Vernon and Isabel Yap. News includes the 2020 Nebula Awards ballot, Nghi Vo's Crawford win, the British Fantasy Awards winners, Weisskopf's removal as DisCon III GoH, C.J. Cherryh's Heinlein Award win, the 2020 British Book Summary, an SF in India report, and much more. The column by Kameron Hurley is entitled "Plotting the Way Forward". Norton Juster, Dean Morrissey, and Michael G. Adkisson are remembered with obituaries. Reviews cover new titles by Tim Pratt, K.B. Wagers, Lavie Tidhar (ed.), Kelly Robson, Kim Bo-Young, E. Lily Yu, Naomi Kritzer, Ben Aaronovitch, Charles Yu, Andy Weir, Becky Chambers, Elly Bangs, Premee Mohamed, Aliya Whiteley, Jeff VanderMeer, Helen Oyeyemi, Paul Voermans, Elvira Navarro, Isabel Ibañez, Rucker Moses & Theo Gangi, Kristen O'Neal, Angela Slatter, Marie Brennan, and many others.
Table of Contents:
April 2021 • Issue 723 • Vol. 86 • No. 4
54th Year of Publication • 30-Time Hugo Winner
Cover and Interview Designs by Francesca Myman
INTERVIEWS
Ursula Vernon: Shiny New Idea / 10
Isabel Yap: Full Circle / 28
MAIN STORIES / 5
2020 Nebula Awards Ballot • Nghi Vo Wins Crawford • British Fantasy Awards Winners • Philip K. Dick Award Judges • Weisskopf Removed as DisCon III GoH • Cherryh Wins 2021 Heinlein Award • Dell Award Winner • Stoker Awards Final Ballot
THE DATA FILE / 7
Carnegie and Greenaway Medal Shortlists • Ray Bradbury Prize Finalists • Analog Anlab Award Finalists • Asimov's Readers' Award Finalists • Lambda Awards Finalists • Octavia E. Butler News • BSFA Shortlist • Audie Awards Finalists • Black Creatives Fund • SFWA News • World Conventions News • Publishing News • Workshop News • Contest News • Announcements • Awards News • Financial News • International Rights
PEOPLE & PUBLISHING / 8
Notes on milestones, awards, books sold, etc., with news this issue about John Varley, Susanna Clarke, Stephen King & Richard Chizmar, Charles Stross, N.K. Jemisin, and many others
SPECIAL FEATURES
Commentary by Kameron Hurley: Plotting the Way Forward / 27 SF in India / 32
YEAR IN REVIEW
2020 British Book Summary / 30
LISTINGS
Magazines Received: February / 34 Books Received: February / 36 British Books Received: January / 46 Bestsellers / 48
OBITUARIES / 57
Norton Juster • Dean Morrissey • Michael G. Adkisson
LOCUS LETTERS / 57
EDITORIAL MATTERS / 58
There's a Light • Locus Awards Voting Deadline • This Issue/Next Issue
LOCUS LOOKS AT BOOKS
Short Fiction Reviews by Rich Horton / 12
Curiosities Winter '20; Cossmass Infinities 9/20; On Spec #115; Analog 3-4/21; Asimov's 3-4/21.
Short Fiction Reviews by Paula Guran / 13
Uncanny 1-2/21; Apex #122; The Dark 1/21, 2/21; Nightmare 1/21, 2/21; Fantasy 2/21, 3/21; Baffling 1/21.
Short Fiction Reviews by Karen Burnham / 14
Clarkesworld 2/21; Lightspeed 2/21; Fiyah Winter 21; Tor.com 1/27, 2/3, 2/10, 2/24/21; Beneath Ceaseless Skies 1/28/21, 2/11/21; Strange Horizons 2/8, 2/15/21; Aurealis #137; Fantasy Magazine 2/21.
Reviews by Liz Bourke / 15
The Alien Stars and Other Novellas, Tim Pratt; Hold Fast Through the Fire, K.B. Wagers.
Reviews by Gary K. Wolfe / 16
The Best of World SF: Volume 1, Lavie Tidhar, ed.; Alias Space and Other Stories, Kelly Robson; I'm Waiting for You and Other Stories, Kim Bo-Young; On Fragile Waves, E. Lily Yu; Chaos on Catnet, Naomi Kritzer.
Reviews by Adrienne Martini / 18
What Abigail Did That Summer, Ben Aaronovitch; The Only Living Girl on Earth, Charles Yu; Project Hail Mary, Andy Weir; The Galaxy, and the Ground Within, Becky Chambers; A Psalm for the Wild-Built, Becky Chambers.
Reviews by Katharine Coldiron / 19
Unity, Elly Bangs; These Lifeless Things, Premee Mohamed; Skyward Inn, Aliya Whiteley.
Reviews by Ian Mond / 20
Hummingbird Salamander, Jeff VanderMeer; Peaces, Helen Oyeyemi; The White Library, Paul Voermans; Rabbit Island, Elvira Navarro.
Reviews by Colleen Mondor / 22
Written in Starlight, Isabel Ibañez; Kingston and the Magician's Lost and Found, Rucker Moses & Theo Gangi; Lycanthropy and Other Chronic Illnesses, Kristen O'Neal.
Reviews by Divers Hands: Alex Brown, Paula Guran, Rich Horton, Gabino Iglesias, Maya C. James, Russell Letson, Alvaro Zinos-Amaro / 23
Written in Starlight, Isabel Ibañez; The Tallow-Wife and Other Tales, Angela Slatter; Driftwood, Marie Bren­nan; Ink, Jonathan Maberry; Disease, Sarah Tolmie; The Unbroken, C.L. Clark; A Desolation Called Peace, Arkady Martine; Michael Bishop and the Persistence of Wonder: A Critical Study of the Writings, Joe Sanders.
Audiobook Reviews by Amy Goldschlager / 26
The Mask of Mirrors, M.A. Carrick; The Witch in the Almond Tree and other stories, C.S.E. Cooney; The Map of Tiny Precious Things, Lev Grossman; The Tower of Fools, Andrzej Sapkowski; In the Empty Quarter, G. Willow Wilson.
Terry Bisson: This Month in History / 12, 17, 21, 23
---
Magazines reviewed in this issue (indicating reviewer)—
Analog 3-4/21 (Rich Horton)
Apex #122 (Paula Guran)
Asimov's 3-4/21 (Rich Horton)
Aurealis #137 (Karen Burnham)
Baffling 1/21 (Paula Guran)
Beneath Ceaseless Skies 1/28/21 (Karen Burnham)
Beneath Ceaseless Skies 2/11/21 (Karen Burnham)
Clarkesworld 2/21 (Karen Burnham)
Cossmass Infinities 9/20 (Rich Horton)
Curiosities Winter '20 (Rich Horton)
The Dark 1/21 (Paula Guran)
The Dark 2/21 (Paula Guran)
Fantasy 2/21 (Paula Guran)
Fantasy 2/21 (Karen Burnham)
Fantasy 3/21 (Paula Guran)
Fiyah Winter '21 (Karen Burnham)
Lightspeed 2/21 (Karen Burnham)
Nightmare 1/21 (Paula Guran)
Nightmare 2/21 (Paula Guran)
On Spec #115 (Rich Horton)
Strange Horizons 2/8/21 (Karen Burnham)
Strange Horizons 2/15/21 (Karen Burnham)
Tor.com 1/27/21 (Karen Burnham)
Tor.com 2/3/21 (Karen Burnham)
Tor.com 2/10/21 (Karen Burnham)
Tor.com 2/24/21 (Karen Burnham)
Uncanny 1-2/21 (Paula Guran)
---
Books reviewed in this issue (indicating reviewer)—
Aaronovitch, Ben • What Abigail Did That Summer (Adrienne Martini)
Bangs, Elly • Unity (Katharine Coldiron)
Bo-Young, Kim • I'm Waiting for You and Other Stories (Gary K. Wolfe)
Brennan, Marie • Driftwood (Rich Horton)
Chambers, Becky • A Psalm for the Wild-Built (Adrienne Martini)
Chambers, Becky • The Galaxy, and the Ground Within (Adrienne Martini)
Clark, C. L. • The Unbroken (Maya C. James)
Ibañez, Isabel • Written in Starlight (Alex Brown)
Ibañez, Isabel • Written in Starlight (Colleen Mondor)
Kritzer, Naomi • Chaos on CatNet (Gary K. Wolfe)
Maberry, Jonathan • Ink (Gabino Iglesias)
Martine, Arkady • A Desolation Called Peace (Russell Letson)
Mohamad, Premee • These Lifeless Things (Katharine Coldiron)
Moses, Rucker, & Theo Gangi • Kingston and the Magician's Lost and Found (Colleen Mondor)
Navarro, Elvira • Rabbit Island (Ian Mond)
O'Neal, Kristen • Lycanthropy and Other Chronic Illnesses (Colleen Mondor)
Oyeyemi, Helen • Peaces (Ian Mond)
Pratt, Tim • The Alien Stars and Other Novellas (Liz Bourke)
Robson, Kelly • Alias Space and Other Stories (Gary K. Wolfe)
Sanders, Joe • Michael Bishop and the Persistence of Wonder: A Critical Study of the Writings (Alvaro Zinos-Amaro)
Slatter, Angela • The Tallow-Wife and Other Tales (Paula Guran)
Tidhar, Lavie, ed. • The Best of World SF: Volume 1 (Gary K. Wolfe)
Tolmie, Sarah • Disease (Gabino Iglesias)
VanderMeer, Jeff • Hummingbird Salamander (Ian Mond)
Voermans, Paul • The White Library (Ian Mond)
Wagers, K. B. • Hold Fast through the Fire (Liz Bourke)
Weir, Andy • Project Hail Mary (Adrienne Martini)
Whiteley, Aliya • Skyward Inn (Katharine Coldiron)
Yu, Charles • The Only Living Girl on Earth (Adrienne Martini)
Yu, E. Lily • On Fragile Waves (Gary K. Wolfe)