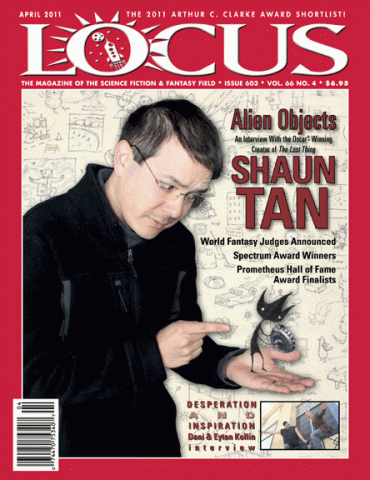 In this issue:
The April 2011 issue of Locus Magazine features --
Interviews with Oscar Award-winning artist Shaun Tan and writer-brother team Dani & Eytan Kollin 
 
Features on Potlatch, FOGcon, and a Spotlight on editor Sean Wallace 
 
Bibliographic listings of the month's New Books and Magazines published in the US and UK 
 
Short fiction reviews by Gardner Dozois and Rich Horton, plus reviews by Gary K. Wolfe, Faren Miller, Russell Letson, Paul Witcover, Adrienne Martini, and others of books by Carol Emshwiller, Daniel Abraham, Frederik Pohl, John Scalzi, Brian Lumley, and others 
 
Graham Sleight's "Yesterday's Tomorrows" column, on Fritz Leiber
Table of Contents:
April 2011 • Issue 603 • Vol. 66 No. 4
44th Year of Publication • 29-Time Hugo Winner
Cover and Interview Design by Arnie Fenner & Francesca Myman
I N T E R V I E W S 
Shaun Tan: Alien Objects / 6
Dani & Eytan Kollin: Desperation and Inspiration / 60
M A I N    S T O R I E S / 5 & 10
Google Settlement Rejected • Tan Wins Oscar • 2011 Dell Award • Ugresic Wins Tiptree • Clarke Award Shortlist • 2011 Philip K. Dick Award Judges • 2011 World Fantasy Awards Judges • 2010 Stoker Final Ballot 
P E O P L E   &   P U B L I S H I N G / 8
Notes on milestones, awards, books sold, etc., with news this issue about George R.R. Martin, Joe Haldeman, Kevin J. Anderson, Nancy Kress, Charles Stross, Tim Powers, Michael Chabon & Ayelet Waldman, and many others
T H E    D A T A    F I L E / 11
Random House Offers Early Retirement • Orion's New YA Imprint • Borders Bankruptcy News • British Fantasy Stamps • Fenn Fallout • HarperCollins Caps E-book Lending • Agency Model News • REDgroup Bankrupcty • Publishing News • Announcements • Books News • B&N Legal News • Bookstore News • Paranormal Books Sold • Awards News • Financial News • International Rights • Other Rights • Other Media Received • Publications Received • Catalogs Received 
F E A T U R E S
Potlatch 32 FOGcon 32 Spotlight on: Sean Wallace, Editor 33 2010 British Book Summary 34
L I S T I N G S
Magazines Received: February / 36    Books Received: February / 37    
British Books Received: January / 48    Bestsellers / 50
O B I T U A R I E S / 58
Michael D. Glicksohn • Lisa Wolfson • Wim Stolk • Appreciation by Terry Bisson • Hans Joachim Alpers • Ion Hobana • Moacyr Scliar • April Derleth
E D I T O R I A L    M A T T E R S / 59
Rain • ICFA • ...& Others • Vote For (and Come to) the Locus Awards • This Issue/Next Issue
L O C U S    L E T T E R S / 59
Peter Feinler
---
L O C U S    L O O K S    A T    B O O K S
Gardnerspace: Short Fiction Column by Gardner Dozois / 12
Engineering Infinity, Jonathan Strahan, ed.; Asimov's 3/11; F&SF 3-4/11; Clarkesworld 1/11; Clarkesworld 2/11; Interzone 1-2/11. 
Short Fiction Reviews by Richard Horton / 13
Asimov's 4-5/11; Interzone 1-2/11; Subterranean Winter '11; Fantasy 4/11; Fantasy 5/11; Lightspeed 4/11; Strange Horizons 4/11; GigaNotoSaurus 1/11; GigaNotoSaurus 2/11; Welcome to the Greenhouse, Gordon Van Gelder, ed.; A Brood of Foxes, Kristin Livdahl.
Reviews by Gary K. Wolfe / 14
The Collected Stories of Carol Emshwiller, Volume One, Carol Emshwiller; Sleight of Hand, Peter S. Beagle; Enigmatic Pilot: A Tall Tale Too True, Kris Saknussemm; The Secret of Wilhelm Storitz: The First English Translation of Verne's Original Manuscript, Jules Verne, Peter Schulman (ed. and translator).
Reviews by Faren Miller / 16
The Dragon's Path, Daniel Abraham; Hidden Cities, Daniel Fox; A Madness of Angels, Kate Griffin; The Midnight Mayor, Kate Griffin; The Great Lover, Michael Cisco; SHORT TAKE: Moon Over Soho, Ben Aaronovitch. 
Reviews by Russell Letson / 19
Daybreak Zero, John Barnes; All the Lives He Led, Frederik Pohl. 
Reviews by Adreinne Martini / 21
The Human Blend, Alan Dean Foster; Life Liberty and the Pursuit of Sausages, Tom Holt; Fuzzy Nation, John Scalzi; Dancing with Bears, Michael Swanwick. 
Reviews by Paul Witcover / 23
The Heroes, Joe Abercrombie.
Reviews by Carolyn Cushman / 25
Rivers of London, Ben Aaronovitch; The Soul Mirror, Carol Berg; River Marked, Patricia Briggs; Blackveil, Kristen Britain; Forest Moon Rising, P.R. Frost; Pack of Lies, Laura Anne Gilman; First Grave on the Right, Darynda Jones; Finder: Voice, Carla Speed McNeil. 
Reviews by Divers Hands: Stefan Dziemianowicz and Gwenda Bond / 27
The Fly-By-Nights, Brian Lumley; The Boy at the End of the World, Greg van Eekhout.
Yesterday's Tomorrows: Graham Sleight / 27
Fritz Leiber: Selected Stories, Fritz Leiber; Swords and Deviltry, Fritz Leiber; The Wanderer, Fritz Leiber, Conjure Wife, Fritz Leiber; Our Lady of Darkness, Fritz Leiber.
Terry Bisson: This Month in History / 13, 15, 17, 21
---
Magazine Issues reviewed in this issue (indicating reviewer) — 
Asimov's March 2011 (Gardner Dozois) 
Asimov's April/May 2011 (Rich Horton) 
Clarkesworld January 2011 (Gardner Dozois) 
Clarkesworld February 2011 (Gardner Dozois) 
F&SF Mar/Apr 2011 (Gardner Dozois) 
Fantasy Magazine April 2011 (Rich Horton) 
GigaNotoSaurus January 2011 (Rich Horton) 
GigaNotoSaurus February 2011 (Rich Horton) 
Interzone Jan-Feb 2011 (Gardner Dozois) 
Interzone Jan-Feb 2011 (Rich Horton) 
Lightspeed April 2011 (Rich Horton) 
Strange Horizons April 2011 (Rich Horton) 
Subterranean Winter 2011 (Rich Horton) 
Books reviewed in this issue, listed by author (indicating reviewer) — 
Aaronovitch, Ben • Midnight Riot (Carolyn Cushman) 
Aaronovitch, Ben • Moon Over Soho (Faren Miller) 
Aaronovitch, Ben • Rivers of London (Carolyn Cushman) 
Abercrombie, Joe • The Heroes (Paul Witcover) 
Abraham, Daniel • The Dragon's Path (Faren Miller) 
Barnes, John • Daybreak Zero (Russell Letson) 
Beagle, Peter S. • Sleight of Hand (Gary K. Wolfe) 
Berg, Carol • The Soul Mirror (Carolyn Cushman) 
Briggs, Patricia • River Marked (Carolyn Cushman) 
Britain, Kristen • Blackveil (Carolyn Cushman) 
Cisco, Michael • The Great Lover (Faren Miller) 
Emshwiller, Carol • The Collected Stories of Carol Emshwiller, Volume One (Gary K. Wolfe) 
Foster, Alan Dean • The Human Blend (Adrienne Martini) 
Fox, Daniel • Hidden Cities (Faren Miller) 
Frost, P. R. • Forest Moon Rising (Carolyn Cushman) 
Gilman, Laura Anne • Pack of Lies (Carolyn Cushman) 
Griffin, Kate • A Madness of Angels (Faren Miller) 
Griffin, Kate • The Midnight Mayor (Faren Miller) 
Holt, Tom • Life, Liberty, and the Pursuit of Sausages (Adrienne Martini) 
Jones, Darynda • First Grave on the Right (Carolyn Cushman) 
Leiber, Fritz • Conjure Wife (Graham Sleight) 
Leiber, Fritz • Our Lady of Darkness (Graham Sleight) 
Leiber, Fritz • Swords and Deviltry (Graham Sleight) 
Leiber, Fritz • The Wanderer (Graham Sleight) 
Leiber, Fritz, edited by Jonathan Strahan & -3- • Selected Stories (Graham Sleight) 
Livdahl, Kristin, ed. • A Brood of Foxes (Rich Horton) 
Lumley, Brian • The Fly-By-Nights (Stefan Dziemianowicz) 
McNeil, Carla Speed • Finder: Voice (Carolyn Cushman) 
Pohl, Frederik • All the Lives He Led (Russell Letson) 
Saknussemm, Kris • Enigmatic Pilot: A Tall Tale Too True (Gary K. Wolfe) 
Scalzi, John • Fuzzy Nation (Adrienne Martini) 
Strahan, Jonathan, ed. • Engineering Infinity (Gardner Dozois) 
Swanwick, Michael • Dancing With Bears (Adrienne Martini) 
van Eekhout, Greg • The Boy at the End of the World (Gregory Benford) 
Van Gelder, Gordon, ed. • Welcome to the Greenhouse (Rich Horton) 
Verne, Jules, & Peter Schulman, trans • The Secret of Wilhelm Storitz: The First English Translation of Verne's Original Manuscript (Gary K. Wolfe)