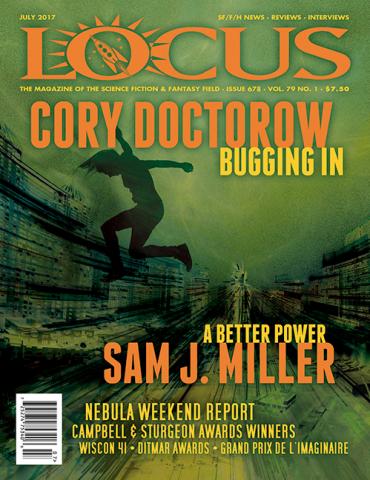 In this issue:
The July issue features interviews with Cory Doctorow and Sam J. Miller, a column by Cory Doctorow, complete results of this year's Locus Poll, photos from the Nebula Awards Conference and WisCon, and reviews of short fiction and books by Nina Allan, Kit Reed, Mariana Enriquez, Wendy N. Wagner, Tad Williams, and many others.
Table of Contents:
July 2017 • Issue 678 • Vol. 79 • No. 1
50th Year of Publication • 30-Time Hugo Winner
Cover and Interview Designs by Francesca Myman
INTERVIEWS
Cory Doctorow: Bugging In / 10
Sam J. Miller: A Better Power / 26 
MAIN STORIES / 5
2017 Locus Awards Winners • Locus Poll 2017 • 2017 Nebula Awards Conference • Tidhar Wins Campbell, Valente Wins Sturgeon • Mythopoeic Awards Finalists • Sidewise Awards Finalists • James White Award Finalists
THE DATA FILE / 7
Gaiman to Read Cheesecake Factory Menu for Charity • Game Writing Nebula Category • Book Expo 2017 • Dark Carnival to Close • Make Space Campaign • Ditmar and Other Australian Awards • Aurora Awards Ballot • Sunburst Awards Longlist • Awards News • Publishing News • Contest News • World Conventions News • Convention News • Financial News • International Rights • Audio Rights • Audiobooks Received • Publications Received • Catalogs Received
PEOPLE & PUBLISHING / 8
Notes on milestones, awards, books sold, etc., with news this issue about John Varley, Naomi Alderman, Margaret Atwood, Terry Goodkind, Lisa Goldstein, Ada Palmer, Tim Pratt, Darren Nash, and many others
SPECIAL FEATURES
Photo Story: Rio Hondo Workshop / 6 Commentary: Cory Doctorow: Be the First One to Not Do Something that No One Else Has Ever Not Thought of Doing Before / 25 
CONVENTION
2017 Nebula Awards Conference / 5 WisCon 41 / 32
LISTINGS
Magazines Received: May / 34 Books Received: May / 35 British Books Received: April / 46 Bestsellers / 48 
EDITORIAL MATTERS / 66
Dark Carnival • Travel • This Issue/Next Issue
LOCUS LOOKS AT BOOKS
Short Fiction Reviews by Gardner Dozois / 12
Analog 3-4/17; Asimov's 3-4/17; F&SF 5-6/17.
Short Fiction Reviews by Rich Horton / 13
Tor.com 5/17; F&SF 5-6/17; Analog 5-6/17; Lightspeed 6/17; Beneath Ceaseless Skies 5/11/17; Uncanny 5-6/17; Cat Pictures Please and Other Stories, Naomi Kritzer; What It Means When a Man Falls from the Sky, Lesley Nneka Arimah; Chasing Shadows, David Brin & Stephen W. Potts, eds.
Reviews by Gary K. Wolfe / 14
The Rift, Nina Allan; The Art of Starving, Sam J. Miller; Totalitopia, John Crowley; In Search of Silence: The Journals of Samuel R. Delany, Volume 1, 1957-1969, Kenneth R. James, ed.
Reviews by Russell Letson / 16
Mormama, Kit Reed; The Delirium Brief, Charles Stross.
Short Fiction Reviews by Paula Guran / 17
Black Static 3-4/17; Nightmare 5/17; Fiyah Spring '17; The Dark 5/17; Shimmer 5/17; Gamut 4/17, 5/17.
Reviews by John Langan / 19
Things We Lost in the Fire, Mariana Enriquez; The Dark Net, Benjamin Percy; Thrill Me: Essays on Fiction, Benjamin Percy; Brimstone, Cherie Priest; The Forgotten Girl, Rio Youers.
Reviews by Liz Bourke / 20
An Oath of Dogs, Wendy N. Wagner; Vanguard, Jack Campbell; The Witch Who Came in from the Cold, Lindsay Smith, Max Gladstone, Cassandra Rose Clarke, Ian Tregillis & Michael Swanwick; So You Want to be a Robot, A. Merc Rustad; The Prey of Gods, Nicky Drayden.
Reviews by Carolyn Cushman / 22
Phantom Pains, Mishell Baker; The Guns Above, Robyn Bennis; The Dragon with a Chocolate Heart, Stephanie Burgis; Witchy Eye, D.J. Butler; A Peace Divided, Tanya Huff; Deadmen Walking, Sherrilyn Kenyon; Cormorant Run, Lilith Saintcrow; Greedy Pigs, Matt Wallace; The Witchworld Crown, Tad Williams.
Reviews by Divers Hands: Colleen Mondor, Tom Whitmore, Stefan Dziemianowicz, Arley Sorg / 23
Mars One, Jonathan Maberry; Kangaroo Too, Curtis Chen; Best New Horror #27, Stephen Jones, ed.; Sins of Empire, Brian McClellan.
Audiobook Reviews by Amy Goldschlager / 24
The Handmaid's Tale: Special Edition, Margaret Atwood; The Bone Swans, C.S.E. Cooney; Winter Tide, Ruthanna Emrys; Strange the Dreamer, Laini Taylor; The Thief, Megan Whalen Turner; The Queen of Attolia, Megan Whalen Turner; The King of Attolia, Megan Whalen Turner; A Conspiracy of Kings, Megan Whalen Turner; Thick as Thieves, Megan Whalen Turner; Borne, Jeff VanderMeer.
Terry Bisson: This Month in History / 13, 15, 16, 19
---
Magazine Issues reviewed in this issue (indicating reviewer) —
Analog March/April 2017 (Gardner Dozois)
Analog May/June 2017 (Rich Horton)
Asimov's March/April 2017 (Gardner Dozois)
Beneath Ceaseless Skies May 2017 (Rich Horton)
F&SF May/June 2017 (Rich Horton)
Lightspeed June 2017 (Rich Horton)
Tor.com May 2017 (Rich Horton)
Uncanny May/June 2017 (Rich Horton)
Books reviewed in this issue, listed by author (indicating reviewer) —
Allan, Nina • The Rift (Gary K. Wolfe)
Arima, Lesley Nneka • What It Means When a Man Falls from the Sky (Rich Horton)
Baker, Mishell • Phantom Pains (Carolyn Cushman)
Bennis, Robyn • The Guns Above (Carolyn Cushman)
Brin, David, & Stephen W. Potts, eds. • Chasing Shadows: Visions of Our Coming Transparent World (Rich Horton)
Burgis, Stephanie • The Dragon with a Chocolate Heart (Carolyn Cushman)
Butler, D. J. • Witchy Eye (Carolyn Cushman)
Campbell, Jack • Vanguard (Liz Bourke)
Chen, Curtis C. • Kangaroo Too (Tom Whitmore)
Crowley, John • Totalitopia (Gary K. Wolfe)
Delany, Samuel R., edited by Kenneth R. James • In Search of Silence: The Journals of Samuel R. Delany, Volume 1, 1957-1969 (Gary K. Wolfe)
Drayden, Nicky • The Prey of Gods (Liz Bourke)
Enriquez, Mariana • Things We Lost in the Fire (John Langan)
Huff, Tanya • A Peace Divided (Carolyn Cushman)
Jones, Stephen, ed. • Best New Horror #27 (Stefan Dziemianowicz)
Kenyon, Sherrilyn • Deadmen Walking (Carolyn Cushman)
Kritzer, Naomi • Cat Pictures Please and Other Stories (Rich Horton)
Maberry, Jonathan • Mars One (Colleen Mondor)
McClellan, Brian • Sins of Empire (Arley Sorg)
Miller, Sam J. • The Art of Starving (Gary K. Wolfe)
Percy, Benjamin • The Dark Net (John Langan)
Percy, Benjamin • Thrill Me: Essays on Fiction (John Langan)
Priest, Cherie • Brimstone (John Langan)
Reed, Kit • Mormama (Russell Letson)
Rustad, A. Merc • So You Want to Be a Robot (Liz Bourke)
Saintcrow, Lilith • Cormorant Run (Carolyn Cushman)
Smith, Lindsay, & Max Gladstone • The Witch Who Came in From the Cold (Liz Bourke)
Stross, Charles • The Delirium Brief (Russell Letson)
Wagner, Wendy N. • An Oath of Dogs (Liz Bourke)
Wallace, Matt • Greedy Pigs (Carolyn Cushman)
Williams, Tad • The Witchwood Crown (Carolyn Cushman)
Youers, Rio • The Forgotten Girl (John Langan)